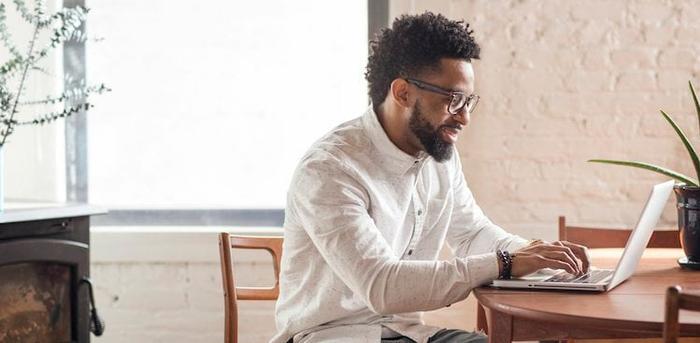 Your resume is arguably the most valuable piece of paper for your career. But this document can be daunting for many. Maybe you're not sure how to fit in all your information onto one page. Maybe you're not sure about the right way to format and write your resume. Maybe you don't even know what the heck a resume is!
Whatever your concern, we'll break down everything you need to know about making the perfect resume, from scratch.
What Is a Resume?
A resume is a summary of your career, whether yours is just getting started or has been going on for years. Coming in at around one page in length (two only under specific circumstances), it showcases the jobs you've held and currently hold, the responsibilities you've taken on, the skills you've developed, and the qualities you bring to the table as an employee. Together, those things make it super easy for any hiring manager to see your qualifications and fit for a role.
For all the work you may put into writing one, hiring managers actually spend very little time—mere seconds in many cases—looking at your resume. But despite this sad fact, it's safe to say that creating a great resume (rather than hastily throwing one together) still matters.
"If you miss the mark, your resume may never be read. Even worse, you might be removed from the applicant pool by a computer before a human even knows you exist," says Muse career coach Heather Yurovsky, founder of Shatter & Shine. So you want to get it right because, as she explains, isn't the goal to "spend less time looking for a job and more time in a role you love?"
You might be wondering if you can lean on your LinkedIn profile instead of writing a resume. The answer, sadly, is no. Most hiring managers still expect you to submit a resume, even if they also look at your LinkedIn. Even if you don't need a resume for a job you're applying for now, you're going to need one at some point in your career—they're not anywhere close to going out of style. So it's best to always have one at the ready should an opportunity pop up.
And although LinkedIn has plenty of benefits, a resume has one clear advantage: While your LinkedIn is usually a broader picture of your career trajectory, your resume gives you the opportunity to tailor your career story to a specific role or company (more on that later).
Oh, and you've probably heard of something called a CV? It's slightly different from a resume, and usually more common with academics and job seekers outside the U.S.
What Are Employers Looking for in a Resume?
Hiring managers look for three things on your resume, "What did you do? Why did you do it? And what was the result?" says Muse career coach Martin McGovern, owner of Career Therapy. "If you can answer all three of these questions in...your resume bullet points, you're going to be on the right track."
Clear, easy-to-understand language is key. "The truth is that most resumes make no sense. They are stuffed with jargon, they are too technical, and they are filled with redundancies. Try to read a resume that isn't yours and you will quickly realize that it feels like an alien wrote it," McGovern adds. Put yourself in the shoes of a recruiter who has no idea how your role works—how can you make your resume accessible to them?
The hiring manager also cares about more than just you and you alone—they care about you in relation to them. "Hiring managers want to see if a candidate matches the requirements" of the role they're hiring for, Yurovsky explains. "Your resume should paint this picture so the hiring manager not only knows what day-to-day responsibilities you can handle, but why you, above other[s], bring value to their organization."
How Do You Write a Resume?
Whether you're someone who's never written a resume in your life, or you need a nice, thorough refresher on the process of creating one, follow these steps to go from a blank page to a complete—and dare I say beautiful—document.
Related: This Free Worksheet Makes It Easy to Create (or Update) Your Resume
1. Pick Your Format
Before you start typing one single thing, you have to decide what you want the overall resume to look like.
Resume builders can be helpful for this step—they'll take all your basic information and organize it for you, eliminating some of the legwork. You can also use a pre-made outline, such as one of these free Google Docs templates.
But it's often safest to start with a clean slate all on your own and eventually upgrade to a more advanced layout. (If you'd still like a place to write all the relevant information before you get started, check out our resume outline.) This allows you to course correct, edit and re-edit, and choose a resume format that best fits your particular situation (after all, not everyone has a career trajectory that's easy to compartmentalize).
In general, you're most likely to cover and/or include sections on the following:
Your work experience
Your non-work experience, including professional organizations, community involvement, or side projects
Your education and certifications
Your skills (specifically hard skills) and interests
So how do you format and organize all of that information?
By far the most common (and safest, if you're not sure which route to take) option is reverse chronological order. This means you organize your experiences from most recent to least recent. So your work experiences would go above your education, and your current role would go above previous roles you've held. This of course has its exceptions—maybe you went back to grad school between jobs, or your most recent role is irrelevant to the job you're applying for. So the whole page may not be exactly in reverse chronological order depending on your situation. It's just a guideline.
There's also something called a functional or skills-based resume. This is used pretty rarely, mainly with career changers and those with limited or complicated work histories. It gets its name because it's primarily about listing your skills rather than experiences, and showcases them above your work history and education.
You can also opt for a combination resume, which is a mix between a reverse chronological resume and skills-based resume. It highlights your skills at the top, but allows just as much room below to cover your job and school experience.
Use caution when choosing these two formats: "Combo and skills-based [resumes] can be hard to follow, because [they force] the reader to hunt for connections between your skills and experience, and [don't] provide the full context of your work," says Muse Career Coach Angela Smith, founder of Loft Consulting. "I've also heard a lot of recruiters say that they automatically discount skill-based resumes because they feel the candidate is trying to hide something. I don't necessarily believe that, but I think it's important for job-seekers to know that perception is out there."
2. Start With Your Basic Information
Your contact information should always go at the top of your resume. In this header you'll want to include anything that could be helpful for a recruiter to get in touch with you. Usually, this means adding in:
Your full name (preferably the name you use across the web)
Your phone number
Your personal email address
You might also choose to include other basic information, such as your LinkedIn or personal website URL, your GitHub (for technical roles), your social media profiles (if relevant to the job), or your address. If you're looking to move for a job, you may choose to leave out your address or write "open to relocating" to better your chances of getting an interview.
The key is to make this part as clear as possible. If a hiring manager can't reach you, there's no point in perfecting the rest of your resume.
3. Add in Your Work Experience
This section will most likely be the bulk of your resume. Even if you're changing careers, employers still want to see where you've worked, what you've done, and the impact of that work to get a sense of your background and expertise.
Your "Work Experience" might be one entire category, or you might choose to break it up into "Relevant Experience" and "Additional Experience" to highlight the jobs that are most important for hiring managers to focus on. Either way, you'll almost always want to have your most recent experience at the top and your older experience down below.
Within your work experience, you'll want to include each official job title, the company (and possibly its location), and the years you worked there. Below that, you'll add in two to four bullet points explaining what you did in that job, the skills you built and exercised, the tools you used, and the results of what you did. If you accomplished a lot during your time there, focus on the responsibilities that made the most impact or you're the most proud of, as well as the ones that best align you with the job you're applying for (more on that in the following sections). It's key here to list, if relevant, quantitative as well as qualitative accomplishments.
For example, you might write:
Associate Accountant, Finances and Co., Ann Arbor, MI
September 2017 – Present
Manage billing and invoicing for more than 50 clients, ensuring the deadlines and needs of our enterprise partners, including Big Company and Super Star Org, are met
Collaborate closely with sales, account management, and project management teams on project setup, maintenance, and invoice management
Assist in the streamlining of invoicing guidelines and procedures through documentation and the implementation of new software, resulting in an average two-week decrease in total time spent per client
Your resume bullets should be in past tense if you're referring to past jobs and present tense if you're talking about your current roles. In addition, your bullets should always start with a strong action verb that best describes what you did. And if you have examples of your work, consider hyperlinking them here as well.
If you have a ton of experience and this category is starting to run long (read: over one page), consider kicking out your oldest jobs unless they're super relevant to the job you're applying for, or extra impressive for your field.
Not sure where to start? "It's helpful to do a brain dump and create a document that has everything and anything you consider as experience or an achievement," says Yurovsky. From there, she explains, you can start to whittle down what is and isn't important. And you can refer to this document later if you ever decide to update your resume for a specific role.
Need more specific advice on listing your work experience on your resume? Check out these additional resources:
4. Consider Including Volunteer Work or Other Experience
Anything you've done that's not work experience—your side gig, volunteer work, special projects—can be hosted under clearly-labeled sections ("Volunteer Experience" or "Activities," for example). Depending on how robust your work experience is, these things may be worth including, particularly if they've helped you level up your skill set or better align you with your dream job. Plus, they make you look that much more well-rounded, passionate, and hardworking.
If you're a recent grad, you might also build out a section for on-campus activities, such as clubs, organizations, or leadership experience. This can be a great supplement if you're lacking in the jobs department. You can frame these just as you would professional jobs—including your title, the organization's name, and bullets describing what your role was and what you accomplished.
Read More: This Is Exactly How to List Volunteer Work on Your Resume
5. Don't Forget Your Education
If you're still in school or just graduated, your education can go at the top of your resume, but for pretty much everyone else, this goes near the bottom. Most people include their school, graduation year (for folks less up to about a decade out of school), major, and degree. Brand-new grads might also write in their GPA, honors and awards, study abroad, thesis, or other notable achievements. But keep this section super simple, as you don't want it to take up too much space over your work experience.
It's possible you have unique education experience, such as taking an online course or certification. If you did this specifically as a way to boost yourself within your industry, definitely include it. Again, list everything more or less reverse chronologically—so a grad school degree would go above an undergrad degree, and a more recent relevant online course would go above that.
Learn more about the ins and outs of listing your education on your resume:
6. Top It Off With Some Skills and Interests
The skills section of a resume gets a bad rap, but it's just as important as the rest of the stuff you include. It's a quick list a recruiter can scan to see if your skill set aligns with what they're hiring for. And it's super ATS-friendly (ATS stands for "applicant tracking system," the robot that in some cases reads your resume before a human does) because it allows you to add in keywords the machine is scanning for.
Usually this section goes at the bottom of your resume, but in special cases—such as a skills-based resume or when someone's switching fields—you may place it further up.
What exactly do you throw in here? You'll want to list any hard skills and applications you're familiar with (Photoshop, SEO, JavaScript, to name a few examples), and, if relevant, your level of expertise. Avoid including soft skills here, like time management or public speaking—save those for your bullet points instead.
Be strategic when filling in your skills. Don't list things you actually couldn't do at a high competence level (I'm looking at those of you who say you're "great" at Excel), and maybe nix skills that are completely irrelevant to the job you want. For example, you may not even need to include Excel if you're applying for say, a design position, unless it's listed as a job requirement.
Maybe you're thinking, I'm a really good volleyball player, but that's not a "skill," right? No, it's not, but it is a hobby. Adding in a hobby section at the bottom of your resume is underrated, and frequently a smart choice. It can be a great conversation starter with a hiring manager, and it can show that you're a good culture fit—or a culture add—for the company. Also, it's just a nice way to add in some of your personality. So tack on a bullet point listing out some of your interests, such as hiking, rowing, or crafting (no more than five to seven work-appropriate verbs), and you're all set here.
7. Write a Resume Summary Statement (if Relevant)
You may have heard of a resume summary statement. They're not super common, but they can be useful to include near the top of your resume if you're looking to add clarity or context to your resume. If you're a career changer, you might find a summary statement helpful in explaining your leap and tying your experience to your new path. Or if you're a more experienced professional, you can use a summary statement to highlight a theme that brings your career trajectory together.
Overall, you probably won't need a summary statement if your career is pretty linear and your bullet points do a great job of emphasizing what you have to offer in terms of skills and experience. But if you think it makes sense to include one, "Take the time to think about what the person reading your summary wants to know before you write it," says McGovern. "Good summaries explain why you do what you do and how it can help. For instance: Merging a background in ABC, I help companies improve XYZ through 123. Summaries shouldn't be any more complicated than that."
So, taking McGovern's example, you might say:
Merging a background in social media marketing and PR with seven years in the consumer tech space, I help companies improve their internal and external communication and brand awareness through data-driven, quality content and strategies that align with the modern trends of the space.
Yurovsky adds that "you don't want your summary statement to be a dense paragraph with too much information. You want it to be easy to read, concise, and memorable. Almost like a tagline."
Read More: 3 Resume Summary Examples That'll Make Writing Your Own Easier
8. Tailor It to the Job (and the ATS)
Once you have your resume written out—you've broken down your work experience, tagged on some activities and additional experiences, and listed out your skills—it's important to go back to the job description (or multiple job descriptions, if you're applying to several similar jobs) and make sure that what your resume says matches up with the kind of candidate the employers are looking for. In other words, tailor it.
Let's explain further. You'll want to begin by tackling the ATS. This means combing the job description to see if individual words and phrases line up. What skills are they asking for, and have you listed them (so long as you actually have them)? What words are they using to describe their ideal hire, and do you use similar language in your resume?
Next, take a bird's-eye view. If you were the hiring manager for the role, where on your resume would your eyes be drawn to? And what would you be looking for? Whatever you think will be most important for the recruiter, make sure it's near the top of your resume, or otherwise emphasized.
Finally, dig into the role and responsibilities of the job. Does your resume reflect similar experience? If not, is there a way you can spin it so that it's clear you're capable of doing the job (and doing it well)?
These articles can help you if the word "tailoring" makes you start to sweat:
9. Edit and Refine It
Please, please don't just write your resume and shoot it out without giving it a second glance. Hiring managers may not spend hours browsing it, but if there's one thing that sticks out more than anything else it's a glaring typo.
The best approach? Write a rough draft, then leave and come back to it later with fresh eyes to give it an edit.
Cover the basics: Is your contact information correct and updated? Are you using the right verb tenses? Does everything look consistent and accurate in terms of spelling and grammar?
Then do some cutting if your resume's quite long. It's no longer a hard-and-fast rule that all resumes must be only one page—but consider it a smart guideline for most applicants, especially if you've got less than 10 years work experience. The exception is if you're very senior or very established in your career; in this scenario, a two-page resume isn't completely out of the question. Everyone else, read this article for advice on how to cut your resume down.
Formatting-wise, it's key to consider a couple things. First, what font are you using, and is it legible (for a human and a robot)? When in doubt, go with one of these simple, but sleek, options: Arial, Arial Narrow, Calibri, Cambria, Garamond, or Helvetica.
Second, are you going to save it as a Word document or PDF? Neither option is wrong, although a PDF helps ensure that your formatting is maintained, no matter what type of computer the hiring manager uses to open the document.
Third, is your resume formatted in a way that it's skimmable? If it's feeling crowded or overrun with words, read this: 12 Tiny Changes That Make Your Resume Easy for Recruiters to Skim.
Once you've given it a few good looks, it may be worth sending it to a friend or colleague (or even a career coach) to get a second opinion. Don't just have them edit it for spelling and grammar—they should dig into your bullets and offer feedback on whether or not your resume is showing you in the best possible light (it's smart to also send them the job description for something to compare it to).
What Are Some Examples of a Good Resume?
Here's the thing: Your resume won't ever look exactly like someone else's, nor should it. How you choose to format it, organize your information, and talk about specific experiences depends not just on your career path, but on your field, the job you're applying for, the company that job is at, and more.
So there isn't a universal way to do a resume. But there are common themes. To give you some context as to how yours might turn out, here are three examples of different kinds of resumes.
The Most Popular: A Reverse Chronological Resume
As previously mentioned, a reverse chronological resume is preferred by many coaches and HR experts, mainly because it's super readable. When everything's in a clear order, it's easy to skim and even easier to draw lines between experiences.
Who it's good for: Just about everyone—from students applying to internships all the way up to senior-level executives (with an optional resume summary statement)
Download an Example Chronological Resume for a Software Engineer
The Unorthodox Route: A Functional or Skills-Based Resume
Rather than listing out your experience in reverse chronological order, a functional or skills-based resume has bullet points that reflect how each of your skills is demonstrated by the work you've done over the course of your career. At the bottom, you'll include everything else, such as your education, job history, professional achievements, community involvement, and other technical skills. This is a good option if you have a somewhat all-over-the-place work history and want to tie everything together neatly.
Who it's good for: Career changers whose work experiences may not appear to be relevant and people with an abundance of temporary jobs or gaps in their work histories.
Download an Example Functional Resume for a Project Manager
The Creative Angle: An Infographic Resume or Resume Website
This resume type is characterized by how it's formatted visually. You may choose a reverse chronological order or skills-based style to organize your information, but also use graphics, colors, unique fonts, and even multimedia elements to help that information pop. Keep in mind that any creative resume is still likely subject to an ATS—and certain elements may be unreadable by a robot. So consider going this route only if you know a human will be reading your resume (and that said human might enjoy it).
Who it's good for: People applying to creative roles (designers, editors, writers, marketers, video producers, for example), startups, or fun companies, or to jobs where a creative resume is encouraged, if not required.
Download an Example Infographic Resume for a Designer


Not a designer but want your resume to look just as pretty as this example? Check out these articles:


Your resume is a living, breathing document. So while you won't go through this whole process every time you apply for a job, you should be thinking about all these things as you go to update your resume for your next career step. You might decide later on to switch up the order, or remove or add things, or even get creative and try out a whole new format. If you're not getting the calls back you expect, you may decide to scrap it and start over—and that's totally OK.
Regardless of where this piece of paper goes and how it grows, when you give it the care and attention it deserves, you set yourself up for success. And you'll make it that much more likely that you'll land an interview and get the chance to prove to the hiring manager—over the phone or in person—what you've got to offer.