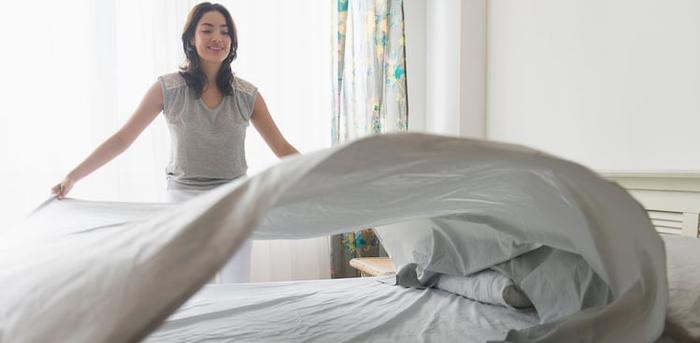 Sometimes being an adult is hard. Sometimes going into work every day is hard. Sometimes, I come home from the office and question if I accomplished anything at all. You know those moments, right? When you don't remember that you're out of toilet paper until you're already back in your apartment, and it's raining out, and the thought of leaving again feels impossible?
Well, what if I told you that I found a way to make even those days feel productive? I hope you said, "That'd be awesome, Alyse!"
I started making my bed every day—and it makes all the difference for my mornings and for my night.
Sure, you can argue that this barely compares to the routines of top CEOs, but this seemingly simple habit does come from a commander of the US Special Operations Command—so, it's actually pretty legit.
Why is making your bed every morning so important? US Admiral William H. McCraven, who spent 36 years as a Navy SEAL and was required to keep his room spic and span during his service, says in his 2014 commencement speech at the University of Texas that it's extremely motivating for the day ahead:
If you make your bed every morning, you will have accomplished the first task of the day. It will give you a small sense of pride, and it will encourage you to do another task, and another, and another. And by the end of the day that one task completed will have turned into many tasks completed.
Makes sense, right? Instead of scrolling mindlessly through your phone as soon as you wake up, you can complete a single chore that you won't have to do later and get the ball rolling to be productive for the rest of your work day.
McCraven goes on to make another significant point on why this habit is life-changing:
Making your bed will also reinforce the fact that the little things in life matter. If you can't do the little things right, you'll never be able to do the big things right. And if by chance you have a miserable day, you will come home to a bed that is made—that you made. And a made bed gives you encouragement that tomorrow will be better.
This is exactly how I feel since I started doing this first thing every day. When I wake up sour or exhausted, making my bed eases me into a better mood. (Does the thought of doing chores make you cranky? Remember that this will only take two minutes—max). When I feel overwhelmed, doing this small thing helps me regain my focus. Plus, seeing the end result proves I can accomplish something. And when I've had a rough day, coming home to my made bed is as welcoming and reassuring as a hug.
So, if you want to start every day with a clear and collected head, pulling your bed together will ensure you are put together and ready for anything that comes your way.
And, if this habit doesn't work for you, or the thought of putting in the two minutes truly exhausts you, try out these one-minute morning routines.