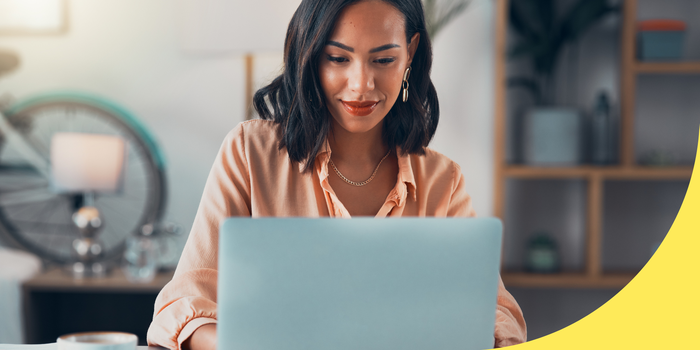 So you've just been laid off. Likely the first thing you want to do is eat a pint of ice cream and curl under a blanket.
Eloise Eonnet, a Muse career coach and the founder of Eloquence Coaching, thinks that's exactly what you should do. "I always recommend just taking a beat and not rushing into things, taking a few days to process the emotion of it," she said.
Once you're in a good headspace, however, it's time to start telling people. Sharing your layoff with your network isn't just an important step in finding a new job—after all, referrals go a lot further than cold applying. It can also be cathartic and empowering at a time when you may be feeling down about yourself and your career.
"It allows you to join this larger community of people who are also job seeking, and there's energy there that can be really uplifting," Eonnet noted. "And it's an opportunity to allow people to support you with their love and their thoughts, even if they can't actually connect you to the perfect job."
But you don't want to start contacting people before you know what you want to achieve through networking. She suggested exploring your options with a mentor or through some self-reflection to figure out what kind of role you're looking for next—and how this person can help you get there.
Then, Eonnet recommended crafting a message that's short, sweet, and super clear on what you need from them. Maybe you want to hop on the phone to pick their brain about making a career change. Or maybe you're looking to be connected to a colleague of theirs. Whatever your ask, be as direct as you feel comfortable being.
"You don't need to explain why [you were laid off] or what happened," Eonnet added. "That's for a conversation on the phone if it comes up, depending on the person."
Now, you're probably wondering: Who exactly should you be contacting? We broke down the five most common types of people you should reach out to after you've lost your job—and how each can be a valuable resource in your job search.
1. Former bosses with whom you have a good relationship
Managers and leaders who respected you and your work—even if they weren't heavily involved in your day-to-day—know your value and work ethic better than most people in your network. This means they can not only vouch for you as a reference, but are also more inclined to advocate for you for jobs inside their company or network. (And they likely have more pull in hiring decisions than former coworkers.)
At the very least, an experienced or well-connected former boss can act like a mentor if you're struggling with applications or interview prep, or just need some guidance on what to do next.
The email template: Job Searching? 4 Email Templates That'll Make Asking for Help So Much Easier
2. Former coworkers you interacted with occasionally, if not regularly
Reconnecting with past coworkers allows you to broaden your network outside your niche and get input from a diverse group of people who know you in different contexts. You don't have to be best buds with an old coworker to reach out to them, either. Even that colleague you chatted with a few times at work drinks is probably more than happy to lend a hand.
"Past colleagues are the most likely people to actually find your next job opportunity: They are in your industry (most likely), know you professionally, and can vouch for your work—and it's easy to reach out to them even if it's been a while because you have a working relationship," Eonnet said. They're also often less intimidating to contact and be vulnerable with than a former boss.
The email template: Job Searching? 4 Email Templates That'll Make Asking for Help So Much Easier
3. Friends or family members in your industry or area of interest
Friends and family aren't just great support systems during a job loss—if they work in your industry or at your dream company, they're an easy in for referrals, introductions, or just some advice on your resume or cover letter.
However, while a college friend or close aunt can speak to your integrity and passions, they can't speak to your experience and skill set as well as a professional contact, so you'll want to come prepared to the conversation with examples of your work and a clear vision for your next role.
The email template: How to Talk About Being Laid Off With Your Family, Friends, and Network
4. Former clients or contractors you trust
Clients or contractors you partnered with on specific projects can serve as great references if you can't lean on an old boss or coworker. They may also have connections at companies you'd like to apply to or in fields you'd like to move into.
"On top of that, you might be doing them a favor: It's very possible that recommending you becomes a great way for them to reconnect with their network and add value to those relationships," Eonnet said.
The email template: 4 Email Templates to Make Networking Way Less Awkward
5. Your LinkedIn or social network
Your online network consists of all your miscellaneous professional contacts: people you met at conferences or events, old high school buddies, friends of friends.
While reaching out individually will yield better results, posting about your layoff and what you're hoping to do next is an easy way to get their attention, especially if you haven't seen each other in a while. Just make sure your profile is up to date before you do. (If you're unsure if this strategy actually works, here's how one job seeker landed 20 interviews after sharing her layoff story on LinkedIn.)
The template: How to Talk About Being Laid Off With Your Family, Friends, and Network

Eonnet emphasized that there's no right or wrong order to contact people in your job search. "I've spoken to so many clients who cringe at asking the people they know for a favor, and others who are paralyzed at cold calling," Eonnet said. "I always say start with what feels safe, and then once you realize that in fact people are willing to help, or once you realize that it's actually not that scary, then take bigger chances."
She also suggested practicing what you plan to say before you meet with someone over a call or meal. "People are going to be willing to help you regardless, but if they sense a confidence in you and a clarity in what you want, they'll be more willing to help out, because it's going to make them look good in the end."
Networking is scary no matter your situation. But if you're hoping to avoid a long, tiring job search post-layoff, it's a surefire way to speed up the process and end up in a role that truly excites you.