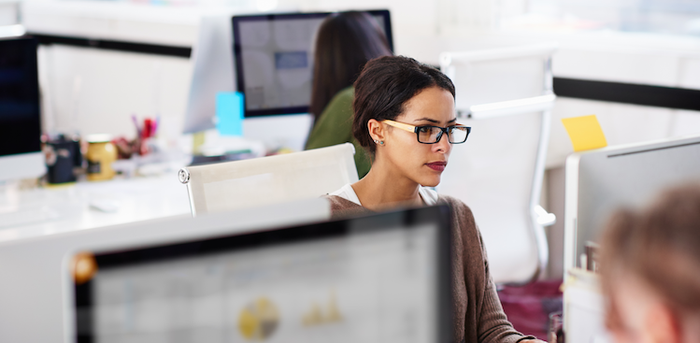 It's a great time to be a digital marketer, folks. The last decade has seen a major transformation and a new type of marketing professional has emerged: the scrappy, growth-minded, data-driven digital marketer who is held accountable for shared revenue targets, website traffic, growth numbers, and more.
This marketer practices their craft almost exclusively in the digital realm: creating written and visual content; running ads on Google, YouTube, and other channels; optimizing the company website; crafting email marketing campaigns; building press relationships; and managing social media platforms.
Capable digital marketing professionals are in high demand. According to McKinley Marketing Partners' 2019 Marketing Hiring Trends Report, digital marketers are the most sought-after hires in the field. And while marketing teams and budgets have been growing, that also means the landscape is competitive.
To stay at the top of your game in a rapidly evolving field, you should be constantly refining your skills in nine areas:
Do you need to attain perfect mastery of all nine to be an exceptional digital marketer? Absolutely not. Many digital marketers are specialists, with a specific focus on just two or three of these skill sets. However, the more valuable you want to be to any company and the higher up the ladder you want to advance, the more important it will become to have at least some proficiency or understanding across the board.
Right now, you might be saying to yourself, "Great, so how long will it take to develop all of these skills? It sounds like a career's worth of work." But many areas of digital marketing overlap with one another. Copywriting and search engine optimization go hand-in-hand, for example, as do data analysis and conversion rate optimization.
As a digital marketer continuing to hone my own skills, I promise it's not as intimidating as it looks. Before joining Nextiva's digital marketing team, I ran marketing for Ambition, a high-growth tech company on a shoestring budget. Over the last several years, I've learned a lot about these critical digital marketing skills, what makes them imperative, and how you can refine and hone your craft on each front.
1. Copywriting
Digital marketers must be skilled writers and communicators who are well-versed in the art of using language to gain their buyer's attention, spark interest, generate desire for the product or solution, and inspire them to take action.
Copywriting is all about the power of writing persuasively—whether in the headline on a company's homepage, a social media post advertising your company's services, or a marketing email to your customers announcing a new promotion.
Luckily, it's easier than ever to see how effective your words really are. While many metrics are only a partial measure or proxy for effective copywriting, they can still help you gain insight into what works and what doesn't. For example, you can run an A/B test on an email with two subject lines and compare open rates. Or you can measure the impact of website copywriting by tracking metrics like bounce rate.
Read More:What Does a Copywriter Do and How Do You Become One? Everything You Need to Know
How to Get Better at It
You can refine and hone your copywriting craft by developing a deep understanding of your target audiences. Speaking with customers is one of the best ways to learn what your customers care about, why they bought your product or service, and the value they're gaining from it. As you learn more about who you're writing to and for, you'll be able to communicate with them more effectively.
Books such as Make It Rain!: How to Use the Media to Revolutionize Your Business & Brand by Areva Martin, Enchantment: The Art of Changing Hearts, Minds, and Actions by Guy Kawasaki and Permission Marketing: Turning Strangers into Friends and Friends into Customers by Seth Godin teach universal, timeless principles about good copywriting and digital marketing overall. Everybody Writes by Ann Handley is perhaps the magnum opus on copywriting, and the one book I recommend all aspiring copywriters read.
Communities such as Inbound.org, GrowthHackers, and Quora are great places to learn tricks of the trade from fellow marketers. You can also sign up for free (or cheap) online courses (like this one on Coursera).
Finally, the best way to become a great copywriter is to go ahead and write, measure the results, and see what works. Over time, you'll develop a sixth sense for great copy and the types of words and phrasing that draw people in and drive them to take action.
2. Search Engine Optimization
One of the foremost challenges you'll face as a digital marketer is getting people to visit your company's website. You can solve this issue via search engine optimization (SEO), the practice of optimizing your content or website to rank near the top of search engines like Google and YouTube (the second largest search engine on the internet) for search queries relevant to your product or business—and getting more high-quality website visitors as a result. It has become a staple of modern digital marketing because it's hands down one of the best ways to build brand awareness as well as sustainable, long-term demand for your product.
SEO experts know how to discern which search queries are important to their buyers and understand how to create content that will rank at or near the top of a search engine for key search terms. Crafting content is only half the battle, though. You also have to understand the technical side of SEO, such as how to structure a webpage and what to put in the URL.
Digital marketers have powerful resources and measurement tools at their disposal. Tools such as Ahrefs and Moz can inform you how much search volume there is around a given term, the difficulty of ranking for that term, the location of people searching for that term, and more. You can measure traffic to your pages and conversion rates from search via Google Analytics and marketing automation tools such as HubSpot and Pardot.
How important is SEO? Moz Co-Founder Rand Fishkin cites the rising influence of Google as one of the biggest challenges for digital marketers in 2020 and beyond. SEO is constantly changing and evolving, so digital marketers must stay on top of best practices and look for new ranking opportunities.


How to Get Better at It
The Ahrefs Blog and Backlinko are great starting points for SEO newbies who want to learn the tips and tricks for creating content that ranks on search engines such as Google and YouTube. If you prefer a more structured starting point where you can learn basic SEO tips, tactics, and strategies, you can try an online course (like these from Udemy) to get you started. Once you understand the basic concepts, you should also get comfortable navigating SEO tools such as Ahrefs, SEMrush, Moz, and Google Analytics.
3. Social Media Marketing
No matter what product or service you're selling in this day and age, your buyers are on social media. Social media marketing gives you the opportunity to build a following for your brand, reach your audience en masse, and retarget prospects and customers with tailored promotions and content that might interest them.
As a skilled social media marketer, you should know which channels your buyers are on—whether it's LinkedIn, Instagram, Twitter, Facebook, or others—and become adept at communicating with them there. You can publish a variety of content—from videos to product launch announcements to new blog posts—to engage buyers in meaningful ways. You should also know how to turn customers into advocates and evangelists for your brand.
How to Get Better at It
To refine and hone your social media marketing craft, you can turn to tools such as BuzzSumo and subject matter experts like Gary Vaynerchuk, who can give you great insights into what drives people to engage with brands on social. I also recommend taking a free online course or two where possible. Buffer's Introduction to Social Media Strategy is a great starting point.
But most importantly, start watching, learning, and participating in the social media channels that matter to you. Follow the brands you admire most on social media—especially those in your industry—watch what they do, and emulate their best stuff while learning from their mistakes and missed opportunities.
4. Marketing Automation and Technology
Just as Katniss Everdeen relies on her bow and arrow to survive, digital marketers need marketing automation tools to maximize their powers. So it's vital to have good working knowledge of the tools you wield to reach and convert your audience, to understand what they can do for you, and to know how and when to use them.
Marketing automation tools include platforms such as HubSpot, Marketo, and Mailchimp, which can be used to convert website visitors to customers, track customer journeys through your marketing funnel (i.e. the path buyers trace from initial awareness of your brand to final purchase), and engage customers via pop-ups, landing pages, emails, SMS texts, and more.
The most powerful marketing automation platforms give you the ability to manage the entire customer journey via one platform. To be a savvy digital marketer you should know how to choose the right platforms for your business (and adapt to the ones that your company is already using) to personalize the buyer's journey and give them the best possible experience—thereby increasing the likelihood of them purchasing from you.
How to Get Better at It
Major platforms like HubSpot and Marketo offer certifications and courses you can take on your own time to develop your skills working with each platform.
But perhaps the most critical aspect of learning marketing automation tools is understanding how to think like a buyer. What triggers website visitors to become interested in purchasing your product or service? What sort of follow-up email communication would you like someone to receive once they purchase your product or opt into your email list? How can you build a massive following and keep them engaged over the long-term with your brand? As you get to know the various platforms, keep these questions in mind and try to understand the best ways to leverage your tools to reach your goals.
5. Audience Building
Audience building is the art of attracting your ideal buyers to your brand and maintaining their attention using content and digital communication channels such as email and social media.
To build an audience, you must be able to do three things extremely well:
Understand your buyers: what they like, what digital channels they are on, how they buy
Create content that appeals to them: videos, blog posts, social posts, eBooks
Continuously engage them: get them to return over and over again by subscribing to your blog, joining a mailing list, etc.
The first step here is understanding your buyers. What makes them tick? Why do they buy your product or service? What problem or need are you addressing? Once you understand that, you need to be able to create content that reinforces the value your company provides and which will foster a sense of loyalty among your customers. You're the company that understands them better than anyone else. You're the brand they know, like, respect, and trust.
Audience building is critical for large brands and small brands alike. Whether you're Wendy's using Twitter to entertain hungry followers or a local bookstore moderating book club discussions on Facebook, you can use digital channels to build a major audience for your company. The key is to understand your buyer, actively create content that attracts the right type of person to your website or social media accounts, and keep them coming back over the long term.
How to Get Better at It
To hone and refine your audience building skills, you must first develop a deep understanding of who your buyers are, what problems or needs they are looking to solve, and what types of content they like to engage with. Because it's not "one size fits all." Some brands might have an audience that loves bite-sized video clips that make them laugh while other brands might do better creating educational webinars and ebooks.
A great starting point is looking at data from BuzzSumo and seeing what articles and posts are getting the most traction on social. Another valuable approach is following the most popular brands in your space on social and joining their email lists. You can get a sense of what content they're creating and distributing to your target buyers and get ideas for your own content campaigns. And books like Blue Ocean Strategy: How to Create Uncontested Market Space and Make Competition Irrelevant by W. Chan Kim and Renee Mauborgne, Jab, Jab, Jab, Right Hook: How to Tell Your Story in a Noisy Social World by Gary Vaynerchuk, and Trust Me, I'm Lying: Confessions of a Media Manipulator by Ryan Holiday offer powerful insights on audience building from masters of the subject.
No matter what you do, make sure you use data to figure out what sort of content most interests your target audience. See which social posts have generated the greatest number of interactions, which email subject lines have yielded the highest open rate, and which blog posts have the highest numbers of social shares. Over time, you should develop your instincts and become adept at quickly developing and distributing new content that resonates with your audience.
6. Project Management
Digital marketing requires a great deal of coordination in order to be effective. So in addition to creativity, you'll need to stay organized and work well with others. You have to know how to take a project—whether it's a blog post, an ebook, or a website redesign—from ideation to completion in a speedy and effective manner.
Most digital marketing projects involve multiple stakeholders and contributors. If you're launching an ebook, for example, you'll need to work with writers and designers to construct the ebook itself. Once that's done, you'll need to collaborate with web development and marketing technology managers to host the ebook on your website and generate downloads. Finally, you might partner with your social media and email marketing team to distribute and promote the ebook to the world. A good digital marketer will know how to take various teams' priorities and ideas into account, establish a process, set deadlines and provide instructions, and keep the project moving forward.
You also have to keep your cool and adjust when things don't go as expected. "One of the most important, and frankly overlooked, skills a digital marketer needs is the ability to respond (and recover) quickly when things don't go as planned. We've all been there," says Jen Spencer, VP of Sales and Marketing at SmartBug Media. "A talented digital marketer always has a plan B, or is able to formulate a plan very quickly."
How to Get Better at It
This particular skill set can be challenging for some digital marketers who are more naturally creative than they are process-driven. To refine and hone this skill, you can start with free online courses like this introductory one on edX. Books such as Start with Why: How Great Leaders Inspire Everyone to Take Action by Simon Sinek offer great insights on how to influence people to do great work.
In addition, you don't have to start from scratch as you start overseeing different initiatives. Project management platforms such as Asana offer great templates you can look to for examples of project management processes and outlines for just about any digital marketing initiative there is.
7. Data Analysis
The best digital marketers are obsessed with data and track their performance the way elite athletes track their stat lines.
Data analysis is the linchpin to every other digital marketing skill set because it enables you to objectively measure your impact. You can see exactly how many people are engaging with your websites, email marketing campaigns, social media posts, digital ads—you name it. And you can glean insight into how they're reacting and interacting, which will inform your strategy the next time around.
As a digital marketer, you should see your world in terms of data and be able to use that data to find new growth opportunities for your business. For example, you might use Google Analytics to find a highly-trafficked blog post that should be converting visitors to leads but is missing a compelling call to action and decide to A/B test a few options to see which drives the best outcome.
How to Get Better at It
To hone and refine your data analysis skills, you should acquaint yourself with the preeminent data analysis tools for marketers including Google Analytics; major marketing automation platforms such as HubSpot and Marketo; and social media platforms like LinkedIn, Instagram, and Twitter. Resources at Google Analytics Academy and HubSpot's Inbound Academy can help you learn these platforms for free. In addition, get to know the built-in data analysis functionality of the major marketing platforms as well as tools like Microsoft Excel and Google Sheets.
Most importantly, practice the art of translating data into a narrative framework. You'll need to be able to tell stories with data to back up your proposals and persuade your bosses to greenlight your ideas.
8. Conversion Rate Optimization
Marketers are being held accountable for revenue more than ever before. Getting traffic and visitors to your website is great—but it won't help your sales team hit their revenue target if your site isn't optimized to turn visitors into paying customers.
Finding the right messaging, content, design, and user experience (UX) for each page on your website is crucial to improving conversion rates and generating exponentially higher returns from the traffic you're driving to your site. So you need to be able to work with designers, developers, and product marketers.
In addition, you need to use your data analysis skills to test and improve your website conversions over time. The best conversion rate optimizers know their way around heat mapping tools like HotJar (which show you where website visitors are clicking on a page) and have a deeper-than-usual understanding of Google Analytics.
How to Get Better at It
Honing and refining your CRO skills requires a mastery of several skills outlined earlier in this document: copywriting, project management, and data analysis. To put all the pieces together, you can always turn to online courses like this one from HubSpot or this one from Lynda/LinkedIn Learning.
Once you get into the wild, you can improve your CRO chops by optimizing simple landing pages first, then gradually move into full website optimization.
9. Getting Shit Done
The ninth and final digital marketing skill is, without question, the most pivotal. In fact, one might argue that this skill is the secret to developing the other eight crucial digital marketing skills. Ask yourself:
Are you a marketer who complains about not having enough resources? Or do you roll up your sleeves and make it happen?
Are you scattered and unfocused, leaving projects half-finished? Or do you prioritize and manage your time effectively?
Are you deliriously suffering from back-to-back meeting syndrome? Or are you questioning every single hour of your day with a protective mindset?
Do you remove barriers and obstacles yourself? Or do you wait around for others to remove them for you?
Do you let Asana, Trello, or Jira tickets go months past their due date? Or do you hold yourself accountable to goals and due dates?
Can you Google ways to solve your problems and have a proactive mindset when it comes to finding solutions? Or do you default to relying on your manager to solve your biggest problems for you?
In short, do you get sh*t done? When you work in a role where you're constantly being held accountable for various goals and targets and in a field that's constantly changing, you have to be able to take initiative and get results.
How to Get Better at It
This is the one digital marketing skill that requires zero talent. Anyone can develop it, you just need the right mentality. If you find yourself struggling and overthinking when it comes to getting things done, remember one of the greatest advertising slogans of all time and "just do it".
What does "just do it" look like? It's finding the answers to your questions on places like Google, Quora, and Inbound.org. It's calling up someone else who works in a similar digital marketing role and asking to pick their brain about what's working for them or how they solved a certain problem. It's setting goals for yourself and learning to focus your efforts on the tasks that matter most (if those are unclear, ask your manager).
The beautiful thing about being a digital marketer is that so much learning can take place online, on your own time, and quickly be converted into practice. And you have to be ready and eager to do that. "If you're not driven to learn, it doesn't matter how good you are—your skills will become outdated in a year," says SingleGrain Co-Founder Eric Siu. "Marketing moves so fast—it's critical to continuously learn and improve, so you can stay on top of your game and avoid becoming a dinosaur."
Watch related employer videos: