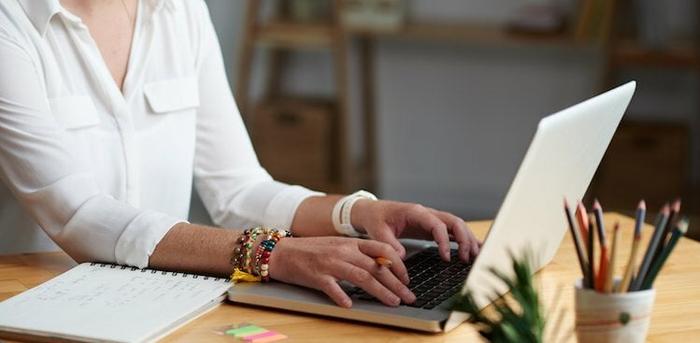 Maybe you weren't a marketing major in school but now the field's calling your name. Or you're interested in making a career change and the world of social media—or another marketing role—has caught your eye. Or you're just looking to get better at a specific topic in the digital marketing space.
Well, thank all the heavens for online classes! They make picking up a new skill easier than ever, and they don't cost an arm and a leg to enroll in.
We've compiled the best online courses we could find to learn digital marketing skills—anything from SEO to email marketing to copywriting—so you don't have to go searching in the depths of the internet to find them yourself. Check 'em out!
Social Media Marketing
Taught by the Strategic Partnerships Manager at Shopify (previously the Head of Strategic Partnerships at Buffer), this course will give you a nice base to work with if you've never delved into social media marketing before. It'll cover coming up with a social media strategy, using tools like Buffer to organize and track your social media efforts, and even dipping your toes into paid social ads.
Length: 43 minutes/9 lessons
Cost: Free with trial/$15 a month
So you want to make your company's Instagram look less like a third grade science project and more beautiful than an influencer's profile. Taught by a professional photographer who's worked with brands such as CNN and Toyota, this short series will teach you how to create and choose the right kinds of photos for posts and use the latest editing apps to make them sparkle.
Length: 36 minutes/9 lessons
Cost: Free with trial/$15 a month
Canva is a non-designer's best friend when it comes to creating nice-to-look-at assets to share on social media. If you've never heard of it or don't know how to navigate the website, this class will walk you through everything you need to know to use this platform effectively in your marketing efforts.
Length: 1 hour, 8 minutes/15 lectures
Cost: $20
Working in social media marketing is about more than just posting great stuff—you need to know how to respond to users' and customers' concerns, questions, and comments. This is a great starter class for delving into the art of online customer service.
Length: 1 hour, 5 minutes/20 lectures
Cost: $45
Knowing how to use all the technical components of social media is important, but it's what content you produce and post there that matters the most. This class will cover assessing your audience so you can best write what they'll be excited to see (and engage with) on Twitter, Instagram, Facebook, and more.
Note: This course starts November 11, 2019.
Length: 3-5 hours a week, 4 weeks
Cost: Free without certification (or $99 with certification)
Email Marketing
Learn from an expert at the popular email marketing service Mailchimp about the basics of email marketing, from deciding what to include in your email campaigns to choosing what days and times you blast them out to engaging an audience whose inboxes are overflowing.
Length: 1 hour, 11 minutes/14 lessons
Cost: Free with trial/$15 a month
At a similar cost and length as the above course, this class is perfect for beginners testing out the waters of email marketing. It'll cover building an email list, writing copy, and tracking email campaign performance.
Length: 1 hour, 58 minutes/17 lectures
Cost: $20
What you write in your email campaigns—from the subject line to the body of the message—can mean the difference between someone deleting the email without opening it and reading the whole thing top to bottom. Getting the latter result requires a keen copywriting eye. This course will get down to the basics of writing and thinking like a marketer.
Length: 1 hour, 22 minutes/13 lessons
Cost: Free with trial/$15 a month
PR
This masterclass is a great starting point for diving into the world of PR. You'll come out with a better understanding of how to develop the right messaging, contact members of the media, come up with a PR strategy, and manage crises.
Length: 2 hours, 48 minutes/51 lectures
Cost: $30
Being successful in public relations is all about storytelling. If you struggle to find newsworthy angles for your business, this course, led by a former broadcast journalist turned PR consultant, will teach you how to identify exciting stories about your company that the media can't help but cover.
Length: 45 minutes/9 lectures
Cost: $30
Never written a press release before? Get comfortable with the process by signing up for this basic course for startups and novices, which will cover how to perfect your pitch, craft a compelling message, and engage journalists.
Length: 45 minutes/13 lectures
Cost: $35
A lot of PR is about being a great networker. This course helps you understand your various connections inside and outside the media industry and use those networks to your advantage.
Length: 46 minutes/9 lessons
Cost: Free with trial/$15 a month
SEO (Search Engine Optimization) and SEM (Search Engine Marketing)
Not only does this course do a great job covering the basics of SEO, but it also delves into modern trends to look out for and follow. After four short weeks, you'll come out with a comprehensive understanding of SEO and greater confidence in implementing SEO best practices.
Length: 20 hours/4 weeks
Cost: Free
Get updated on the latest trends with this class on best practices for on-page SEO. It'll cover optimizing your pages for SEO and walk you through some examples so you can put the tips into practice.
Length: 1 hour, 35 minutes/13 lectures
Cost: $20
Paid search ads are an important component of search marketing, and Google Ads is the player here. Pick up the necessary skills to run and monitor your campaigns by taking this quick introductory course.
Length: 1 hour, 19 minutes/11 lessons
Cost: Free with trial/$15 a month
Video SEO comes with its own set of things to think about. Delve into basic YouTube SEO with this beginner course, which talks through attracting and growing subscribers and viewers and creating content YouTube loves.
Length: 4 hours, 40 minutes/69 lectures
Cost: $30
General Marketing
If you weren't a marketing major and you're looking for a college re-do, this course could be a good fit. It's taught by Wharton's top marketing professors and covers three elements in customer loyalty: "branding, customer centricity, and practical, go-to-market strategies."
Length: 9-10 hours/4-5 weeks
Cost: Free
Data is everywhere, and understanding it is crucial in the marketing sphere. Learn how to analyze user and consumer behavior on Google Analytics to better your marketing efforts with this beginner lesson on data science.
Length: 2 hours a week, 2 weeks
Cost: Free for 4 weeks
Become a content marketing expert—or closer to an expert—with this lecture series, which talks through writing copy, building brand awareness and authority, and evaluating and leveraging the content marketing ecosystem.
Length: 18 hours/4 weeks
Cost: Free
You want to better decipher customer behavior and use that to solve various marketing problems. This course will teach you the tools and techniques for acquiring data and parsing through it to find results and solutions.
Length: 5 hours/4 weeks
Cost: Free