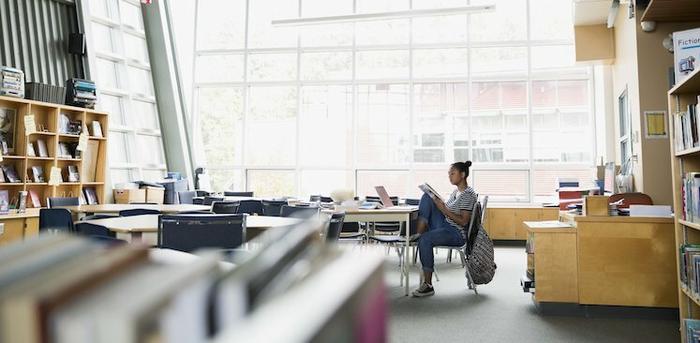 When I was trying to figure out what career to pursue after my military service, I dove headfirst into the world of "finding my passion." After spending almost five years in a career field (army intelligence) that had literally nothing to do with my college degree (television and film production), I wanted to make sure my next career lined up with my future intentions, interests, and, hopefully, passions—of which I have many!
I think I read, listened, and watched at least a year's worth of material, which involved a real mental struggle and plenty of "soul searching." I even considered going back to college but realized that wasn't right path for me (and not simply because I didn't want to be responsible for student loans, though that was a big factor).
There's no question that it takes time and effort to find your passion, purpose, career path—whatever you want to call it—but it doesn't have to cost you an arm or a leg (or a new degree).
Read


Reading was my preferred method of exploring potential career paths. Fortunately, there are a staggering amount of career advice books and articles available (thank you internet), so you could say I had my work cut out for me. And thanks to the library, I could pick up almost any title for free.
Here are my top picks:
Skeptics of the MBTI personality theory might have their minds changed with this book. I read this after working several jobs (where I was extremely unhappy in every role) and realized the outlined scenarios for my personality aligned almost perfectly with what happened in my career.


For those who love taking quizzes aimed to help you reveal inner truths about yourself, this book has over 100.


Skeptical about even trying to "follow your passion?" The author of this gem argues that gaining expertise in any profession is the key to a passionate, purposeful life.


And for the traditionalists, this book has been a cornerstone of career counselors for decades and can lead you to discover the best career for you.


Geared toward mid-career path changers in particular, Krznaric offers real-life examples and practical advice for thriving.


If you're longing to connect your passion (or figure out what exactly it is and how it works) with the needs of the world, pick up this read.


Figure out how to leverage your current expertise and training into an area you're more interested in (without having to start from scratch) is called pivoting, and Blake breaks down just how to do this in bite-sized steps.


Maybe you've an inkling what you'd like next in life, but aren't sure how to motivate and get yourself to that next step. This one outlines why grit is the answer.


In this article, Moser outlines actions you can take today to help figure out what to work toward tomorrow.


After all the heavy reading, quiz-taking, and mental angst I went through, this post was a breath of fresh air to me. Simple and to the point, it helped me narrow down my list of potential future careers.


Find your calling, or fight for it? Dozens of personal interviews go into these seven best lessons.


Finding your purpose isn't about suddenly waking up one day, realizing you hate your job, and then promptly changing careers. It takes a little more than that.
Watch


And for those of us who'd rather watch something than read, TED Talks are my number one suggestion for quality, world-class advice.
Learn how to find out what really matters to you—and how to get started doing just that.


Maybe almost everything sounds interesting to you, and you're wondering how on earth to narrow your focus to just one passion.


At 71 years old, this speaker demonstrates that it's never too late to live passionately.


And a good kick in the pants (for any age), if you think that you have infinite time to figure out what to do with your life.


One of my favorite talks if you're looking for a change in perspective. Why asking for help will help you in the long run.


An absolute classic to figuring out your underlying motivations, by one of the most well-known (and highest paid) self-help gurus.
Listen


About a year and a half ago, I finally discovered (and fell in love with) podcasts. My morning commutes of 20 to 60 minutes suddenly had more purpose than catching up on the same five rotating pop songs. I could learn something and continue discovering where my passions lay. Whether you pop earbuds in while doing your laundry, or tune in on your commute like I did, podcasts are terrific because of their low-impact learning—you just have to listen, and that's not much to ask, right?
Lewis Howes, former pro-athlete turned business and life adviser, offers advice for living your passion, and he interviews top-tier professionals who can speak to this.


Explore different industries by listening to a broad selection of professionals describe lessons learned and associated wisdom.


Learn tips for how to thrive in life and work through the lessons in this podcast, gathered from interviews with creatives.


Top-tier leaders of all kinds (scientists, weightlifters, chess masters, and more!) offer their life hacks and life stories in this interview series.


David Kadavy, entrepreneur, author, and designer, interviews expert creators who have achieved what they define as success.


Host Rana Campbell, marketing strategist, interviews creative entrepreneurs to find out how they get "dreams in drive."


And if you love listening to inspiring stories from well-known (as well as lesser-known) professionals, you'll be thrilled with this choice.
Do


Once you've narrowed down your interests to a more manageable number (through reading, listening, and watching!) you may be ready for the next step. Rather than quit your current job or immediately apply to an educational program, you can test-drive a career through these methods.
26. Volunteer
Almost 10 years ago, I volunteered at a holistic institute (found on CoolWorks) out of an interest in the wellness industry. That summer, I not only made connections, but I also learned which personalities work in that industry. I ultimately decided that as much as I'd enjoyed the work, it wasn't my fulltime path. And, since learning how valuable volunteering is to experiencing in real life how an industry operates, I haven't stopped that practice.
You don't need an entire summer to figure out whether something works for you. Once you start browsing opportunities, such as those found on Idealist or VolunteerMatch, you'll see that weekend events, once or twice a month commitments, or even a one-day immersion can be all you need to explore an interest.
27. Be Creative
Don't be afraid to ask if you can volunteer at a conference or event you're interested in. Even if website doesn't have a "volunteer opportunities" tab, it doesn't mean the organizer wouldn't appreciate a helping hand. I've landed multiple positions through reaching out in this manner, and I've never been rudely rebuffed for asking to help.


28. Reach out
Maybe you know someone in the exact career you're curious to learn more about. Great! You've identified a professional to potentially help you grasp what work that position takes. Craft a well-written request for a coffee date (also known as an informational interview, or, just 10 minutes of his or her time.


29. Intern
While this option requires the largest time commitment, it's worthwhile if you're pretty certain you've found a career you'd like to invest your time. Word of warning with this option: Some internships do require that you're an enrolled college student. But if that's not clearly stated in the application instructions, there's no harm in reaching out and asking the hiring manager. (And yes, take it from former Muse intern Abby Wolfe, you can take on an internship and a full-time job at the same time.)


30. Take Courses
If you don't feel like leaving the house but still want to commit time towards your new career pursuit, there are plenty of free courses in all sorts of topics! The Muse rounded up the 14 best online class sites, several of which have free options. And if you're just dipping your toes to see if you'd like to say, learn how to code, we've collected 10 free classes for you to try.
Now, if you reach a point where you're overwhelmed (or already are!) with all the possibilities out there, and how to choose where to focus your effort, think to what you do day-to-day, for yourself, or as a hobby. Think back to when you had a difficult moment in your life, what did you turn to?
For me, I'm always reading, it's one of the joys in my life that I didn't even realize could be considered a passion. It's something in my life that I don't spend one day not doing. When I finally realized that, I knew that I'm happiest in roles where I can read, and then express myself through writing.
It may take years, and your passions may change with time, but it's always worth exploring, especially for the price of free.


Have a favorite resource yourself? Let me know at @ninadawdles!