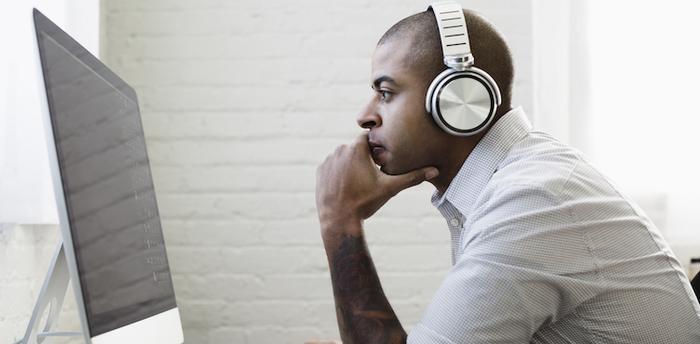 I know one thing for sure about working in an open office: Headphones are a must-have. So is a killer playlist (which is why we rounded up these 10 Spotify playlists for you).
And I was hardly surprised when I asked members of the Muse team if they listened to music—and they almost all said "Yes!" But I was delighted that their responses ranged from '90s music to a little something called "pop goes punk."
In fact, I was so delighted that I threw the question out to you, our readers, on Facebook.
Here's what you had to say:
Classical music helps me stay focused because our local classical radio station doesn't have a lot of talking—I know that talk radio would drive me nuts!
Mish
I listen to big band, musicals, pop rock, alternative, Christian rock, '50s through '80s, movie soundtracks, old rock, old country, soft rock, jazz, blues, classical and the list goes on.
Nancy
EDM with no lyrics, low volume. The tempo is normally fast enough for me to get into a groove without being distracted by the lyrics. On Pandora I use 'Electronic for Studying' Radio.
Emily
It depends on what the job is. If I'm exercising it needs to be something with a strong beat; painting, more like singer-songwriter '70s music.
Linda
I like classical musical softly in the background. Its like white noise and lets me focus. On Pandora, I listen to 'Paul Cardall' Radio which is a classical blend and mostly piano. All of this filters out distractions and helps me focus.
Randy
It depends on the project and timeline. Classic jazz is my must-meet-this deadline go-to and Mozart is my regular focus go-to.
Detra
While at work, most of the time, I listen to gospel music. It really helps when I am just starting a project. Once I've started whatever I'm working on, to get it done, I switch up to jazz.
LTarra
'Eye of the Tiger' or other inspirational music that's motivating at the workplace.
Daniel
Only the music helps me to go through with my daily routine. It helps me a lot to avoid distractions such as people's phone calls, movement or unimportant conversations. So I mostly listen house, deep house, techno, or EDMS...once in a while commercial pop.
Zaya
I found that music, such as Rare Groove—specifically, The Thievery Corporation, Bonobo—helps with productivity and idea generation.
Arthaus
I typically listen to classical and change it up with the pop versions like Vitamin Strings or Piano Guys.
Lori
I listen to WPLJ in NY, or I listen to IHeart '80s.
Toni
Classical or the oldies from the '80s and '90s.
Myra
'70s soul, classic jazz. Or even '90s rap.
Marcy
Let us know on Twitter what kind of music helps you get the job done!