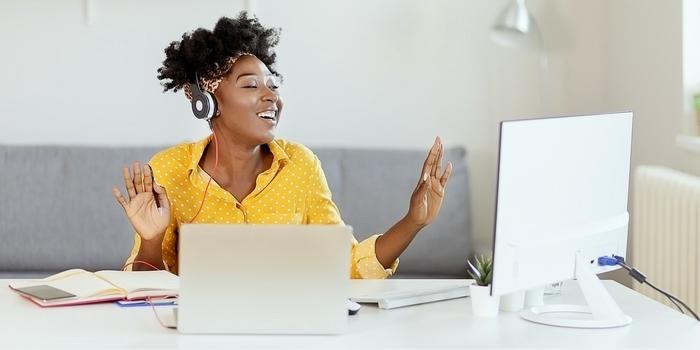 No matter who you are, there are probably days when you could use a little extra help getting from nine to five. (Or, more realistically, nine to six, seven, or even eight.)
If you're like me, coffee and music fuel your mornings. But when—dare I say—the coffee is all gone, music is all you've got.
Whether you need to focus, get pumped up, or wind down, the right playlist at the right time has the ability to transform your day from dull to dope. In addition, quality songs also have the power to reduce stress, help you connect with the moment, and give you all the feels.
SEARCH OPEN JOBS ON THE MUSE! See who's hiring here, and you can even filter your search by benefits, company size, remote opportunities, and more. Then, sign up for our newsletter and we'll deliver advice on landing the job right to you.
So if you're looking for the perfect tunes to carry you from the morning commute to happy hour, check out these 12 awesome playlists.
Note that many playlists created by Spotify are partially curated to your personal tastes and listening habits, so "editorial playlists" (identified by the Spotify logo in the top left corner of the album art) won't be exactly the same for everyone—but their vibes and goals will still be on point.
1. Best playlist for when you need inspiration on your commute to prep for your workday
2. Best playlist for when you first get to your desk and need to block any potential for human interaction until after your first coffee
3. Best playlist for when you need to focus and find your calm
4. Best playlist for when you focus better without lyrics
5. Best playlist for when you need to get pumped up for a big meeting
6. Best playlist for when you hit your post-lunch energy slump and need a boost
7. Best playlist for when you just can't with being an adult and want to revisit the days of Full House, Saved by the Bell, and The Fresh Prince of Bel-Air
8. Best playlist for when your nostalgia is more for the days of Lizzie McGuire and Kenan & Kel
9. Best playlist for when you just want to chill out and finish up the day
10. Best playlist for when you love your job and want to celebrate it
11. Best playlist for when you hate your job and need some motivation to keep going
12. Best playlist for when you're going home and need to get the office out of your mind