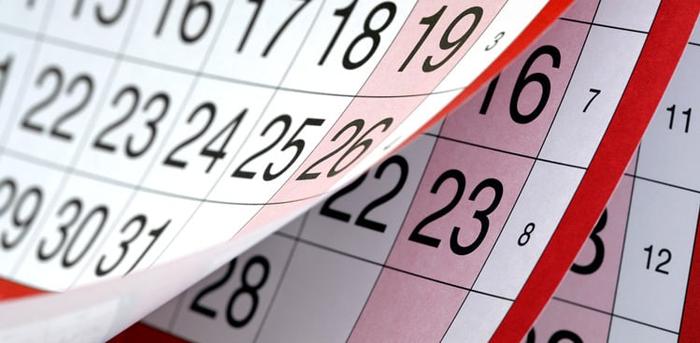 I'm going to say it: Yes, social media is important for your brand. Great content is important for your brand. But the most important thing for your brand? Your sanity. Which is hard to keep in check when there are blogs to write, Facebook posts to publish, and content to curate—but no real strategy for when or where or why.
If this sounds like you, it's time to create an editorial calendar. In addition to shushing the noise in that busy brain of yours, this will help you be super strategic about the content you're delivering to your audience by mapping out what you're posting, where you're posting it, and when to hit "publish." Scheduling your content ahead of time will also let your audience know when they can expect the content they love, making them more likely to check back, like, and share.
The good news: It's really easy to build. Here's how:


Find Your Favorite Calendar
Depending on your personal organizational style, you can buy a month-by-month desk organizer, create an Excel spreadsheet, or download the editorial calendar plug-in for WordPress. Whatever calendar format you use, you'll want to have room to include the title of the content, where you plan to publish that content, and when you want it to go live. You should also have a meaty notes section where you can scribble additional details you want to keep track of, like "in progress," or "need to edit first graph."


Take Stock of What You've Got
Start with this week. What content do you plan on creating? Do you write a weekly blog post? Are you attending an event where you'll take photos for your Facebook page? Are you running a hashtag campaign on Twitter?
Make a list.
And What You're Finding
What content do you come across each week that your audience might be interested in checking out, too? Are there newsletters you get in the morning that include relevant articles? Or a section of the Times you read every Tuesday? Add these content sources to your list as well.


Bucket List It
Now that you've thrown every shareable piece of content onto a piece of paper, what buckets can you create to organize them? For example, if you wrote down that you're creating one blog post this week, taking 20–30 behind-the-scenes pictures from an industry event, shooting a video interview with your CEO, and that you came across two MindBodyGreen articles and a quote a company posted on Instagram that your audience would probably love, I'd organize it like this:


Created Content
1 blog
20 photos from industry event
1 video interview
Curated Content
2 MindBodyGreen articles: "What it Really Means to Be Successful" and "What Everyone Should Know About Positive Psychology"
Quote graphic


Plug it In
Now, look at your upcoming week. You'll probably want to publish a few of those industry event photos on the day of the event, so plug three to five photos in for that day. What day do you usually write your blog? Schedule that in. Everyone could use a little pick-me-up at the beginning of the week, so schedule that quote graphic for Monday afternoon. And so on!
Also think about where you want each piece of content to live (Facebook only? Facebook and Instagram? Your blog?) and schedule it for times you know your audience responds best to your posts (e.g., you always get lots of comments around lunchtime, but not early in the morning). And don't forget weekends!


A few last tips: Mix up your content. If you post a quote graphic on Monday, don't post another on Tuesday—post a video, photo, or article, instead. You audience will appreciate the variety. Also, post your meatiest piece of created content consistently (this will likely be your blog). So if you're currently writing one blog a week, always post it at the same time each week. That way, your audience will come back regularly, knowing they can expect it.
Finally, spread that content out! Just because you took 20 photos at the industry event, doesn't mean that you should post all 20 of them that same afternoon—instead, mix it up and schedule them in as #tbt posts for a few upcoming Thursdays this year.
See how fun this is? Happy scheduling.