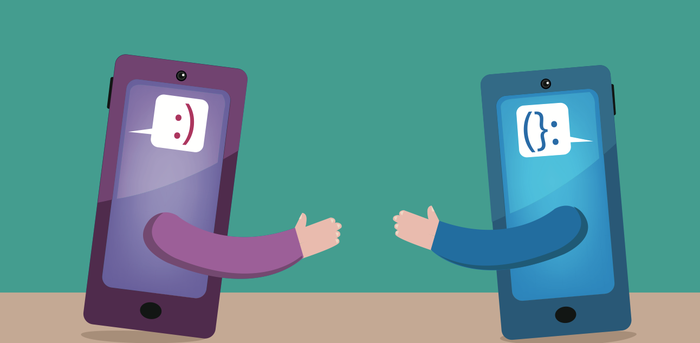 We probably spend more (quality) time interacting with people—friends and strangers—on the internet than we do in real life. So, it's no surprise that people are meeting professional contacts online all the time.
However, I've noticed that despite making great connections on the internet, a lot of people are hesitant to actually turn those into real-life relationships. When most people think about meeting someone from the web, they picture those scary elementary school lectures about not talking to strangers, or worse, they fear they'll be the newest star of Catfish. But, as someone who's met with dozens of "internet strangers" in person, I can promise that's almost never the case.
You saw that almost, didn't you? Well, through my experience I've become quite the expert at the whole "meeting IRL" thing. So I've got a few tips for you on how to make every meeting with an internet stranger go as smoothly as possible.
1. Do a Gut Check (and a Google Search)
Never underestimate the power of how you feel, especially after you search for a contact on Google. Like everything else in life, if a person you met on Twitter sounds a little bit shady, chances are that you're right.
When I'm thinking about hanging out in person with a professional contact I met online, I always look for several red flags. If you can't answer yes to most of these questions, avoid the in-person meet-and-greet and stick to exchanging links and likes.
Does he or she have a general online presence?
Does he or she have a LinkedIn page? Does it match up with conversations you've had about what he or she does?
Is his or her presence consistent across platforms?
Does this person have a human photo online that shows his or her face?
Do you and this person have any mutual friends or contacts?
2. Take Care of Logistics
If you're meeting up to get coffee or drinks somewhere, be very specific about the location as well as where you're going to sit once you arrive. No one wants to go, "Uh, are you so-and-so?" to every person who walks by.
Additionally, people always seem to forget to exchange old-fashioned contact info before meeting up, so regardless of how you've communicated previously, make sure you get a phone number so you can text or call if something comes up.
3. Look at a Picture
This isn't just for the purposes of making sure someone's real—there's a practical aspect to it, too! Learn from the times I've tried to meet up with people in a crowded bar, only to realize that I have no idea what they look like. Ideally, try to find a recent and large photo—the tiny little Twitter one doesn't always do you much good.
4. Have an Agenda
Like any other professional contact, make sure you have an agenda for why you're meeting in the first place. Trust me: "We know each other from the internet!" is not a good enough excuse to meet up—and I've seen it backfire terribly. Imagine two people sitting in silence across from each other, realizing that they have nothing in common. I promise you that getting together with someone from the web just for the sake of saying you met isn't as cool as it seems.
Instead, give it some thought: Do you two have common interests or jobs that you'd like to discuss? Are you looking at potentially working together? Are you looking for a mentor? Is he or she?
5. Expect the Unexpected
It's a general rule that real people will differ to some degree from their online personas (regardless of the platform). I've seen wildly loud people on the web speak barely above a whisper in real life, and I've seen incredibly calm internet people turn out to be chatterboxes in the flesh.
As long as you go into your meeting prepared for anything, you'll do great. So don't sweat this too much. In my experience, people are never too far to one extreme (especially if you did your Google research). And if you find yourself talking to someone who's a little shy, I recommend one of these great conversation starters to kick it off.


Meeting up with someone from the web comes down to two things: common sense (making sure people are who they say they are) and planning (so that you're not sitting there making awkward eye contact). If you accomplish these two, I promise you'll be making that long-time internet friendship into an awesome IRL one.