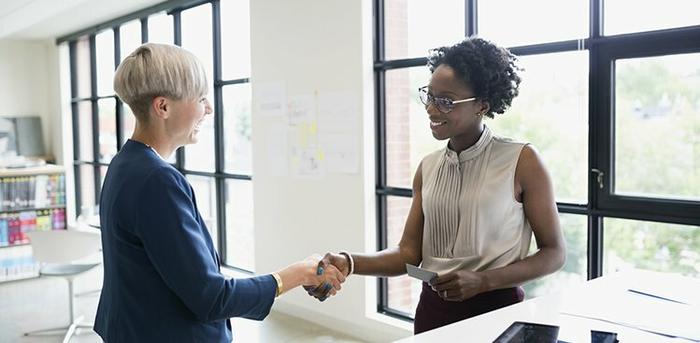 If you're a job seeker, you probably dream about recruiters reaching out to you with opportunities that are just perfect. Instead of submitting your resume over and over to the black hole of online applications, wouldn't it be so much nicer if companies were just begging you to join them?
Okay, I can't promise the begging. But, the reality is, most hiring managers do go online and search for talent prospects proactively, rather than combing through the applications that come in. So, if you are an active job seeker openly telling the world you are looking for your next thing, there are definitely better ways to get noticed and stand out from the pool of candidates applying online.
In my 20-year career helping job seekers and employers find each other, I've seen one strategy work particularly well. First of all, pick one or a few companies—preferably competitors of each other—to focus on. You'll also want to be very clear on the type of role you're after. Once you have a good idea of your dream positions, follow this bold three-step plan to get noticed by them, and hopefully hired.
Step 1: Build a Search-Optimized Visual Resume
Your regular resume serves an important purpose when you're already in front of hiring managers (say, in an interview), allowing them to quickly scan to see your potential. But very few recruiters are going to stumble across your resume online and be wowed by a document that looks so similar to everyone else's.
Instead, you've got to get creative with the online representation of yourself. Two great options are building a personal website or creating a PowerPoint about your professional history that you can upload to SlideShare (which has great SEO—meaning content there is easily found online).
In either case, you should include:
Photos of you "in action" working on a project or doing something you love
Quotes or testimonials about your work or work ethic
A visual timeline of your work or educational career
Keywords focused on the jobs and companies you're applying to (think about what recruiters might type in when looking for someone like you)
Your contact information so recruiters know how to get in touch
Be sure to name your site or presentation something recruiters might search for. If I was applying to business development roles at large tech companies, for example, I could use: "Craig Fisher, Resume, Professional Business Development Analyst of Dallas Texas Mastering the Best BD Practices of Oracle, IBM, Dell, Unisys, and Salesforce". Post it to your LinkedIn profile, Twitter account, Facebook page, and anywhere else you can be found online.
You can still have a regular resume for when you need it. But the visual version will set you apart when the hunters find you.
Step 2: Research Your Target Industry or Company—and Publish It
Your next step is to think about something that your target companies might find valuable—and create it.
For example, marketers could analyze the top social campaigns of the year. UX designers could create a visual report about upcoming trends. Continuing with the example above, I might research the business development methodology of one of my target companies and all its main competitors. Again, you can create a website or SlideShare that highlights this project and post it online so it can be easily found.
That's only half the battle, though. You'll also want to get it out there via a series of blog posts, white papers, or case studies that showcase your research and thought leadership (mine would be called "Business Development Best Practices of the Top Five Software Development Companies"). And you should publish them in places employers will find them, whether that's an industry site, a blog, or Linkedin's Publisher platform. Again when the hunters find you, they will likely see something that sets you apart for the rest of the pack.
Best of all, you can list this project as work experience on your LinkedIn profile and your resume (hey, you're not fabricating anything—you've done the work!). Just think about the amazing response you will have in an interview when they ask the question all employers ask: "What do you know about us?"
Step 3: Get Bold on Social Media
Finally, make sure you're active on social media, specifically on the platforms recruiters hang out on.
Let's start with LinkedIn: Our LinkedIn headlines tend to highlight what we've done in the past, but there's no reason you can't instead focus on the future. For example, you could swap your current headline for "Oracle's next greatest business development pro." Seriously! Then go post one of your articles in a LinkedIn group you know that company's recruiters or hiring managers lurk in. There's no way they won't notice you!
If you don't want to wait around to be hunted, you can start reach out specifically to recruiters or hiring managers at the companies you are targeting. A great way to do this is to post one of your articles on Twitter, tagging your target company (and key hiring managers or recruiters, if you know who they are) in your post. You're not just another candidate reaching out about a job—you're a pro who's offering something of value. Who wouldn't notice that?


Creating a multimedia resume, actively building thought leadership in your field, connecting with hiring managers online: This three-step process will ensure that when recruiters are looking for people like you, they'll find you. So why stick to the submitting resume after resume online? Passive job seeking is so… passive. If you want to get noticed, be bold!
Photo of interview courtesy of Hero Images/Getty Images.