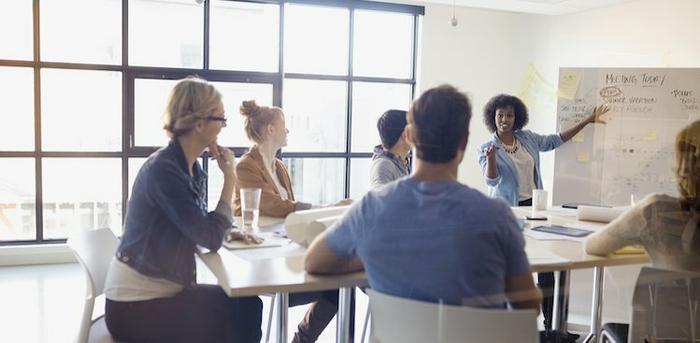 You've probably experienced it in your own hiring efforts: The best talent out there, especially for in-demand roles, typically doesn't have to look for a job. Meaning: Your careers page, and even your recruiter emails, are probably moot.
So what's a talent acquisition professional to do? The answer, says Phil Strazzulla, founder and CEO of NextWave Hire, is to think like a marketer—building an employer brand and engaging candidates long before they're ready to switch jobs.
Whether your company is big or small, in-demand or under-the-radar, we picked Phil's brain on marketing strategies any employer can start using today.
How does top talent today think about looking for a job? How can employers reach them throughout the candidate journey?
Similar to how you'd research a new car, bike, or computer before making a purchase decision, job seekers are acting in the same way. They're gathering information to decide which product they'd like to purchase. According to Talent Board, most candidates are using multiple sources to better understand companies. This is especially true of the best candidates in an age where taking control of your career to get the job you'll be thrilled about is the new norm.
You can think of the two major buckets of touch points as internal versus external. External encompasses resources like review sites, and what other third parties say about your company. Internal relates to your careers site, social media, and the various touchpoints within your application cycle (job descriptions, recruiter scripts, emails to candidates, and the onboarding process).
Let's talk about those internal touchpoints. How should employers think about building a compelling career page?
Most companies haven't yet optimized their internal assets for attracting and converting talent. The majority of corporate and employee social handles are devoid of employer branding content. Just 1% of the Fortune 500 send content other than job alerts to leads. And many career pages appear to be stuck in 2001.
Your career page should actually be a career site. That means it's beautiful and branded. It should also be mobile and search optimized. And, most importantly, it should have content that is specific to each role you're trying to hire, ideally presented via microsites that are focused on each of these roles. At NextWave Hire, we find that targeted microsites nearly double the likelihood that candidates will apply to jobs at your company.
In addition, your career site needs to allow candidates to leave their information for future follow up, even if they don't apply for a job right away. In today's world, many job seekers are taking months to evaluate various job opportunities. Making someone go through the application process simply because they're interested is a surefire way to burn a relationship, or simply fall off a candidate's radar. Companies that build and leverage talent communities are seeing the benefits of warm pools of talent they can nurture into applicants over time.
What about external touchpoints—how can employers leverage social media?
Employers can leverage social by partnering with marketing to get employer branding content into the existing corporate handles. Social can also mean galvanizing employees to share information via an employee advocacy program.
Companies can use employee-authored content to share their story with talent via takeovers of social media, blog posts, or simple iPhone videos from around the office.
How can employers measure and understand ROI?
Employers will see ROI from their efforts in a number of ways, and it's important to tie it back to the metrics that your team cares about. Examples could be: lower cost per hire, higher retention, more diversity among candidates, lower time to fill positions, and increased career page conversion.
To sum up: What three tips would you give to employers looking to attract talent today?
Use your employees as brand ambassadors by having them create and distribute employer branding content related to your company.
Build relationships with the best candidates over the course of 6-12 months via interesting content, events, newsletters, etc. The best people aren't looking.
Leverage technology to make your life easier so that you can scale your efforts across the organization.


Ready to build your employer brand and attract top talent? Learn how The Muse can help.