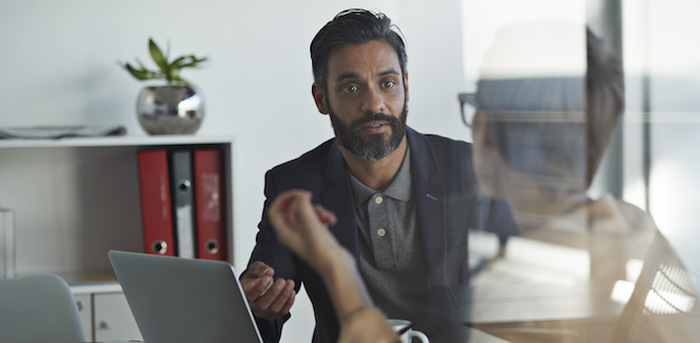 When you're actively job-hunting, you generally have all of your interviewing basics ready to go. Your suit. Your shoes. Your briefcase or bag stocked with your resume, work samples, pens, and breath mints. If someone calls you in for an interview, you're all set.
But when you're not looking for a new gig, it's easy to forget about all this stuff. I mean, who really wants to think about interviewing if you don't have to?
Well, there are at least two good reasons why you should. For one, it's not that uncommon to find yourself in an unexpected interviewing situation: A recruiter finds you on LinkedIn. Your friend joins a cool new company and wants you to apply for an opening. You get a new boss and suddenly find your awesome job totally unbearable.
What's more, at some point, you likely will be actively looking for a job, and by periodically making sure your resume is up-to-date and your work samples are in order, you'll make your life a couple years from now much, much easier.
So, in the spirit of spring cleaning, spend a few hours this weekend getting your interview essentials in order. Here's your step-by-step plan.
Your Suit
The night before the last interview I went on (which, yes, was a bit of a surprise), I pulled out my go-to interview suits. Turns out, they both needed to go-to the tailor: One was a bit too small and the other was missing a button, not to mention had a thick layer of dust covering the shoulders and knees.
One very expensive trip to J. Crew later, I had learned my lesson. It definitely pays to pull the old suit out every once in a while, give it a shake, and make sure it's clean and tailored. Then, keep it safely covered in a garment bag or protective plastic to make sure it stays nice and clean until you need it. (Don't have an interview-ready suit you love? You have my full permission to go shopping—or at least keep an eye on the sales.)
Your References
For this same interview, the recruiter had asked me to bring in a list of references to our meeting. I pulled up the doc I had created the last time I applied for jobs and prepared to hit print, when I realized that one of my references had gotten married—so she had a new last name and probably a new email address—and another had started a new job. I knew the company she worked for, but I didn't know her exact title or new phone number.
So, yes—I recommend updating your reference list, too. It can be awkward to ask people to be references if you're not actively job-seeking, so just reach out to your old bosses and co-workers to say hello, see how things are doing, and make sure you have their updated contact info. At the very least, it never hurts to keep these relationships going.
Your Resume
Ah, yes—you knew I was going to put this one in here, didn't you? I know updating your resume sounds painful, but I promise it's not that bad. Just follow our two-hour Spring Clean Your Resume guide, and you'll have a shiny new document in no time. For added fun, invite your friends over and do it together.
Your LinkedIn Profile
Now that you've updated your resume, it should be super easy to update your LinkedIn profile, too. Remember, your profile is easier for people (read: recruiters) to find if you keep it regularly updated. So, fill in all those missing profile items—previous positions, your summary, specialties, anything else you planned to "get to at some point."
This is also a good time to unsubscribe from any groups you haven't found useful and replace them with a few new ones, connect with "people you might know," and if you're feeling generous, even endorse or recommend a few of your colleagues. (They'll likely return the favor.)
Your Work Samples
Depending on what field you're in, you'll need to show work samples at interviews—think a marketing campaign that you worked on, a financial model you built, or a speech you wrote for your boss. So, spend some time going through your work files and saving these samples into an organized folder on your personal computer (and backing them up on Dropbox or a zip drive!). Do the same thing with any hard copies (à la the program from the event you planned or the annual report you contributed to), and keep them in a safe, organized place at home.
You should also keep copies of things that you won't necessarily ever show to an interviewer, but that can help jog your memory of the work that you've done and how you've approached it. For example, hanging on to the six-page project plan you created for an event can remind you how, specifically, you managed all the details and volunteers—and those are great talking points for an interview.
Trust me—being prepared for your interview long before it actually happens is never a bad idea. That way, when a recruiter does call you out of the blue, you can spend time researching the company and fine-tuning your responses to questions—not digging through your closet and files.