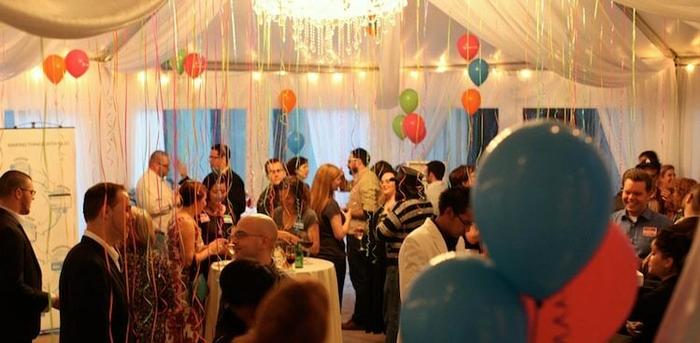 Now that you've tidied up the remnants of your 4th of July festivities, you might be tempted to swear off parties for good. But, when it comes to your brand—think again.
Public relations often leans toward pitching and placing stories, but events are a different—and equally effective—strategy to increase your brand's exposure, share your key messages, and ultimately generate quality engagement with the media and your target audience. Here's what you need to know about getting an event on the calendar—and making the most of it when the day comes.
Join In or DIY
When it comes to events, you have two options: taking part in industry events, or hosting one of your own.
Get in on Other Events
There's no better way to promote your brand than to position yourself as an expert on a relevant topic or industry in front of an audience you care about. Check in with the organizations, brands, or trade publications that host events of particular interest to you, and put together a calendar to keep track of what's going on and when.
Then, think about which events you might be able to participate in—are there any panels or sessions that your brand should be a part of? Get yourself booked! Be sure to reach out to the event organizers well in advance—event panelists tend to get confirmed quickly—and suggest an interesting, relevant topic that the intended audience will be able to relate to and get excited about.
Host Your Own
Whether it's a networking breakfast, industry conference, or cocktail reception, an event can help you raise the visibility and credibility of your brand directly with an audience of your choosing, including current and potential clients, key journalists, and industry influencers.
But keep in mind that you don't have to do it all yourself. Look for opportunities to partner with other interesting companies relevant to your brand by having them co-host or sponsor the event or moderate the panels. This allows you to get exposure to a whole new network of people and align yourself with other respected brands (not to mention help keep your costs down).
Use PR to Your Advantage
When it comes to events, the world is your oyster—PR-speaking, that is. Whether you're sitting on a panel or hosting a grand opening at your office, keep these tips in mind to ensure you maximize the many opportunities you'll have to engage with your audiences.
Get in Touch with Media
As soon as you have them available, share details of the event with media outlets and on your social media platforms. As you firm up specifics like speakers and event partners, share that news as well, via all the same channels.
To further engage your audience, create a hashtag for the event on Twitter (or see if the event you're joining has one already). Beforehand, ask followers questions related to the event, like what they're most excited about seeing. During the event, send live tweets, Facebook updates, Tumblr posts, or YouTube videos that highlight any unique content, like a behind-the-scenes peek of a cocktail party or an interview between two industry leaders. Finally, after the event, follow up with media outlets and bloggers to provide them with recorded interviews, quotes, videos, or photos. Anything that might spur their interest to write a story about the event (or add to a story they may already have in the works) is worth sending over.
Work the Room
When you're at an event, regardless of whether you're hosting or attending, always have a sense of who's going to be there beforehand. If there are key journalists on the list, make sure you know who they are and what they cover, and make sure you get in front of them. If there are social media influencers or high-profile industry guests, be sure to introduce yourself. The more homework you do, the better prepared you will be to tell your story to the right people.
Know What to Say
That said, make sure you're prepared to tell that story! Before an event, prep your team and run through what you really want attendees to know. Do you have important news announcements planned? Are there any new, noteworthy clients you're working with that you can talk about (with their permission, of course)? Or trends in the industry that you're noticing? Also think about the trends and news that everyone else will be talking about. Whatever the hot topics of conversation are, make sure you're actively participating.
When attending an event or holding your own, remember that every piece of it is a reflection of your brand. So be a gracious host or guest, a lively (but polite!) panelist, and an active networker. And no matter what the venue, make the most of the PR opportunities there that'll enable you to tell your brand's story.