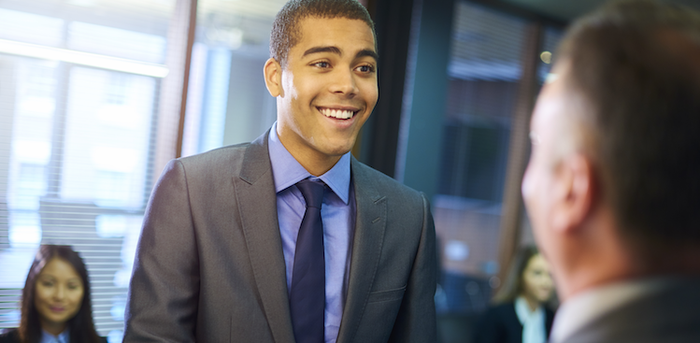 Congratulations, you've just heard back about an interview for that sales job you're after! If you tell a friend, chances are you'll hear some age-old advice. It might be, "You're great, just go in there and be yourself" or "Give a firm handshake." That's good advice and I'm 100% on board, but let's be honest, it's a little bit generic.
The fact is that landing a sales job requires you to impress your interviewer in a very specific way, including by showing your personality and proving your ability to deliver reliable results. You also might be up against intense competition. To truly master your sales interview, you need to use techniques specifically aimed at standing out among other candidates and landing a sales role.
Consider me your friendly neighborhood sales expert. I've secured six sales roles, worked in sales recruiting for a Fortune 500 company, headhunted sales talent across the country, and provided career coaching for sales associates and C-suite executives alike. I've seen the sales hiring process from every possible angle, and it's given me unique expertise on how to master sales interviews. Here are my five top tips to help you ace yours.
1. Build a Relationship
Relationships and connections are the lifeblood of any sales career, so you want to show off your social savvy to your interviewer. Make it a priority to build a relationship with the interviewer and give them a preview of how you'll interact with clients.
It helps to get a sense of who you're dealing with and what to expect. Find the interviewer's Facebook, Instagram, and LinkedIn profiles, and identify any interests you may have in common.
During the interview, embrace small talk and take the time to establish a rapport. For instance, perhaps you saw online that they're an avid Falcons fan. If you have a Monday morning interview and they ask you how your weekend was, mention that you caught the Falcons game on Sunday to spark up a conversation. When that type of chitchat arises, always engage instead of brushing it aside or giving one-word answers.
Finally, remember that personality matters in sales. Don't play it too cool—sales leaders love an enthusiastic, assertive candidate.
2. Be Prepared to Discuss Sales Fundamentals
Your resume is a snapshot of your past experiences, but it's a mere starting point for interviewers. In one way or another, every sales interview will dig into certain details:
Have you sold before?
What have you sold?
Who were your clients?
How familiar are you with this company's industry?
Knowing that these questions will come up, you can prepare by thinking through your answers ahead of time. This is especially true if the sales job you're applying for is pretty different from the jobs you have held in the past.
For example, let's say you're interviewing for a job selling medical equipment, but the only sales job you've had involved selling office supplies. Plan an appealing way to spin it. You might talk about how your office supply job allowed you to develop relationships with medical practices and gain insight into how those businesses make purchasing decisions.
Most interviewers will ask you for specific examples of how you've displayed your skills in a real situation in the past. Thinking up answers on the spot is challenging, so do yourself a favor. Spend time in advance thinking of stories from your work experiences that illustrate your skills. Jot down the details to help you remember them and use the STAR method to structure your answers. Role-playing with a friend is a great way to practice telling those stories succinctly and talking about how they make you an ideal candidate for this position.
Never technically worked in sales? Don't fret. Simply emphasize the aspects of your previous jobs that have prepared you for sales. Ever worked with customer accounts? Lobbied to push your ideas forward (internally or externally)? Impacted a company's bottom line? Brought in new business? Made any presentations? If so, congratulations! You do, in fact, have sales experience to chat about.
3. Know Your Numbers
It's the sales department's job to attack the bottom line. Your interviewer wants concrete evidence that you can do this, so the more you draw attention to the numbers you've posted throughout your career, the better. I'm talking about results and quantifiable contributions.
Revisit your old performance reviews and other records to look for answers to these questions:
How did your past supervisors measure success? What were the key metrics, especially for your year-over-year growth?
What were the total revenues of your past portfolios?
Who were the clients you worked with and what were their total annual revenues?
Did you manage a budget? If so, how big?
Any major wins or key projects in your past? What were their numeric results?
Write down all these numbers and answers and go over them as you're preparing for your interview. Slip them into answers when appropriate. For example, if the interviewer asks how you handle a heavy workload, you can answer, "Fast-paced jobs have always appealed to me. In my current position, I manage a sales portfolio of over 200 customers of various sizes, so I have plenty of experience balancing small and large clients on a daily basis."
4. Be a Problem Solver
For the most part, every sales organization faces the same hurdles, including attracting new customers, executing a high volume of sales calls, analyzing data to make strategic decisions, and standing out in a crowded marketplace.
These problems can be tough, but the good news is that if you can come up with a solution, you'll look like a rock star. Frame the conversation in one of three ways:
How you solved one of these problems in the past
How you'd start solving a specific problem for this company
Why hiring you is the solution to a problem
If you're unsure what key obstacles your interviewer's organization is facing, just ask. Better yet, do research in advance to find out what those problems may be. Look at market reports about the organization's recent growth to see if they're growing so fast that they may be struggling to keep up. On the other hand, if the business isn't growing quickly or isn't growing at all, it's a safe bet that they're having trouble attracting new customers.
5. Bring a Plan of Action
Going the extra mile will take you far in sales. Chances are that your competition won't have a 30-60-90 day plan in mind that they're ready to discuss in the interview. That's why you should.
Lay out your plans to learn the systems and products you'll be selling in your first 30 days on the job. Describe how you'll visit the field, get to know the territory, and spark relationships with your customers in your first 60 days. Explain your ideas for bringing in new clients and making an impact to drive revenue within 90 days.
You don't necessarily need to bring a document that you can hand to the interviewer, but make some detailed notes for yourself and be ready to discuss them in the interview. It'll show how you approach business and prioritize tasks, and it's a great way to impress a sales leader with a road map to success.
And don't forget the other quality you need when you're searching for a sales job: tenacity. No matter how an interview goes, don't stop and wait. Keep applying, keep networking, and keep creating opportunities to score your dream job.