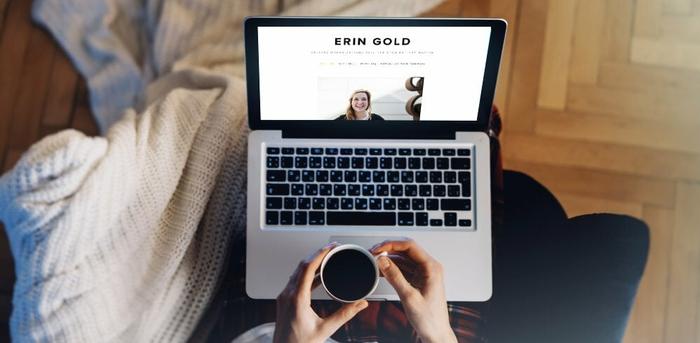 No doubt about it—in today's tech-savvy society, you need to have a website for pretty much anything you want to share with the world. And you're in luck! With so many easy-to-use platforms out there these days, anyone can create a stunning site with little time and no coding knowledge.
But even though setting up a site has become pretty simple, it can be hard to know where to start. With so many website template options to sort through, which is the perfect one for your goals?
Whether you need an ultra-professional platform to share your work experience during your job search or are looking for a fun way to showcase your latest side project, we've uncovered everything you should look for in a template (along with some of our favorite options from Squarespace that fit the bill).
If You Want to Get a Job
A personal website can do serious wonders when applying to jobs. Not only does it serve as a great place to show off your credentials, but it can give employers a good sense of your personality and interests and ultimately help you shine beyond your resume. Plus, putting yourself out there can open you up to a ton of new opportunities. Who knows who might stumble upon your site through Google or social media?
When considering your personal web presence, pick a streamlined website template with lots of space for words and some visual content—there's no need for much else. This will make your site appropriate whether you're applying to a startup or a more traditional organization and will keep the reader focused on you rather than distracted by design elements. Also look for a template that allows you to incorporate social media icons so hiring managers can easily learn more about you or get in touch.
---
---
We like Squarespace's Native template (shown above on Erin Gold's site) for its simplicity, its style, and its social links block that allows you to direct readers to any profiles you want. Use the main landing page to display your name in bold text or with a logo and to show a featured photo, like your favorite headshot. Use the rest of your site's real estate for a short bio, online resume, or gallery with work samples.
If You Want to Be Seen as an Industry Expert
Blogs have been a respected way to share expertise for more than a decade now—and rightfully so, as they're amazing channels for sounding off on relevant industry topics. A blog is the perfect place to highlight or syndicate content you've authored for other publications in your field too, upping your cred even further.
Most templates have a blog option, but what you'll really want to pay attention to is how easy it is to find your content. Many blog sites only list posts from the most to least recent, which means if someone has to dig back into the depths of your site if they want to find something you wrote a while ago. But you can do it differently! Look for a blog template that has a beautiful landing page for showing off collections of your content while allowing readers to easily explore.
Squarespace's Skye template is a great example of this. It shows off all of your content on an image-filled grid on each landing page, offers a menu where people can explore by topic as well as search functionality, and—like all Squarespace sites—has easy-to-integrate email subscription and social sharing functions so you can keep followers engaged even after they've left your site.
If You Want to Show Off Your Work Online
Creative type? You deserve the hype! Show off your portfolio in an organized and eye-catching way that makes it easy for visitors to find and enjoy all of your awesome projects.
If you have a plethora of visual portfolio pieces, search for a template that accommodates different collections and media sizes. This will make it easy for you to display graphics and photos in neat rows and columns or on a Pinterest-style gallery wall. For video clips, think about website templates with beautiful slideshow options so it's easy to browse through your work. No matter what, make sure your template also has plenty of space for details about each item you share.
---
---
We love Squarespace's Wexley template, which shows off a featured visual collection with a gorgeous grid that's perfect for artists and photographers. If you're a writer, look for a design that helps highlight your words. Wexley has a built-in blog, so add one to your mix of pages if you have long-form thoughts to share about your collections, partnerships, and future projects.
If You Want to Start a Side Project
One of the best things about sharing your side project online is that you also also get to shine a spotlight on yourself and the story behind your passion. Use this as an opportunity to let your creativity rule while working on your project. Have fun with it!
Since you might not be able to predict how your side project will evolve, you should search for a versatile template that can change with it. Think about options that work with different kinds of featured media, like photos and video. And be sure to consider customization options, too. While your site might be super simple now, it will be nice to be able to jazz it up later without having to change the structure entirely.
---
---
The Hayden website template (shown above on Julie Krohner's site) stands out with its contemporary design that looks good with pretty much anything you plug into it. Its versatility has made it a leading choice for businesses, individuals, and publishers, so it's likely to work no matter what you're working on. Bonus: If you're thinking about selling stuff as part of your project, you can take advantage of Squarespace's built-in e-commerce functionality paired with easy-to-use Stripe commerce for effortlessly accepting payments—all of which look fantastic in this template.
If You Want to Start Freelancing or Consulting
A small business should be showcased in a straightforward way so your services are obvious the second a new visitor arrives to your site. Be sure to share your company name and what you do on the top half of the main page. A beautiful, on-brand image or professional photo of you will help make it pop.
In addition, you'll need to be able to organize a lot of information in an easy-to-understand way. Look for a clean website template with clear navigation, many different options for organizing a plethora of pages, and plenty of room for lists and galleries to explain your work. Pay attention to how the template's example pages are structured too, as these can be used to showcase your credentials, testimonials, client work, and more.
---
---
Bryant is likely to check everything off of your template wish list as it boasts bold thumbnail galleries and useful feature lists that keep key info on all of your pages. (Though maybe I'm a little biased since I use it for my business website shown above!) Set up your site for success by making it easy for potential customers to contact you with an ever-present button linking to your email or a form they can use to send a quick note. You can also use the site footer for a second button, which is the perfect place for a call to action to a page where people can request a quote or proposal.
If You Just Want to Own Your Little Corner of the Web
Even if you're not looking to do any of the above, having a place on the web where you can talk about what you do and who you are is great for your personal brand—and can pay off big time in the form of connections, collaborations, or even potential opportunities that you never would have known existed. Since you're not looking to convey anything too specific, your site can be pretty simple and will be a breeze to set up.
When looking at templates, consider one-page website options and those that are a cinch to switch up on a whim. Look for designs with the ability to create sections if you plan to showcase unrelated aspects of your work and personality—it will help the mix of content and information seem much less random.
---
---
The Alex template (shown above on Samantha Marpe's personal site) is a great choice here, with its trendy single-page scrolling design and big, easy-to-change images. For an even easier option, use one of Squarespace's cool cover pages. In a matter of minutes, you can put your favorite photo, album, video, or collection of social sites up for all to admire.


Read These Next