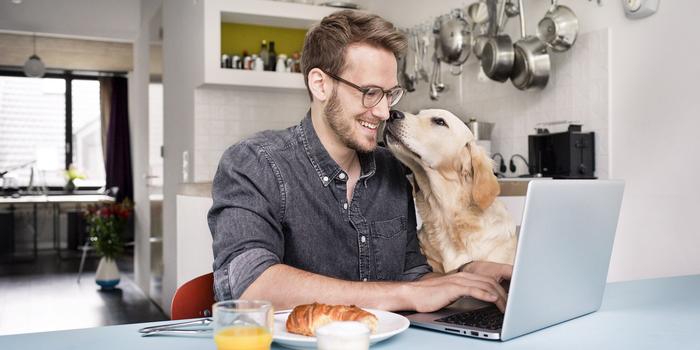 Ah yes, the familiar cycle: You sit down to write a cover letter, open a blank document, check your email, browse cover letter examples, do some chores, watch that cursor blink a few more times, and finally Google something like "how to write a cover letter"—which hopefully brought you here. But you still might be thinking something to the effect of: Does anyone really read cover letters? Why do they even exist?
First off: Yes, we can assure you that cover letters do, in fact, get read. To some hiring managers, they're the most important part of your job application. And regardless, you don't want to miss the opportunity to tell prospective employers who you are, showcase why they should hire you, and stand out above all the other candidates.
To ensure your letter is in amazing shape (and crafting it is as painless as possible), we've got easy-to-follow steps plus examples, a few bonus tips, and answers to frequently asked questions
What is a cover letter and why is it important?
A cover letter is a brief (one page or less) note that you write to a hiring manager or recruiter to go along with your resume and other application materials. Done well, a cover letter gives you the chance to speak directly to how your skills and experience line up with the specific job you're pursuing. It also affords you an opportunity to hint to the reviewer that you're likable, original, and likely to be a great addition to the team.
Instead of using cover letters to their strategic advantage, most job applicants blabber on and on about what they want, toss out bland, cliché-filled paragraphs that essentially just regurgitate their resume, or go off on some strange tangent in an effort to be unique.
Given this reality, imagine the leg up you'll have if you learn how to do cover letters right.
How to write a cover letter hiring managers will love
OK, you're sold on how important cover letters are. Here are eight steps to writing one that screams, "I'm a great hire!"
Step 1: Write a fresh cover letter for each job (but yes, you can use a template).
Yes, it's way faster and easier to take the cover letter you wrote for your last application, change the name of the company, and send it off. But most employers want to see that you're truly excited about the specific position and organization—which means creating a custom letter for each position.
While it's OK to recycle a few strong sentences and phrases from one cover letter to the next, don't even think about sending out a 100% generic letter. "Dear Hiring Manager, I am excited to apply to the open position at your company" is an immediate signal to recruiters and hiring managers that you're mass-applying to every job listing that pops up on LinkedIn.
At the same time, there's nothing that says you can't get a little help: Try out one of our free cover letter templates to make the process a bit easier.
Step 2: Add your contact info.
At the top of your cover letter, you should list out your basic info. You can even copy the same heading from your resume if you'd like. Some contact info you might include (and the order you might include it in) is:
Your name
Your pronouns (optional)
Your location (optional)
Your email address
Your phone number (optional)
Your Linkedin, portfolio, or personal website URL (optional)
Note that only name and email are mandatory, and you don't need to put a full address on a cover letter or resume anymore. A city and state (or metro area) are more than enough.
So your header might look like this:
Inigo Montoya
he/him
Florin Metropolitan Area
inigo@mynameisinigomontoya.com
555-999-2222

If the job posting tells you to submit your cover letter in the body of an email, you can add your contact info at the end, after your name (and if you'd like to forgo the email address here, you can—they have it already).
So your sign off could look like this:
Sincerely,
Violet Baudelaire
she/her
vbaudelaire@vfd.org
123-123-1234
https://www.linkedin.com/in/violet-baudelaire/
Step 3: Address your cover letter to the hiring manager—preferably by name.
The most traditional way to address a cover letter is to use the person's first and last name, including "Mr." or "Ms." (for example, "Dear Ms. Jane Smith" or just "Dear Ms. Smith"). But to avoid accidentally using the wrong title, or worse, inadvertently misgendering someone—first and last name also work just fine. And if "Dear" feels a bit too stiff, try "Hello." But never use generic salutations like "To Whom it May Concern" or "Dear Sir or Madam."
For more help, read these rules for addressing your cover letter and a few tips for how to find the hiring manager.
Step 4: Craft an opening paragraph that'll hook your reader.
Your opening sets the stage for the whole cover letter. So you want it to be memorable, friendly, conversational, and hyper-relevant to the job you're pursuing.
No need to lead with your name—the hiring manager can see it already. But it's good to mention the job you're applying for (the hiring manager may be combing through candidates for half a dozen different jobs), and yes, you could go with something simple like, "I am excited to apply for [job] with [Company]." But consider introducing yourself with a snappy first paragraph that highlights your excitement about the company you're applying to, your passion for the work you do, and/or your past accomplishments.
This is a prime spot to include the "why" for your application. Make it very clear why you want this job at this company. Are you a longtime user of their products? Do you have experience solving a problem they're working on? Do you love their brand voice or approach to product development? Do your research on the company (and check out their Muse profile if they have one) to find out.
For instance, say you're applying for a marketing job with a company known for its incredible pies and baked goods. You might want to use your opening to mention how you love pie so much that when you were in the 4th grade, you took the blue ribbon in the National Cherry Festival pie-eating contest. Or take a look at this cover letter hook by a client of career coach and Muse writer Jenny Foss, who was working to land a leadership role at a nonprofit specializing in fire prevention:
"I have a personal interest in fire prevention that dates back to my youth. As the daughter of a nurse who worked in a hospital burns unit for many years, I grew up with significant exposure to those impacted by fire. I'd spend hours thinking about my mom's patients, wishing there were some way to better protect people from fire."
Read More: 30 Genius Cover Letter Openers Recruiters Will LOVE
Step 5: Convey why you'd be a great hire for this job.
A common cover letter mistake is only talking about how great the position would be for you. Frankly, hiring managers are aware of that—what they really want to know is what you're going to bring to the position and company.
So once you've got the opening under wraps, you should pull out a few key ideas that will make up the backbone of your cover letter. They should show that you understand what the organization is looking for and spell out how your background lines up with the position. Study the job description for hints. What problems is the company looking to solve with this hire? What skills or experiences are mentioned high up, or more than once? These will likely be the most important qualifications.
Select the three to five important qualifications that you feel you exemplify best. For instance, maybe you're looking for an account executive role and come across a posting that excites you. You might pull out these details that match you well:
The job description mentions meeting and exceeding quotas several times.
The company has a very collaborative, cross-departmental approach to solving problems.
The sales department requires a fast learner so the account executive can get up to speed quickly on leads and tailor pitches to their needs.
If you tend to have a hard time singing your own praises and can't nail down your strengths, here's a quick trick: What would your favorite boss, your best friend, or your mentor say about you? How would they sing your praises? Use the answers to inform how you write about yourself. You can even weave in feedback you've received to strengthen your case (occasionally, don't overuse this!). For example:
"When I oversaw our last office move, my color-coded spreadsheets covering every minute detail of the logistics were legendary; my manager said I was so organized, she'd trust me to plan an expedition to Mars."
Step 6: Back up your qualifications with examples and numbers.
Look at your list of qualifications from the previous step, and think of examples from your past that prove you have them. And go beyond your resume. Don't just regurgitate what the hiring manager can read elsewhere. Simply put, you want to paint a fuller picture of what experiences and accomplishments make you a great hire and show off what you can sashay through their doors with and deliver once you land the job.
For example, what tells a hiring manager more about your ability to win back former clients? This: "I was in charge of identifying and re-engaging former clients." Or this: "By analyzing past client surveys, NPS scores, and KPIs, as well as simply picking up the phone, I was able to bring both a data-driven approach and a human touch to the task of re-engaging former clients."
Having trouble figuring out how to do this? Try asking yourself these questions and finding answers that line up with the qualifications you've chosen to focus on:
What approach did you take to tackling one of the responsibilities you've mentioned on your resume?
What details would you include if you were telling someone a (very short!) story about how you accomplished one of your resume bullet points?
What about your personality, passion, or work ethic made you especially good at getting the job done?
Come up with your examples, then throw in a few numbers. Hiring managers love to see stats—they show you've had a measurable impact on an organization you've worked for. Did you bring in more clients than any of your peers? Put together an impressive number of events? Make a process at work 30% more efficient? Work it into your cover letter!
Going back to the example from the last step. How could you prove that you'll meet and exceed sales quotas if they hire you? Try something like:
"I've always been very goal-oriented—whether that goal was hitting a new personal best on the swim team in college or smashing my quotas as a sales development rep for ZZZ Inc. As an SDR, I break my quarterly sales goals down month-by-month and then week-by-week—so that I always know whether I'm ahead, behind, or on-track. I also take an hour every Friday to reflect on what I could've done better in the previous week—so that I'm always improving. With these strategies, I've met my goals for meetings set 10 out of the last 10 quarters and actually averaged 114% to goal for finding leads that eventually turned into sales over every quarter last year. As an account executive for your company, I'd bring that same drive and systematic approach for meeting longer-term targets to my sales quotas."
Do this for each of the qualifications you want to focus on, and feel free to connect your accomplishments directly to the company. Pro tip: Use your space wisely. For more important qualifications, you might dedicate an entire paragraph, while others may only need a sentence or two.
Step 7: Finish with a strong conclusion.
It's tempting to treat the final lines of your cover letter as a throwaway: "I look forward to hearing from you." But your closing paragraph is your last chance to emphasize your enthusiasm for the company or how you'd be a great fit for the position. You can also use the end of your letter to add important details—like, say, the fact that you're willing to relocate for the job.
Some advice might tell you to go with a hard close: Boldly insist that you're the one, and that you're going to call them within a week to set up a meeting. But with over 10 years of experience as a recruiter, Foss finds this annoying. It's one thing to be proactive and confident but, to her, this approach feels like a cheesy tactic stripped out of an old school "How to sell yourself" textbook.
Instead, try something like this:
"I believe my energy, desire to innovate, and experience as a sales leader will serve OrangePurple Co. very well. I would love to meet to discuss the value I could add as your next West Coast Sales Director. I appreciate your consideration and hope to meet with you soon."
Then be sure to sign off professionally, with an appropriate closing and your first and last name.
Read More: 3 Cover Letter Closing Lines That Make Hiring Managers Grimace (Plus: Better Options)
Step 8: Reread and revise.
We shouldn't have to tell you to run your cover letter through spell-check, but remember that having your computer scan for typos isn't the same as editing. Set your letter aside for a day or even just a few hours, and then read through it again with fresh eyes—you'll probably notice some changes you want to make.
You might even want to ask a friend or family member to give it a look. In addition to asking them if they spot any errors, you should ask them two questions:
Does this sell me as the best person for the job?
Does it get you excited?
If the answer to either is "no," or even slight hesitation, go back for another pass.
What do examples of cover letters look like?
Here's an example cover letter that follows this advice:
Alia Farhat
San Francisco Bay Area
aliafarhat@email.com
444-000-1111
Hello Danny Tanaka,

If I'm being honest, I still haven't fully gotten over the death of my first Tamagotchi pet when I was six years old. (His name was Tommy, and I've gotten far more creative since then, I promise.) When I was older, I discovered NeoPets and I was hooked for years—not just on the site, but on the community that surrounded it. So when I heard about FantasyPets last year, I immediately started following news about your development process, and that's how I saw your post looking for a marketing strategist. Not only do I have eight years of experience in digital marketing, but as a lifelong gamer with a passion for pet-focused titles who's spent years in online communities with like-minded people, I also know exactly what kind of messaging resonates with your target audience.

You're looking for someone to help you craft a social media marketing campaign to go along with your game launch, and I've been a part of three launch-day marketing campaigns for mobile and web-based games. In my current role as social media manager at Phun Inc., I proposed a campaign across Twitter, Instagram, and TikTok based on competitor research and analysis of our social campaigns for similar games to go along with the launch of the mobile game FarmWorld. Using my strategy of featuring both kids and adults in ads, we ended up driving over one million impressions and 80k downloads in the first three months.

I've always believed that the best way to find the right messaging for a game is to understand the audience and immerse myself in it as much as possible. I spend some of my research time on gaming forums and watching Twitch streams and Let's Plays to see what really matters to the audience and how they talk about it. Of course, I always back my strategies up with data—I'm even responsible for training new members of the marketing team at Phun Inc. in Google AdWords and data visualization.
I believe that my passion for games exactly like yours, my digital marketing and market research experience, and my flair for turning data into actionable insights will help put FantasyPets on the map. I see so much promise in this game, and as a future player, I want to see its user base grow as much as you do. I appreciate your consideration for the marketing strategist role and hope to speak with you soon.
Sincerely,

Alia Farhat

Looking for more cover letter examples? Check out these from across our site:
Bonus cover letter tips to give you an edge over the competition
As you write your cover letter, here are a few more tips to consider to help you stand out from the stack of applicants:
Keep it short and sweet: There are always exceptions to the rule, but in general, for resumes and cover letters alike, don't go over a page. Need help? Check out these tips for cutting down your cover letter.
Never apologize for your missing experience: When you don't meet all of the job requirements, it's tempting to use lines like, "Despite my limited experience as a manager…" or "While I may not have direct experience in marketing…" But why apologize? Instead of drawing attention to your weaknesses, emphasize the strengths and transferable skills you do have.
Strike the right tone: You want to find a balance between being excessively formal in your writing—which can make you come off as stiff or insincere—and being too conversational. Let your personality shine through, for sure, but also keep in mind that a cover letter shouldn't sound like a text to an old friend.
Consider writing in the company's "voice": Cover letters are a great way to show that you understand the environment and culture of the company and industry. Spending some time reading over the company website or stalking their social media before you get started can be a great way to get in the right mindset—you'll get a sense for the company's tone, language, and culture, which are all things you'll want to mirror—especially if writing skills are a core part of the job.
Go easy on the enthusiasm: We can't tell you how many cover letters we've seen from people who are "absolutely thrilled for the opportunity" or "very excitedly applying!" Yes, you want to show personality, creativity, and excitement. But downplay the adverbs a bit, and keep the level of enthusiasm for the opportunity genuine and believable.
The bottom line with cover letters is this: They matter, much more than the naysayers will have you believe. If you nail yours, you could easily go from the "maybe" pile straight to "Oh, hell yes."
Cover letter FAQs (a.k.a., everything else you need to know about cover letters)