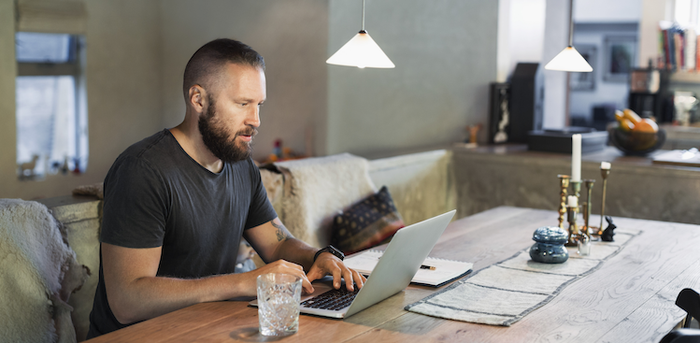 Very few of us are able to start our careers doing exactly what we always wanted to do.
But the good news is many professionals are able to fit passion projects that fulfill and challenge them into their free time. And some lucky and hardworking folks can eventually turn their side hustles into full-time employment.
As these successful entrepreneurs and free agents will warn, it's a juggling act that takes years of grit. But it's possible. So, get inspired by their journeys—and apply their best advice to your own side hustle.
1. Be Consistent and Focused
In her previous life, Jenna Naschek interviewed potential students and guided them through the application process for the Aveda Institute. She encouraged them to pursue their passions and get an education that'd enable them to land their dream jobs. She quickly realized she needed to give herself the same pep talk: She enjoyed her job, sure, but it wasn't her be-all and end-all.
Then she found inspiration in an unlikely source: her closet. As someone who'd always loved to shop and once worked in retail, she had piles of clothes she never wore. When she discovered Poshmark, a site where trendsetters sell their goods, she built a shop while continuing to log hours at her regular job. She quickly ran out of items to sell, prompting her to seek thrift stores and estate and garage sales to replenish her stock.
Soon enough, her side hustle was occupying most of her energy outside of work. Once she crunched the numbers and realized she was making more money from Poshmark than her regular salary, going full time was the logical next step. She developed a more efficient shipping and inventory system, hired an accountant to structure her income and expenses, and grew her social presence.
For those who want to mimic her success, Naschek says the key is consistency and focus: "Be ready to commit the time and effort," she urges. "It can be hard to settle into a steady work ethic. Figure out a schedule that works for you and stick to it while at the same time allowing yourself to have some work-life balance."
2. Be Patient and Do Your Research
For eight years, Chris Tabone had a big job as an advertising agency designer and eventually become an art director. He wasn't unhappy, but he looked forward to vacationing every year and considered travel his side hustle.
His getaways sparked an idea as he started to notice trends—and an opportunity—in the tourism industry, and he took on a part-time job as a tour guide to investigate further. He realized that while he'd found plenty of chances to connect with fellow travelers in his 20s, that started changing as he approached 30.
"I really struggled to find a tour that wasn't geared to the hardcore partying every night, or to the other extreme, hanging out at the old folks home," he says.
The motivation to become an entrepreneur was fueled when he launched his first website and tour and it sold out within a few days. But to go all-in with his company Koda Sail, he says, it took patience, perseverance, and curiosity.
"Research and networking was everything: Who is doing it well and how? Who do I need to be in touch with and who do I see as the leaders to possibly have as mentors," he says. "I had patience to get myself to a position where I was confident that I knew the industry well enough to trust everything I knew and put my money where my mouth was."
And it paid off. "I changed industries and chased something I was passionate about. Finding something I loved was a way to feel like I was never working, even though in reality I've never worked so hard in my life," he explains. At first, he took a hit financially, but years later, he's making five times his past salary—and that number is growing.
3. Do the Prep Work
Tyler Williams has been building his reputation in the New York City public relations industry for over a decade. Last year, the company he was working for decided to transition all roles to the Los Angeles headquarters, but he was adamant about staying in Manhattan. The company allowed it—but it left him with no colleagues and few social interactions.
He looked for other roles, but the more he applied and interviewed, the less he wanted to work for someone else. That's when freelance clients started knocking on his door. He signed a few of them and, in time, realized he could strike out on his own. But it wasn't without some major prep work.
First and foremost, he saved every extra penny he made while working double-time, and he took most opportunities that came his way. "I knew that I would either need the money for a rainy day or to reinvest in the business," he says. "Although I was careful in picking client partners, I said 'yes' to a lot of situations that I won't keep forever—priority number one was being able to make rent, then I will edit down from there."
Williams makes an average of 60-65% more than he did at his old job, based on the freelance work he's taken on over the years, and is now the founder and CEO of his own firm, Nouveau Communications. But he stresses the importance of being the tortoise, not the hare.
"Don't rush into making your side hustle your full time gig; make sure it's financially viable," he says. "I think we're overwhelmed with self-proclaimed gurus and experts telling us to follow our dreams and 'do what you love' and all that—which is great advice if you're not concerned about paying your bills, but most of us have to think a bit more strategically."
4. Get Serious Even Before You Make the Switch
Jennifer Tripucka has had plenty of gigs. She started her career as a school counselor, and then transitioned into media as a digital editor for Brides magazine. While editing stories and building traffic there, she created her own online presence via her blog, Hoboken Girl.
"I loved to write, and I loved social media, so I'd do both every day, before and after work," she says. "It was my passion project: Writing about places I went, things I loved, and lifestyle topics around Hudson County."
Tripucka says she definitely wasn't an overnight success. It took several years to grow her site before she realized she could support herself with it and felt comfortable stepping away from the cushion of a salary.
"I think the key to any side hustle is to consider it your other job, and get into a routine with it, not a 'when I feel like doing it' attitude. For me, that meant posting every day," she explains. When you're making the shift, "your side hustle can no longer be the added bonus to help you go on a dream vacation or create a little nest egg; It's going to be the thing that carries your finances as a whole."
Today, as the site founder and editor-in-chief, she covers local events, news, and lifestyle topics in Hoboken and Jersey City and assigns posts out to 15 contributors. She says she earns more money, and while she does have more business expenses, she wouldn't trade the freedom for anything.
Determined to make your side hustle your main hustle? Take these tips—and a little inspiration—from people who've done it and get started today. It'll be a long road, but it might just be worth it.