It's the start of a new year—and for many, it's the perfect time to find that dream job you've been wanting for a while. (Plus, recruiters say that January is an especially busy month for hiring.) But before you start hitting "send" on applications, you'll need to put in some prep work. Here, we've provided a few essential tasks—from updating your resume and LinkedIn profile to creating an online portfolio or resume website—that will help jump start your 2021 job search.
1.
Evaluate Your Career Goals
Before you can apply to a job, you need to have a clear understanding of the type of position you want. This may seem like obvious advice, but "it's a point that a lot of people miss," says Debra Boggs, an executive resume writer and job search coach. "Usually people want to hop straight into the resume."
Instead, first spend some time thinking about what an ideal role looks like, including the type and size of company you'd like to work for, company culture, and your ideal salary. Also ask yourself if you prefer working remotely and if there are certain employee benefits you can't live without. Or maybe you're ready for a career change altogether.
Once you have an idea in your head, you can start to update your resume (a process that's different for career changers), online profiles, and website, focusing on incorporating your most recent work experience and what you're looking to do next.
2.
Build a Resume Website or Portfolio
If you don't already have a personal website, a new job search is the perfect reason to build one. Some fields benefit more than others from having a portfolio to showcase examples of your work. "It's great for marketing professionals, people in graphic design, and even event planners, where a visual representation of your work is really helpful," Boggs says.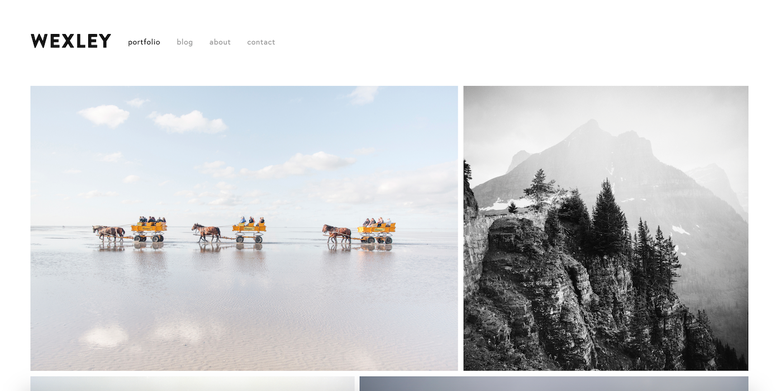 If you work in an industry where it's not necessary to show off work samples in a portfolio, a resume website is a valuable asset to have when looking for a new job. It not only provides potential employers with a more detailed look at your experience and skill set, but it also can help you stand out from similar candidates.
Whether you need to create a portfolio or resume website, we recommend an easy-to-use platform like Squarespace, which provides a variety of customizable templates. And once you have your finished product, don't forget to show it off; the more eyes on it, the better. "Make sure you're including it as a link on your resume and on your featured section on LinkedIn," Boggs says.
3.
Update Your LinkedIn Profile
Speaking of LinkedIn: Optimizing your LinkedIn profile is crucial for your job search. Not only is it important for your resume, personal website, and LinkedIn to match (any major inconsistencies could raise a red flag with hiring managers), but a strong profile can help recruiters find you when they're looking for candidates.
For starters, your summary and work experience should be up to date, and your photo should be recent and professional. Polish up your headline and summary, too. Once your profile is in tip-top shape, you can use LinkedIn to connect with people in your industry, join industry groups, and connect with people in your network.
"LinkedIn is a hill I will forever die on, especially now with everything shifting virtual," Rock says. "And there are even more recruiters on the platform. You want to make sure you're standing out."
4.
Tailor Your Resume for Applicant Tracking Systems
If you're applying for jobs online, your resume may be scanned for keywords before getting into the hands of a real person—so it's especially important to write it in a way that gets it past the system.
Make sure you submit a resume in the format requested, whether that's a PDF or a Microsoft Word document. And don't forget to look at the terminology used in the job posting, and use those same exact words on your resume—so if the job calls for Salesforce experience (and you've got it!), make sure your resume includes the word "Salesforce" and not just "CRM."
Finally, your resume design should be straightforward rather than flashy. "I've seen a trend lately of people doing graphic resumes that are colorful and have images," Boggs says. "But applicant tracking systems have no idea what to do with those documents." (Save the gorgeous graphics for your personal website!)
5.
Don't Neglect the Cover Letter
For most job applications, a cover letter is still necessary—and the majority of recruiters do read them. Especially if you're making a career change or need to explain a gap in work or a pandemic-related layoff, "the cover letter can be pivotal," says Julia Rock, owner of Rock Career Development. "You really have to differentiate yourself."
When writing your letter, you'll want to follow a few key steps—the most important of which is to tailor each one to the specific job you're applying for.
6.
Brush up on Your Video Interview Skills
With an end to the pandemic not yet in sight, video interviews are likely here to stay for a while—so if you aren't comfortable in front of the camera, now is the time to start honing that skill. The first step is to prepare exactly how you would for an in-person interview, including researching the company, reading up on common interview questions, and writing down questions to ask the recruiter.
Then work on your visuals. "Make sure you have a clean background, as well as a webcam or camera setup that looks professional," says Jason Patel, founder of Transizion, a college- and career-prep company. "I would also do some mock interviews where you're actually looking into the video camera to make sure you're building that eye contact."
7.
Network, Network, Network
Networking helps you build relationships with people—or tap into people you already know—who can provide career advice, share any job openings they might hear about, and potentially connect you with hiring managers. In other words, it's a critical part of the job search process.
Start by making a list of contacts to speak to, including former colleagues or managers and people who work at a company you're interested in (ideally in a role similar to one you're striving for). LinkedIn is a great way to see if you know someone who knows someone that would be good to reach out to; it's also a helpful tool to stay up to date on job changes in your network and new trends in your industry. See something that resonates? Don't be afraid to comment or send a note of congratulations.
There are plenty of ways to connect with people, even if you can't meet in person. Make a point of setting up quick phone calls or virtual coffees with contacts; one call a day is a good goal to strive for. And you'll be surprised at how willing most professionals are to help. "People will usually respond positively," Patel says.
8.
Commit to the Process
Job hunting takes time, so don't get discouraged if you're not seeing success right away. You'll also get out of it what you put in—so if you're not fully committed, chances are you'll be searching for a while.
"If you want that opportunity that's going to fit with your lifestyle and pay you well, you must be willing to put in the time to do all of the steps, including reviewing your cover letter for every job you're applying to and updating your LinkedIn profile," Rock says. "It's part of the process. The job opportunity for you is out there, you just have to keep working toward it."