Looking for your first job out of college? Well, you can start right here: These 13 companies all have openings for new and recent grads right now.
The employers on this list all can help you start gaining real-world experience in many industries, from tech and finance to media and publishing. And here at The Muse, you can take a deeper dive into what each company has to offer to help you get ahead early in your career. Take DTCC, for example, where new employees receive mentorship to ensure they are successful in their first months on the job. Or learn about Enterprise Holdings, which is known for its management and leadership training programs.
If this sounds like what you're hoping to get out of your first post-grad job, take a closer look at the list below and check out their open roles.
1.
Enterprise Holdings
Who is Enterprise Holdings? For one, they're a leader in the transportation service industry. With annual revenues of $22.5 billion, their family of brands, including Alamo Rent A Car, Enterprise Rent-A-Car, and National Car Rental, has nearly 80,000 dedicated team members doing business in 100 countries. That kind of success leads to amazing career opportunities. But that's not all. By combining drive, commitment, and talent with an empowering culture and strong focus on people and shared success, Enterprise provides everything needed to move forward and realize ambitions—wherever they may lead.
2.
DTCC
DTCC was established five decades ago to reduce risk in the financial markets by centralizing and streamlining the processing of securities transactions. Today, the company stands at the center of global trading activity, processing over 100 million financial transactions every day, and maintaining multiple data and operating centers worldwide.
Year Founded: 1973
Website: www.dtcc.com
Join our Talent Community!
Hear from our colleagues who are creating an impact at DTCC!
3.
Spectrum
Spectrum is a leading broadband communications company and the second-largest cable operator in the United States. They provide a full range of advanced broadband services, including Spectrum TV video entertainment programming, Spectrum Internet access, and Spectrum Voice to connect more people in more places. Spectrum employees take pride in their fast-paced, dynamic work culture and encourage each other to reach their full potential.
4.
Bloomberg LP
Life at Bloomberg is many things, but it's never dull. We're a truly global business with a truly diverse workforce. We pride ourselves on being open, inclusive and collaborative -- and in providing a work environment that inspires our employees to be their best.
At Bloomberg we work on purpose. In some roles no two days are the same. In others you'll get to hone your talent to a fine point. But all of us engage in meaningful work, delivering leading edge products and solutions that shape the industry and are critical to our customers. You'll also get to work at a company that lives its values and provides employees with opportunities to give back.
5.
J. J. Keller & Associates, Inc.
As a family-owned business with an entrepreneurial spirit, we'll value your energy and drive, imagination and creativity, persistence and determination. And we'll share our appreciation in big ways and small ones. Because our associates know they're highly valued, they've repeatedly designated J. J. Keller as a Great Place to Work®.
If you're looking for a caring work culture with a vital purpose, growth opportunities, and flexibility, look at J. J. Keller. Join us to make a difference for others – and yourself!
6.
CGI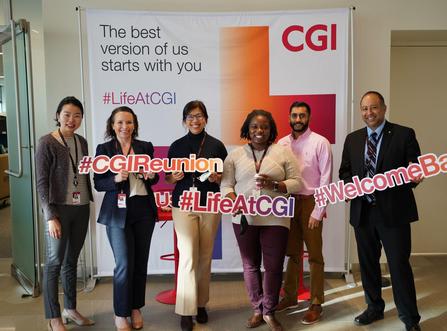 Life at CGI is grounded in teamwork, respect and belonging. We hire people who are looking for more than just a job, but rather a place they can make an impact with the freedom to grow their career and do extraordinary things.
Our work is delivered locally to the communities where we live and work. When you join us, you'll see your work positively impact the people and businesses where you live—while also enjoying the opportunities and career mobility that come with joining a global organization. We may hire you into one role, but we always encourage you to pursue your purpose, find new challenges and grow in unexpected ways.
7.
Simon Data
At Simon Data, we know that our business' success starts and ends with our people. We are a values-driven company, and believe growth comes from mutual respect, learning and development, listening to our peers, taking ownership of our success, and being committed to building strategically. We provide a flexible environment to accommodate the needs of all of our employees, which allows them to be successful without sacrificing the things in their lives that are truly important. We firmly believe that by providing an environment that is surrounded with friendly top performers who are committed to our success, great things will happen.
8.
Coleman Research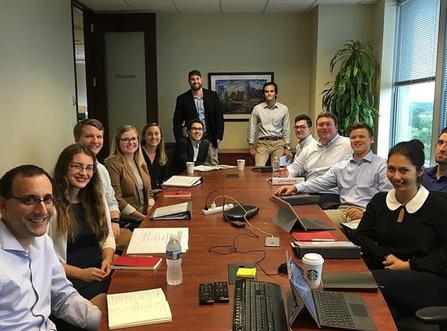 We help thousands of clients get answers to their most critical questions. Rather than spending hours reading research reports or traveling to meet people at conferences, our clients come to us to connect them directly with industry experts. We also facilitate custom surveys and moderated teleconference events, providing our clients with additional ways to learn. As we continue to grow, the relationships we've built with our clients, experts, and colleagues remain at the heart of our business.
9.
Echo Global Logistics
Echo began in 2005 with one objective—to simplify transportation management. From coast to coast, dock to dock, and across all major transportation modes, Echo Global Logistics connects businesses that need to ship their products with carriers who transport goods quickly, securely, and cost-effectively.
10.
Dolby
Founded in 1965 by the late Ray Dolby, Dolby was born out of its founder's passion for connecting science and art. The present-day company reflects the innovative and creative vision of its namesake. True to its origins, Dolby continues to produce cutting-edge audio and visual technologies that enhance and transform storytelling, entertainment, and media.
11.
Hachette Book Group
Hachette Book Group (HBG) is a leading U.S. trade publisher and a division of the third largest trade and educational book publisher in the world, Hachette Livre. HBG publishes great books for readers of all ages, more than 1,800 new books annually, in all formats—print, e-book, and audiobook—including many New York Times bestsellers. HBG is a dynamic place to work, a fast-paced and fun environment where new ideas in publishing are actively explored and encouraged. HBG is headquartered in New York City, with offices in Boston, MA; Lebanon, IN; Nashville, TN; Boulder, CO; Philadelphia, PA; Berkeley, CA; North Adams, MA; Chapel Hill, NC; and Portland, OR. HBG also owns Hachette Book Group Canada, Inc., a marketing and publicity company based in Toronto, ON.
12.
Hudson River Trading
HRT brings a scientific approach to trading financial products. Having built one of the world's most sophisticated computing environments for research and development, HRT researchers are at the forefront of innovation in the world of algorithmic trading.
13.
Protective
Our values — doing the right thing, serving people, building trust and aspiring for better — guide how we treat our customers as much as they guide how we treat our people. We're committed to your personal and career development so you can make an impact no matter where you are in your career journey. At Protective, you can unlock your potential with abundant learning and development initiatives that can help you grow new skillsets and improve existing ones.
Protective is headquartered in Birmingham, Alabama, and supported by both a robust virtual workforce and core sites in Cincinnati and St. Louis. We help all teammates navigate work and life priorities with in-office amenities, virtual resources and comprehensive benefits. When our team of protectors is healthy and happy, we believe our overall work environment is improved.
Bring your own perspective and let your unique experience shine through so we can create a better future together — because we're all protectors.
Here at The Muse, we partner with a lot of great companies to bring you insider looks at their offices and awesome job listings. These employers pay us to be featured on the site, but these Muse-worthy brands made this list not just because they want to be included, but because their culture, policies, and employee feedback showed us that they deserve to be.
Think your company should be on a list like this? Learn more and get in touch!