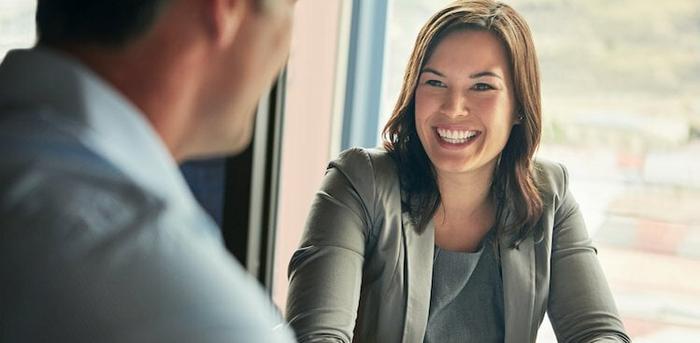 We've written quite a few articles on negotiating. And if you're a regular reader, you're probably well aware of this. But for all of our advice, it's not often that we provide true tales of people (like you!) who navigated the negotiation conversation and came out on top.
So, we set about changing that and reached out to people who successfully did it. Because we know it's easier said than done (and it's way easier for us to give this advice than for you to pick up the phone and have that conversation).
Of course, for the purposes of protecting the privacy of our readers and their companies, names have been changed and companies kept nameless, but we hope these real stories inspire you to approach the process with newfound courage.


1. Simply Asking Works
Jackie, an attorney, was ready to make a career move after nearly a decade at her firm. She wanted to transition to a role at a financial institution and was excited to receive an offer from a reputable bank as part of their in-house contracts and counsel team.
When the offer came in, she was relieved that it wasn't as low as she thought it might be, but she still knew she had to ask for more or take a pay cut. She went in asking for 20K more; they countered at 18K more than the initial offer, and she accepted!
Want to know how to do this back-and-forth? Read: How I Negotiated for $15,000 Than What the Company Offered.


2. Getting What You Deserve Is Satisfying
Mitch was eager to ask for a raise after a year of a whole lot of hard work and dedication in his role on the product team at a fast-paced startup. He'd made the mistake of not asking for enough during the interview process when they'd inquired about his salary requirements, and he was confident that the position commanded a significantly higher salary. Which is to say, he wasn't going to be satisfied with the standard 3-5% raise.
He went in with his data and a list of accomplishments, and he got them to raise his base by 12%.
Want to get paid what you think is fair? Read:4 Steps to Figuring Out What You're Really Worth


3. Having a Back-and-Forth Conversation Leads to Results (Even When It's Nerve-Wracking)
Annabelle shared a story with me about the time she negotiated an internal offer. Offered the role of instructional designer, she initially sought more vacation time. When it became clear that wasn't available, she asked for 8K more than the starting offer. The hiring manager came up 2K, at which point Annabelle asked for 5K more than the initial pay, eventually settling on 4K more than the offer they began with.
Want to negotiate for benefits beyond compensation? Read: How to Negotiate for Other Benefits When the Salary Offer's Low.


4. Requesting a Better Title's 100% Allowed
Lawrence, who was interviewing with a couple of places, only negotiated his title—and not compensation package—for one of the companies. Although he tried to get the first organization to come up in the base rate, they wouldn't budge. And so when the second offer came in, closely matching the first, Lawrence felt empowered to negotiate. With two offers on the table, he had leverage and used it to make it work for him.
Want something a little fancier on your business card? Read How to Ask for a Better Title.


5. Discussing More Paid Vacation Time Isn't Off Limits
A retail professional, Patty, was offered a starting salary of 80K (plus bonus). She was able to get the company to go up to $86,500 and four weeks of paid vacation instead of just two. She even successfully negotiated a January vacation, notable because in that industry, it's traditionally a black-out period, meaning no one is granted time-off requests. All in all, she received a 20% jump in salary from her previous role and those extra two weeks of PTO to boot.
Want to get more vacation? Read 5 Things to Negotiate Besides Salary.


6. Negotiating Even if You're Content With the Initial Offer Is OK
Valerie, who works in higher education, received an offer for 50K, fair for her role and experience in the field. Still, she wasn't going to not negotiate, and she asked if they could go up five thousand more. They couldn't quite go there, so in the end, she signed on at 52K. What's more: She was able to get a relocation bonus for $2,000, an unusual benefit in that industry.
Want to negotiate with confidence? Read 3 Reasons You Shouldn't Be Scared to Negotiate Your Salary.


7. Requesting a Review in Six Months Is a Viable Option
Greg went from working as a graphic designer at a large corporate firm to a job at a small, but growing startup. The starting salary offered by the employer was significantly less than what he'd been making before, but the perks and benefits were much better, and he was looking forward to the flexible work hours.
When it became clear that he wasn't going to get them to move on the salary, he requested that it be reviewed in six months and not the standard 12. His future boss agreed, and when that time came, he got a 7K bump that he and his employer both felt he deserved.
Want to ask for a raise before it's "time?" Read 4 Times You're Allowed to Ask for a Raise Before Your Annual Review.


8. Continuing to Negotiate During Your Tenure Is Perfectly Acceptable
Maura, who works in the tech industry as a customer success manager, had no shortage of job offers when she relocated to New York City a few years ago. When the one she wanted most came in with a salary of 60K, Maura asked for 70K plus flexible work time, and she was granted both. But that's not all: Every year she flexes her negotiating muscles, whether it's asking for stock options, an off-cycle salary bump, or extra remote work options.
Want to work from home on a regular basis? Read How to Convince Your Boss to Start Letting You Work From Home (Email Templates Included!)
You don't know until you ask, right? You can seek more money (the obvious and often high-priority choice), or you can ask for more vacation time or even just a thorough salary review in several months' time—once you've proven that you're as asset and can do the job well.
Have a story to share with us? Tweet us or message us on Facebook. We love a good success story!