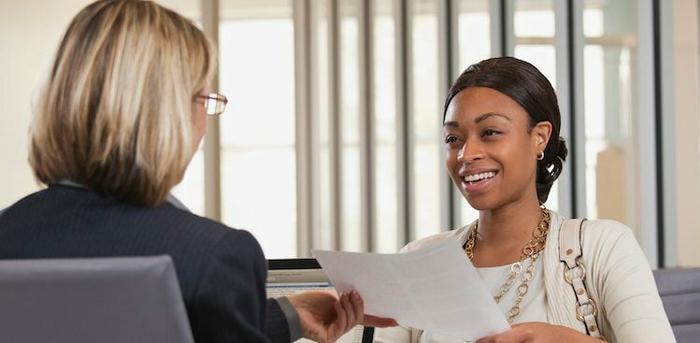 This question's frequently a field on job applications, and it's asked by recruiters and hiring managers alike. If you've ever applied for a position, you've come across it. And unlike other inquiries that allow room for interpretation, this is one that can only be answered factually, right?
Technically, yes. This isn't something you want to be dishonest about—even if you fear that the number you give will be the one you're offered (and not a dollar more). Because this is a common concern for many, I reached out to a few career coaches and touched base with The Muse's own talent acquisition manager, Lauren Roberts, for advice on how to navigate this classic interview question.
Muse Career Coach, Theresa Merrill, advises people to be honest about their current or past salary. Misrepresenting anything about your work history in an interview or on an application is "unethical," and therefore unadvisable. She explains: "There's a high probability that the truth will come out, and then you're done. You've lost all credibility, trust, and, most likely, the job offer."
That said, Merrill tells clients to avoid sharing these details at all costs. As does career coach Antonio Neves. Both Merrill and Neves recommend doing your research and knowing what the range is for similar roles (and if you're stuck on how to get started on that, this guide to figuring what you're worth is indispensable). Remember that the company has budgeted for this role, so it's OK to turn the question back around and ask, "What's the salary for this job?"
Neves says to let them know that you're knowledgeable on the salary range of the position. And Merrill counsels, "If you get to the point where you feel you must give them something, provide a range—not a hard number."
Although Merrill notes that many companies are "seeking to pay you what you've previously been paid," Roberts says that most organizations are aware that what you're making now isn't where you want to stay if you make a move.
She adds, "I think it's fair to say that even if the recruiter only asks you what you are currently making, you can follow up by providing both where you're at now and where you'd like to be to give them a sense of your expectations."
Like Merrill and Neves, Roberts recommends researching the fair market value of the role. The bottom line is that lying about your current salary isn't a good idea, but not directly answering the question with one hard figure and instead demonstrating your market research is acceptable.
If your fear of revealing your salary stems from worry that your offer will reflect that amount and no more, it's totally reasonable to set your expectations higher and make it known from the start what you're looking for. You just don't want to go nuts and quote a number that's not at all within the range of that role.
As Merrill explains, "If you give a number too high, that's not in line with the job role, you may remove yourself from consideration."
And you're way too skilled, and you've worked way too hard to knock yourself out of the running by shooting too high. Instead, do your research and go after what you're truly worth.