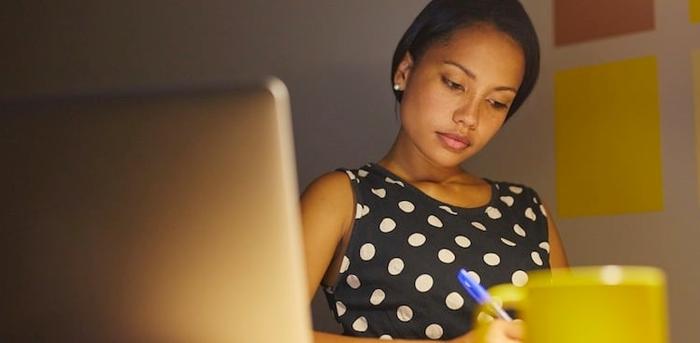 Many of us spend our days racing against the clock, trying our best to squeeze everything—job, family, friends, chores—into approximately 16 hours (and that's if you're getting enough sleep). No matter how hard we try, there never seems to be enough time.
While you might assume that people with more on their plates have a harder time managing their days, I've learned the best time management advice out there actually comes from those multi-taskers. You know, the people who somehow balance side gigs on top of their full-time jobs (and on top of everything else).
How do they do it? And how do they do it so well?
I spoke with seven people who manage their time well every single day and learned the secrets to their success.
1. Start Your Day Off With Your Biggest Tasks
As a homeschooling mother of six, an at-home business owner, and a blogger, Larissa Haynes finds that she's most productive in the early hours of the morning when the rest of her household is asleep. "In those few hours," she says, "I try to cram in as much work as possible, then do maintenance throughout the day." Knocking your biggest tasks off the list earlier will give you a leg up on your day and allow you to be less rigid with your time as the hours wear on and more things pop up on your to-do list.
2. Keep Your Space Clean
In order for SK Sartell—a multimedia artist, interior and exterior designer, and color consultant—to find enough time in her day, she has to have a clean start each morning. "I make my bed and tidy my room before I leave in the morning," she says. Having an orderly place to return to keeps her focused and productive throughout the day. "When we have a personal sanctuary waiting for us," she says, "we rest and rejuvenate better."
3. Schedule Out Every Day
For parent, decor blogger, and senior marketing manager Carolyn Sasaki Garris, every activity and chore has its place. In order to get everything done, she creates a solid routine planned around her 8 AM to 5:30 PM workday. "I do social media and link ups in the mornings, tackle my inbox in the evenings, and do projects on the weekends," she says. Scheduling out every hour of your day might feel over the top, but when everything has its place in the schedule, everything (usually) ends up getting done.
4. Use Technology to Help You
Landscape designer, lifestyle blogger, and outdoor enthusiast Ananda Qianyu swears by the app Leechblock, an add-on that helps you to limit your use of time-wasting websites that suck hours from your day. "I block myself from email, social media, etc., when I work on the computer," she says, which keeps distractions at bay. Leechblock isn't the only tech tool designed to make you more productive. Check out even more options here.
5. Don't Procrastinate
"I can't stress this one enough," says Sam Raimondi, a full-time psychology doctoral student at Fordham University, a small business owner, a DIY blogger, and a part-time bartender. When you have that much going on each day, you can't afford to push anything off, because it will simply get lost in the mix. If you have an assignment or project, completing your work early means that even if mishaps occur, they can be fixed or sorted out before work is due. (Related: Here's how to finally stop procrastinating.)


6. Break Your Day Into Segments
"Our number one trick for time management is our 15-minute metric," says Erin Trafford-Basquill, a marketing manager for a digital health-tech startup. She and her husband Dan, who works as a curriculum development specialist, manage a popular DIY blog in their free time. "Every morning I create a list of tasks I'd like to accomplish, and then I mentally assign each one a 15-minute segment value," she says. The segments don't have to be consecutive, but if you've allocated time for each "to-do" on your list beforehand, you're much more likely to be aware of your time and therefore be able to cross everything off.


7. Make an Adjustable Schedule
Rachel Baumann is an ecommerce marketing manager for Nebraska Furniture Mart. She also has a husband, a four-year-old son, and a blog, which she uses to share her progress in updating their 1950s ranch. "I have a huge whiteboard in my office that I keep a running list on," she says, "and I constantly re-arrange the order of priority." A large, adjustable list means no stray papers or scribbled notes in the margins, and it gives you the space you need to see what you have to do and how you can do it more efficiently.
If you don't have a whiteboard handy, no fear! Check Hometalk for DIY message boards, command centers, and all sorts of things to keep you organized and on task.
Now that you know how to squeeze the most out of your day, beware of the overachiever bug. There will always be more to add to the list—and no matter how much you strategize, every day has a 24-hour limit. So, the key isn't to find more time in the day, but to make the most of your working hours. After all, isn't the point of all of this time management so that you do have time to relax and rest?