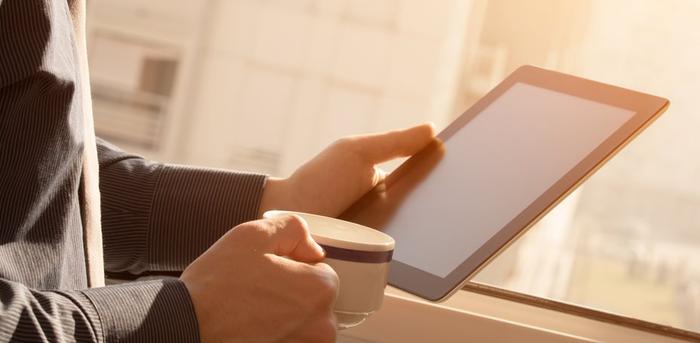 How often do you hear people complain about how exhausted they are by 2 PM (as they reach for that fourth cup of coffee)? The midday slump isn't a new notion, but it also isn't a necessary part of the workday. In fact, there's actually a simple way to fix it: Get into a routine.
You always hear people talk about having these magical morning and evening routines that first prepare them for the day ahead—and then help them unwind when everything's completed. Why should the middle of the day be any different?
Putting aside part of your workday for you isn't selfish—it's a great way to refocus, boost your energy, and relax a little bit after a long stretch of completing tasks. After all, how long can you really sit there staring at a computer screen?
Like any other daily routine, it can range from being one very simple action to a longer, more intricate 30-minute process. If you're stumped on what would even go into your midday routine, here are five suggestions to get you started. Even just working one of these into your schedule could make a difference in your happiness and productivity.
1. Stretch
When you've been sitting for four, five, or even six hours at a time, it feels good to get up and move around. You don't have to break out into hardcore vinyasa flow in your cubicle, but taking five or 10 minutes to stand up and go through a series of stretches will not only get you out of your seat, but it will also get your blood pumping.
Looking for some moves that you can do even in an ironed suit or your skinny jeans? This article gives you 17 to try.
Extra points if you can get your co-workers involved. (And all the points if you convince them to let you post a mid-stretch photo to Instagram.)
2. Drink Water
If you're a morning coffee drinker, you're probably dehydrated by the time the afternoon rolls around—and that can make you groggy, irritable, and headache-prone.
So, make it your mission to drink at least eight fluid ounces of water during your midday break. Bonus: Drinking all that H2O gives you an excuse to get up and go to the bathroom a lot. Win-win!
3. Read for Pleasure
Saw an article that caught your eye earlier in the day? Have a book that you can't put down? Take 15 minutes away from your work to read something that isn't an investor report or a terse email from a client. You'll come away inspired, energized, and ready to power through anything.
4. Race Your Inbox
A friend of mine keeps to a very strict midday routine, which includes committing herself to a timed "email binge." Every day at noon, she sets a timer for 15 minutes and gets through as many emails as possible.
The point is not to get to Inbox Zero—rather, she just wants to get through all of those short, random emails that need two-sentence responses so they're not just sitting in her inbox. The longer she waits, the more she dreads them—answering them all in one fell swoop immediately eliminates stress from her day. Plus, it's a good (somewhat) mindless break.
5. Show One Sign of Gratitude
Whether it's writing a thank-you email (or even a sticky note), giving a social media shout-out, endorsing someone on LinkedIn, or doing one of these other great ideas, take five minutes to show someone in your network that you care. It's a quick way to spread happiness while also giving you warm fuzzies.


Even if you only have 10 minutes to spare, a small act like stretching or drinking water can make a huge difference in your work performance. The next step? It's time to figure out what to do about those sad desk lunches.