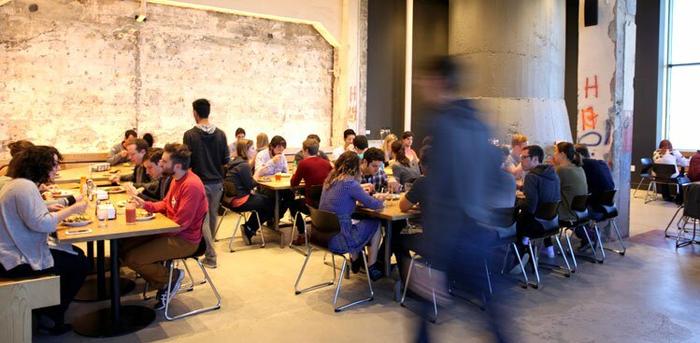 When interviewing for a job, candidates typically spend time researching a company's products, executives, and the role they are applying for, and rightly so. But most candidates spend relatively little time investigating what a company's culture is actually like.
To me, that's akin to buying a house and focusing all your attention on what's inside instead of researching the neighborhood it's located in: the house itself is extremely important, but the neighborhood helps define the long-term value of your property, the lifestyle you'll enjoy there, and its resale value.
It's easy to find brochures on company culture but significantly harder to distinguish rhetoric from reality to identify what it's actually like to work within the organization day to day. And yet, if you don't, you'll have no idea what it's like to work on a team there, how to request a promotion or transfer, and how people actually use the company's perks and benefits daily.
Below, we've outlined three ways to find out what a company's culture is really like long before your first day on the job:
1. Use The Lobby Time to Your Advantage
Arrive for your interview a few minutes early (hopefully, you're planning to do this anyway) and instead of poring over your materials, take a look at what you see and hear around you. Do employees greet each other? Is the receptionist friendly? Do you see people working together, or are people mostly working independently? If you ask for directions to the restroom, are folks helpful to point you in the right direction?
Drawing conclusions from one interaction with a random employee isn't fair, but often lobbies are a microcosm for the rest of an organization, and you can get a sense for how formally (or informally) people are dressed, how employees interact, and the tenor of everyday conversations. Does it feel like a place where you would fit in? The type of work environment you enjoy being a part of? And equally important, how does it match up with the vision being shared with you as part of your interview process?
Treat your lobby visit like an anthropological visit: You're getting a front row seat to employees in their native habitat, so take note!
2. Do Your Homework
Before the advent of social media, it was virtually impossible to find out what it was truly like inside a company unless you knew someone who worked there and could ask them directly. But the rise of Twitter, LinkedIn, and sites like The Muse has made it easier than ever to do research on the employee experience even if you've never met anyone who works there.
I'd recommend checking out company reviews on Glassdoor and profiles on The Muse, then searching LinkedIn for first or second degree connections who have worked at the company you're considering—asking for a quick gut check on their experience is an easy and light ask of acquaintances. Instead of asking a generic "did you like it there?" question, ask if they would recommend working there and why, what types of people are most likely to succeed at the organization, and the best and worst things about the organizational culture. Doing so will get you better answers and more actionable insight into what it's like to work there on a daily basis.
3. Ask for Examples
A company's policy on pretty much anything is only as good as the extent to which employees are allowed to partake in the benefit, so instead of asking generic questions, get really specific with your questions. Ultimately, any good recruiting team can rattle off policies, but asking for specific examples of people who have the same job and lifestyle concerns you do can be a great way to contextualize whether the benefit is actually something employees are actively encouraged to utilize on a regular basis. Plus, this can sometimes tee up a direct introduction to, say, someone in your shoes who works from home one day per week to avoid a horrid commute.
Some examples:
Instead Of: Do you allow employees to work from home?
Ask: Is there anyone on the team I'd be working on who currently works from home on a regular basis?
Instead Of: Would I be eligible for a promotion after a year in the job?
Ask: Can you give me an example of the internal career path for someone who took this job in the last year?
Instead Of: Do you allow transfers between teams?
Ask: Has anyone from this role transferred successfully to another team within the organization? If so, which team?
Most companies tout flexibility in the work environment, career growth, and organizational potential as core elements of their workplace, but asking for examples is the best litmus test for the alignment between the rule book and reality. If your interviewers bristle at a request for examples, it's usually a good indicator that what they are selling and what you're buying are two different things.


Peter Drucker's old adage that "culture eats strategy for breakfast" is typically used to help executives prioritize culture, but it's equally important for job seekers. Eventually, your job may change, your role may grow, but the tenets and values that define the company you keep rarely waver that much. Ask anyone who has worked at Amazon, GE, Netflix, or Google—the impact of a well-defined and intentional culture has nothing to do with posters on the wall and everything to do with the types of people the organizations can attract, their attitude toward growth, and their ability to retain top leaders. When you're defined by the company you keep, it's important to choose wisely.