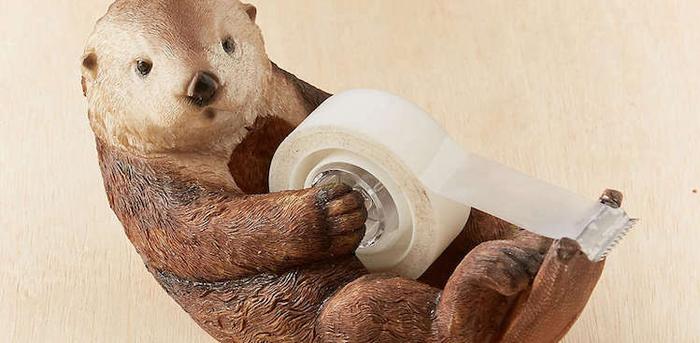 Did you know that cubicles were considered liberating when they were first designed in the 1960s? True story—workers were actually thankful for the invention because the moveable walls allowed them to create and customize their own personal workspaces.
Though times have changed, and it can feel like you're working out of a cardboard box sometimes, the cubicle still has the chance to become your own special office.
So give it some flair! We've compiled 17 awesome items, from posters to break time toys, that will turn your cubicle into a space that liberates you.
(And for those of you who work out in the open, don't worry—there's plenty here for you, too.)


First things first, if you've got a cubicle, you might as well flaunt it! Make it seem a bit like home with this cute sign.


If Reuben the Swan can always be on the cutting edge of white-collar swan society, you can too (seriously, click on the link above—Reuben has quite the backstory). Replace that old motivational poster with one of these charming and inspiring animal scenes.


Everyday calendars are a bore, so swap one of your two-dimensional calendars with these fun wooden blocks—every day can stack up just right.


Hang your assignments up (or give your friends mustaches in any photos you have on the wall) with some cool-shaped pushpins.


This vibrant pad makes it easy to keep track of your work all week and fits perfectly in front of your keyboard so you don't have to go reaching for a notepad when inspiration hits.


Cleaning your desk was never this much fun! (Just, you know, make sure you don't suck up anything important.)


What's better than having the cutest animal on the planet dispense you tape? Let me answer that for you—nothing. End of story.


It's the plant you can't possibly kill! These terrariums require barely any attention or soil, so decorate them how you'd like and add some natural décor to your indoor space.


For all the times you need to call Batman to save you from an overbearing boss or workload.


Be mesmerized watching this volcano spew "lava." Just a quick warning: It is unlikely that you will get work done ever again.


Add a bit of texture and color to an otherwise bland, grey wall!


Bask under the glow of your desk lamp like a star every day.


No more warm drinks (or stolen drinks) for you with this single beverage refrigerator, which works simply by plugging into your computer!


Class-up your cubicle just a little bit with this sleek desk set.


Cute to look at and handy to have.


Store your supplies in this organizer, and get ready to play.


Test your fates every time you scroll. Wait—did I actually move the mouse, or was it a ghost?