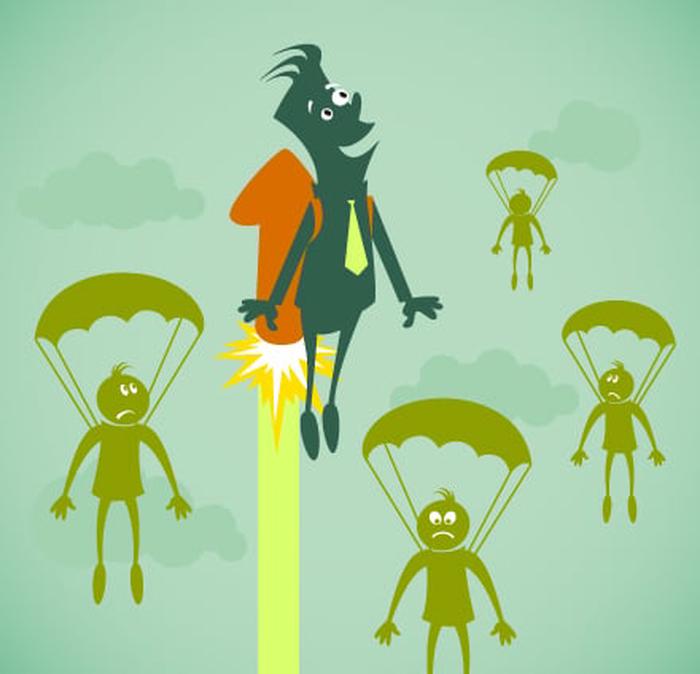 This article is from our friends at LearnVest, a leading site for personal finance.
If you've ever wondered what Yahoo CEO Marissa Mayer and Zappos founder Tony Hsieh have in common, you'll find that out—as well as some never-before-revealed insights about 31 other high-profile business leaders—in Zoom: Surprising Ways to Supercharge Your Career.
In the spirit of all things "New Year, New You" this month, we sat down with the book's author, Daniel Roberts—also a writer-reporter at Fortune—to discuss what it really takes to move up the ladder today and why the career keyword for 2014 is all about the "zoom."
What will readers most appreciate about your book?
The chapters are arranged around surprising lessons that each business leader—each of whom has been on Fortune's 40 Under 40 list—exemplifies, whether it's embracing failure or bouncing back. Others, like Airbnb CEO Brian Chesky, started a business by recognizing a need that people didn't even know they had and then figured out how to address it.
We also talk about how important it is to start a cult—our funny way of saying how crucial it is to build your company into its own world, its own corporate culture. The big originator of this was Tony Hsieh, the CEO of Zappos. He established a culture right away and hired likeminded people who would be cheerleaders for the company. He established "cultural pillars" that are now the rules of the road for technology startups.
So what is a "Zoomer?" And what does it take to become one?
We came up with this term as a fun alternative to "baby boomers," and the idea is that these people are zooming to success at outrageously young ages. But it isn't just a blanket term for anyone doing big things before 40—these are people who are doing them in unique ways, who've found success through unconventional routes. They're all high-flying.
The other quality that they share is that they're never satisfied. They never rest. A lot of these people went to Stanford, got computer engineering degrees, and worked at Google, a company that's always at the top of happiest workplace lists. That's a place to be satisfied, but after two to three years, these people want to create their own businesses.
What's the one thing that we can all do to shake up our careers?
Be really bold about your ideas. Don't hold back. So if you're working at a large company, and you have a big idea or a proposal, go ahead and make it.
There's an anecdote like this in the book from Jennifer Hyman, co-founder and CEO of Rent the Runway. Before she went to Harvard Business School, she worked at Starwood Hotels, and she had an idea for them to beef up their wedding business. She was 22 and had only been at the company for about a year, but she marched right in with a budget and a plan to build a new business. Starwood gave her the money—and the business became successful. It remains so today.
Is it safe to say that now is a good time to be a young person rising up the ranks?
Absolutely. Corporate America is way less ageist than it was 20 years ago. A few decades ago, people were averse to the idea that someone under 30 could be CEO or CFO of a sizable company. Now it doesn't matter how young you are. It's all about your ideas and how capable you are at enacting them. Two years ago, we put someone on Fortune's 40 Under 40 list who was CFO of GM at the age of 39. I'm not sure that would have happened 20 years ago.
Do you have to be young to be a career risk-taker though?
The people I profiled all take big risks, and maybe that's a function of being young, but it's also that they all embrace the possibility of failure. I also think they're surprisingly bold. Take Kevin Plank, who started Under Armour. He created a sports apparel line while he was still in college—and he didn't rest until he had established it in full. Today it's a global player, with nearly $2 billion in annual sales.
While working on the book, what was one piece of advice that influenced you the most career-wise?
It would probably be "get in over your head," which is something that Marissa Mayer says often. I believe in the ethos of that, and in some ways, it applies to my time at Fortune: I knew so little when I first came here, and I was almost certainly in over my head. But now, although I'm still no expert, I've learned a great deal. Being thrown into the deep end, as the cliche goes, really forces you to swim—and fast.
More from LearnVest