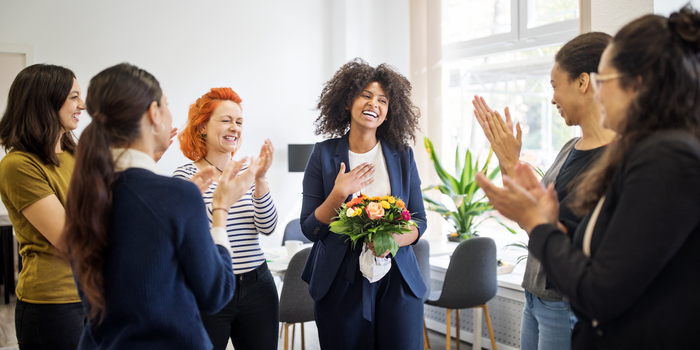 Most of us have worked with plenty of great colleagues, bosses, and employees we'd be delighted to recommend on LinkedIn (or anywhere, really).
Problem is, sitting down and writing said recommendation always takes more time than you think it will. What can you say that will make your contact stand out but still sound genuine? Should you describe every amazing skill this person has or keep it short and sweet?
SEARCH OPEN JOBS ON THE MUSE! See who's hiring here, and you can even filter your search by benefits, company size, remote opportunities, and more. Then, sign up for our newsletter and we'll deliver advice on landing the job right to you.
Don't worry. We've turned that daunting task into a five-step, five-minute process. Next time you're asked to recommend someone, grab our advice for writing and posting a message that'll give your colleague a career boost (and you some career karma points).
Bonus: We're sharing a copy-and-paste template and some examples to make your job extra-easy.
What are LinkedIn recommendations, and why should I write them for people?
Let's back up for a sec and cover the what and the why: This little feature of everyone's favorite business-meets-social-media platform allows you to write brief testimonials of people you've worked with. Think of them as the equivalent of online reviews for your current and former coworkers, employees, and managers (or anyone else you've worked with).
Recruiters and hiring managers often scroll down to someone's LinkedIn recommendations when they're considering whether to interview or hire them. While those little blurbs are arguably not as important as a strong resume and well-written cover letter, they do provide additional intel about a person's background and strengths from a third-party perspective—sort of like a mini reference check.
So why should you write one? Again, think of the reasons you write reviews for your favorite restaurant or hair stylist: It's an easy way to show you appreciate and support them, and it helps them look good in the eyes of new customers (or employers). It's also a non-awkward way to reconnect or stay top of mind with old contacts. They'll get notified when you add your recommendation, which is bound to make them smile—and hopefully encourage them to return the favor when you're looking for your own recommendations.
One final benefit? Writing someone a LinkedIn recommendation can signal to everyone in both of your professional networks that you're a thoughtful, gracious colleague—the kind that any potential employer would of course want to hire.
How do I publish a LinkedIn recommendation?
There are two ways to go about it:
From your profile: Go to your profile, scroll down to the "Recommendations" section, and hit the "+" sign. You'll be asked whether you want to ask for or give a recommendation—select the latter. From there, a pop-up box will prompt you to pick the contact you'd like to recommend.
From the other person's profile: Head to the profile of the person you'd like to recommend. Click the "More" button to the left of the "Message" button and then hit "Recommend." Alternatively, you can scroll to their "Recommendations" section and click on "Recommend [Name]."
Either way, you'll then be prompted to enter the following:
Your relationship: Did you manage the person? Did they report to you? Did you work together? Select your relationship from one of many options in the drop-down menu.
Their position at the time: In which position were they in when you worked with this person?
Your recommendation: A brief (no more than 3,000 characters—but even shorter than that is better) description of your time working with this person. This is where you'll want to focus most of your time, which brings us to…
5 simple steps to write the perfect LinkedIn recommendation
Follow these steps to turn that blank screen into a recommendation that'll sing your colleague's praises.
Step 1: Start with a knockout line.
As with any good writing, you want to start with a line that grabs your audience's attention and makes them want to learn more. (You want hiring managers to actually read the thing, right?) Ideally, this opening will show right away what an awesome person your recommendee is.
Note that you don't have to use "the best" or "my favorite" for every person—there are plenty of other words and phrases that sound just as strong. For instance:
"It's rare that you come across standout talent like Maria."
"Few people have the opportunity to report to a manager who is also a coach and mentor—but I did when I worked for Susan."
"'Ridiculously efficient' is the phrase that comes to mind when I think about Vivek."
Step 2: Describe your relationship.
Next, you'll want to give the reader some context as to how you know the person, such as your reporting relationship, what you worked on together, or the length of time you've known each other. While you don't have to give all the details (LinkedIn will show the company and both of your job titles on your recommendation), it's important to let readers know why you're qualified to give the recommendation.
"I had the pleasure of working with Fara for two years at the Smith Company, collaborating on several project teams."
"I hired Carmen as a freelance designer in 2019 after seeing her online portfolio, and she's completed six flawless projects for me since then."
"Marques expertly filled the role of social media coordinator for my company's marketing team for just over a year."
Step 3: Share a standout trait.
If you're recommending someone, there's a good chance you think they're smart, talented, organized, wonderful to work with—the list goes on. So there's no need to use the limited characters in your recommendation to state the obvious. Instead, think about one or two things this person does better than anything else—or that make them an exceptional colleague in your mind—and focus your recommendation there.
You can also ask the person if there's something specific they'd like you to mention. For example, if your former executive assistant is now applying to their first management role, they'll likely want you to highlight their experience managing volunteers over their organizational skills.
"I was particularly impressed by Darren's ability to handle even the toughest clients effortlessly. That skill often takes years to develop among customer service professionals, but it seemed to come perfectly naturally to him."
"I was always in awe of Keisha's ability to command a room and get people on board with ideas—even people who were initially on completely different pages."
"Matt's ability to juggle multiple projects was unlike any I've seen before and made a dramatic difference in the productivity level of our team."
Step 4: Add a touch of personality.
Most people want to hire someone who not only gets the job done, but who's also great to work with. So if you can share a tidbit about what it's like to work with this person or some insight into their personality, do so. (Just, you know, know your audience. "Sophie always bought everyone tequila shots at happy hour!" might not go over so well with future employers.)
"He also made sure our Monday morning staff meetings were never without bagels and coffee. Talk about motivating a team!"
"And we still miss her on the office softball team!"
"No matter how tense a meeting, Annie made sure everyone left with a smile."
Step 5: End with your solid recommendation.
Finally, it's always nice to seal your recommendation with a final line that makes it clear that you give your contact an enthusiastic thumbs-up. You don't need to do much here—think short, sweet, and solid.
"Allison would be an asset to any team."
"As a team member or a leader, Jianyu earns my highest recommendation."
"Any employee would be lucky to have Tanisha as a manager."
10 best Linkedin recommendation examples (plus a template!)
While we recommend following the steps above to create a new recommendation for each contact, here's a quick template you can use if you're pressed for time—just don't forget to fill in the relevant details!
"[Descriptive phrase] is the phrase that comes to mind when I think about [Name]. I've had the pleasure of knowing [Name] for [length of time], during which [description of your working relationship]. Above all, I was impressed with [Name]'s ability to [description of what makes the person really stand out]. And, of course, their [personality trait]. [Name] would be a true asset for any positions requiring [1-2 skills they excel at] and comes with my heartfelt recommendation."
That's it—five steps, five (or so) sentences, and five minutes to a recommendation that will ensure your contact shines. Want to see exactly how this comes together? Check out these samples. (You can use them as inspiration for your recommendation—we won't tell!)
1. For a colleague on your team
One of the values on our engineering team is "constant improvement," and I've never seen anyone embrace and embody that philosophy like Meha. During the past year we've worked together, I've watched her constantly look for new challenges to tackle, whether it's getting to the root of a buggy software, writing a script to land a reservation at an always-booked restaurant, or running charity races in her off hours. She's also always the first to jump in if newer members of the team run into issues. I've loved my experience working with Meha, and I know that anyone looking to hire or work with her will, too.
2. For a colleague you worked with on a project
Keeping a project team of 50+ people aligned toward the same tasks might sound impossible, but it seemed like a breeze to Peter. We worked closely together for six months rolling out a new product launch, and I was constantly amazed not only by his technical project management skills, but also by his ability to keep the team motivated through the inevitable challenges and supply chain disruptions. I can honestly say I left every weekly status meeting he led in a better mood. For any company or team that needs a proven PM with a get-it-done-with-a-smile approach, Peter is your guy.
3. For a boss
I couldn't have asked for a better first manager than Seema, who was my direct supervisor for two years until she was promoted to VP of Sales. Because of her coaching and training, I went from meeting my sales target 50% of the time to exceeding it every quarter. She also went out of her way to encourage different perspectives and diverse viewpoints, which deepened our connections with other team members and made us stronger as a team. If you ever have the chance to work for Seema, I'd wholeheartedly recommend that you take it.
4. For a mentor
As a former brand manager who knew next to nothing about paid marketing, I thank my lucky stars I had Jordan to learn the ropes from. Though not my direct manager, Jordan always went out of their way to help me learn the fundamentals of digital ads during my first year at APO Agency—and as a result of that training, I was able to launch several successful programs for my clients. Not to mention, Jordan gave monthly office hours (with DONUTS!) for anyone on the team to ask questions about new platforms and features. If you're looking for a colleague, collaborator, manager, or leader on your digital marketing team, I can't think of anyone I'd recommend more highly.
5. For someone senior to you
Almost everything I learned about managing a team, I learned from Cris. He led the communications team at Fintech Focus while I worked in project management, but during the times when our teams collaborated, I had the chance to witness and benefit from his leadership. In an industry known for being hard-charging, Cris broke the mold and created an environment where everyone felt supported and heard. (Except during football season, but that's a different story.) Anyone would be lucky to work with a true leader like Cris.
6. For a direct report
I knew Susan was a star when I hired her for a social media coordinator position and she came to the interview with a presentation about how brands could engage with (the then-emerging) TikTok. During the three years she worked for me, I promoted her from coordinator to manager to team lead due to her innate ability to spot new trends and quickly implement on-brand strategies for our clients. Best of all, her social strategy skills are matched with an ability to move even the most bureaucratic clients to quick action. I'd hire Susan again in a heartbeat.
7. For a person junior to you
Nikita is a rising star in the PR world. As our team's account coordinator, she effortlessly juggles reporting, scheduling, and research for five account managers (myself included). But her strengths go far beyond staying on top of our team's needs and details. She proves her interest and drive in the field daily by going out of her way to make connections with editors and look for outside-the-box opportunities for our clients. (She's also helped me up my PowerPoint game—big time.) Any PR team would be lucky to have Nikita, and I can't wait to see where the future takes her.
8. For a freelancer
Efficient meets exceptional is how I describe Sehoon. He's been my real estate company's go-to freelance writer for the past two years, tackling everything from long-form white papers on market trends to email newsletters to pithy social media copy. Since we started working together, the number of compliments I've received on my newsletters (and client referrals I've gained from them) has skyrocketed. As an added bonus, his turnaround times are always shockingly fast. If you're looking for a writer who can take your company's content to the next level, I'd highly recommend hiring Sehoon.
9. For a client
It's not often you find a client who feels like a true partner, but that's exactly what I've found in Kat while my content agency has worked with her marketing team for the past two years. As a client, she's a dream—she sends comprehensive project briefs, she trusts my team with the creative process, and she keeps me updated with content performance and project results, which help me continue to improve the work product. She also pays on time—every time! If you're considering working with Kat as an employee, colleague, or vendor, I couldn't recommend the experience more highly.
10. For a student
Rarely do undergraduate students come with as much drive as Chandler. When he was a sophomore, he took two of my business strategy classes and served as president of the Future MBA student group I chaired. During that time, I was impressed by his ability to connect topics covered in class with both case studies and of-the-minute business news. He showcased leadership outside of the classroom, too—effortlessly juggling a wide array of extracurriculars and social events. I'm confident that Chandler will have a bright future in his chosen career path of management consulting and that he'll be an asset to any employer.