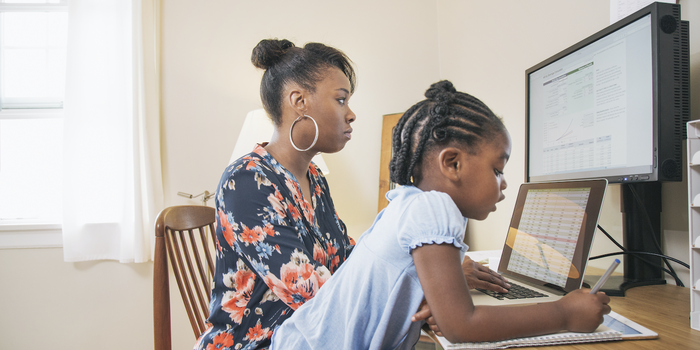 Let's face it, progress for women in the workplace was moving at a snail's pace even before the coronavirus pandemic hit. Now all those gains are at risk of being quickly undone and worse. For the past six years, Lean In and McKinsey & Company have been documenting the state of women at work in their annual Women in the Workplace reports. The 2020 report, released on September 30 and focused on the impact of COVID-19, paints a bleak picture: We might end up behind where we started.
"We could erase all the progress we've made toward gender diversity in the six years of this study," reads a preview to the report, which adds that "this is a critical moment for corporate America. Companies risk losing women in leadership—and future women leaders—and unwinding years of painstaking progress toward gender diversity."
The 2020 report is based on research from 317 companies, including survey responses from more than 40,000 employees at 47 companies and dozens of interviews with employees and HR leaders. While the pandemic has impacted everyone's work lives, the report makes clear that it has disproportionately affected women, particularly Black women, mothers, and women in senior-level roles.
While it's worth anyone's time to read the full report, we've pulled out nine alarming facts that can't be ignored—not only for the sake of women, but for the workforce and economy as a whole.
Read More: 7 Striking Facts About the State of Women in the Workplace in 2018
1.
About 51% of Mothers in Heterosexual Dual-Career Couples Say They're Responsible for Most or All Household Labor During COVID-19
A little over half of mothers in heterosexual dual-career couples who have children reported that they've done most or all household labor during this period, compared to roughly 16% of fathers who said the same.
What's perhaps more alarming is the mismatch in perceptions among parents. Only 11% of fathers reported that their partners were responsible for most of the work (which falls far short of the 51% of mothers who said they did most or all of the work) and 72% of fathers said they shared responsibilities equally with their partner, while only 44% of mothers agreed.
It's not news to anyone who's followed research on gender inequality that women tend to spend more time on childcare and household duties than men, even when they work full time. But this uneven distribution takes on new meaning during the pandemic, when many daycares and schools have closed or transitioned to remote models and parents are trying to juggle working from home and supervising kids.
"There's an assumption in a lot of families that the woman is the primary caregiver. Kids literally walk past their dads to go to their moms to ask for stuff," said one person interviewed for the report, a woman who's a manager and has three children under the age of five. "The pandemic has highlighted how disproportionately things fall on women."
Read More: 11 New Strategies for Juggling WFH and Kids (Because We're Going to Be Here Awhile)
2.
Latinx and Black Mothers are Much More Likely Than White Mothers to Be Shouldering All Childcare and Housework
As is often the case, statistics about all women only tell part of the story—and the situation is more precarious for women of color. Not only are Latinx and Black mothers are even more likely than white women (1.6 times and twice as likely, respectively) to be responsible for all of the childcare and housework, but they are also more likely to be the sole breadwinners in their families or to have a partner going in to work rather than working from home during COVID-19.
"Before the pandemic, my parents helped with childcare, but now everything falls on me," said one Latinx manager and mother of two children under the age of 4 who was interviewed for the report. "I feel overwhelmed at least two or three days a week… The biggest challenge is meetings. I need to be available for meetings at core business hours, and it's very hard to focus when my kids are in the room."
3.
Mothers Are More Than Twice as Likely as Fathers to Worry About Their Performance Being Judged Due to Their Caregiving Responsibilities
Not only are women more likely to be taking on additional responsibilities outside of work—they're more likely to worry about being judged for it. Thirteen percent of mothers have felt uncomfortable even talking about the fact that they're parents during the pandemic, compared to 5% of fathers, while 24% of mothers have been concerned their performance is being negatively evaluated because of their caregiving responsibilities (more than twice the share of fathers who felt the same). And 29% of mothers have been hesitant to discuss work-life challenges (compared to 19% of fathers).
"I don't talk about my caregiving responsibilities with my boss," says one mother, a director with a 5 year old and a 7 year old, who was interviewed for the report. "People might think I don't work as hard because I have children. I never want that stigma to be attached to me and my work."
These mothers' fears aren't unfounded—previous research suggests that men tend to get a boost in income when they become fathers, while women's earnings tend to decline when they have children (more so for every child they have). It's what sociologists call the "fatherhood bonus" and the "motherhood penalty." And the penalty doesn't just apply to salary. One set of lab experiments found, for example, that mothers were perceived to be less competent and less committed, were less likely to be considered promotable or recommended for management roles, and were held to higher standards of performance when compared to women who were not mothers.
Read More: Yes, Being "Mommy Tracked" Is a Real Thing—But You Don't Have to Put Up With It
4.
1 in 4 Women and 1 in 3 Mothers Are Considering Scaling Back or Leaving the Workforce Altogether
When asked if they'd considered changing their work situation during the pandemic, mothers were far more likely to say yes than fathers—whether the solution was reducing work hours (17% of mothers vs. 9% of fathers), taking a less demanding job (16% of mothers vs. 11% of fathers), taking a leave of absence (15% of mothers vs. 9% of fathers), swapping a full-time role for a part-time role (8% of mothers vs. 2% of fathers), or simply leaving the workforce (7% of mothers vs. 4% of fathers).
"There were times when I said to my husband, 'One of us is going to have to quit our job.' And I remember thinking, 'How come I'm the only one thinking about this, and my husband isn't?' I don't think him leaving was ever in question," said one woman who was interviewed for the report, a senior manager and mother to children ages 1 and 5.
All told, about a third of mothers and a quarter of women were considering taking a step back or stepping away from work entirely. The COVID-era report is the first of all six Women in the Workplace surveys to find women leaving their companies in larger numbers than men. "If these women feel forced to leave the workforce, we'll end up with far fewer women in leadership—and far fewer women on track to be future leaders," the authors write.
5.
Senior-Level Women Have Consistently Felt Exhausted, Burnt Out, and Under Pressure to Work More—Far More Than Their Male Counterparts
The risk is real when it comes to women who are already in more senior and leadership roles. More than half (54%) have consistently felt exhausted during the pandemic, compared to 41% of men in similar roles; more than a third (36%) have felt like they're always being pressured to work more, compared to 27% of senior-level men; and 39% have consistently felt burnt out, compared to 29% of their male counterparts. It's no wonder that senior-level women are 1.5 times more likely to be scaling down or leaving the workforce than men at the same levels.
"This has been the most challenging professional and personal year of my life. I have days where it all feels hopeless," said one VP and mother to a 3 year old who was interviewed for the report. "I've been thinking about stepping back, which I never did before COVID-19. I'm looking for roles at other companies with a smaller team and shorter hours."
6.
Women Still Hold Hold Only 38% of Manager Positions
When Lean In and McKinsey released the first Women in the Workplace report in 2015, women represented 45% of entry-level employees, 37% of managers, and a smaller and smaller share beyond that, with only 17% of C-suite roles belonging to women. By the start of 2020, women had seen the biggest gains at the highest levels, making up 21% of C-suite roles and 28% of senior vice president roles (increases of 22% and 18% respectively). At a time when women at senior levels are among those most negatively affected by the pandemic and are considering scaling back or leaving the workforce altogether, even these gains seem tenuous.
And the women coming up behind them still aren't getting promoted at the same rate as men. Progress was less pronounced at the lower levels, particularly at the crucial first rung up after entry-level roles. Women still only make up 38% of managers. They are simply not being promoted at the same rate: For every 100 men who got promoted to manager, only 85 women moved up—and only 71 Latinx women and 58 Black women.
7.
Nearly Half of Black Women Feel Uncomfortable Sharing Their Thoughts on Racial Inequity
As the report states, "the workplace has always been worse for Black women." They have fewer opportunities and face more biases and microaggressions. In 2020, they have also had to contend with the disproportionate impact of the pandemic on Black Americans and the continuous flood of police brutality and racial violence in the news.
Black women are far more likely than women in general to feel like they can't bring their whole selves to work, with 42% saying they don't feel comfortable talking about racial inequity at work and 22% saying they don't feel comfortable talking about how current events are affecting them and their communities (compared to 19% and 9% of all women, respectively).
"There was a real silence after George Floyd happened. And I felt like that silence ripped open a wound that I didn't realize had been so deep," said one manager, a Black and Latinx woman who was interviewed for the report. "What was disappointing, and what I heard from multiple Black colleagues was, 'I have all these people who I work with every single day who I think care about me. But that week we were mourning as a community, and no one reached out. No one said a word.'" Only a third of Black women said their managers had checked in with them.
8.
People Think They're Being Allies to Women of Color, But They're Not Taking Enough Action
The majority of men and women surveyed—61% and 65% respectively—said they were allies to women of color at work. However, the percentages of folks who reported actively listening to stories of bias, publicly acknowledging or giving credit, working to actively confront discrimination, or taking a public stand to support racial equity were all much lower.
Black women are 1.5 times more likely than women overall to feel they don't have strong allies, which can impact happiness and access to opportunities. "I've had coworkers who think they're being great allies, but there's so much more they can do," said one Black woman at the director level who was interviewed for the report. "They support their Black colleagues in theory, but they don't call anyone out for saying or doing things that hurt their Black colleagues."
Only 8% of men and 12% of women said they mentor or sponsor one or more women of color, with Black women three times more likely than men overall and senior-level women more than 1.5 times as likely as senior-level men to do so. In other words, women and Black women in particular are more likely to step up and support women of color, despite the challenges they face themselves.
Read More: 7 Examples of What Being an Ally at Work Really Looks Like
9.
Women With Disabilities Have Had a Particularly Hard Time Working During the Pandemic
Women who have disabilities are more likely than any other group—men overall, women overall, women of every race, LGBTQ women—to feel stressed, exhausted, burnt out, excluded, kept in the dark, and uncomfortable talking about the challenges they're facing.
"I'm barely hanging on. I recently let my direct manager know [about my disability], and I am glad that he is aware," said one manager, a woman with a disability who was interviewed for the report. "But it was also very difficult for me to tell him because this is a job where people will stop giving you work on a dime if they perceive that you're weak."
Put together all of these facts and you get a grim view of the state of women in the workplace during this global health crisis. The report's authors warn that the "consequences could badly hurt women, business, and the economy as a whole." But they also present this moment as an opportunity for companies to step up and "reinvent the way they work so it's more flexible and sustainable for everyone," offering concrete steps companies can take to alleviate the challenges women face at work and to support Black women specifically.
"This is a pivotal moment," they write. We could see our slow progress on gender diversity, equity, and inclusion halt and reverse itself, turning the clock back years. Or this could be a wake-up call. "If companies rise to the moment with bold action, they can protect hard-won gains in gender diversity and lay the foundation for a better workplace long after COVID-19 is behind us."