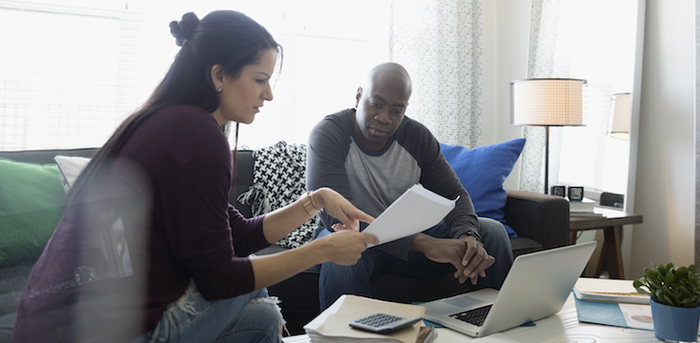 You and your partner are on the same page. You talk about all the important things. Yes, I know, I hear you. But how sure are you really that you're covering everything? Would you be willing to bet your retirement on it?
I'd caution against it based on the most recent Fidelity Investments Couples & Money study, which found that not all couples are aligned or knowledgeable about their finances and careers. Beyond the fact that one in five couples couldn't agree on how long they'd actually been together, the survey found that 15% of respondents "couldn't accurately report their partner's employment status" (i.e. part time, full time, or other) and 34% couldn't "agree on how much salary their other half makes." So sure, the majority could, but a surprisingly large minority couldn't.
The employment status findings might be explained, at least in part, by the rise of the gig economy and the changing ways people work, according to Lorna Kapusta, Fidelity's VP, Women Investors. But she says the knowledge gap on income is especially troubling.
"If you think about managing your financial life, if you don't know how much is coming in on a regular basis," she says, "how do you budget? How do you know how much you can spend?"
That's not all. Nearly half, or 43% to be more precise, of couples "disagree about what age they plan to retire" and more than half, or 54%, "disagree on how much should be saved by the time they reach retirement." That's not as alarming among millennials, for whom retirement is still many years away, as it is for baby boomers who are in, or close to, their retirements.
The results on these questions alone would raise some eyebrows, but consider also the fact that more than two-thirds of couples said they communicate "exceptionally well" or "very well."
"These examples of where there's disagreements, where couples are not on the same page, are symptoms of a broader issue," Kapusta says. On the retirement front, especially for the younger couples, she says it's less about matching an exact age or amount saved than being on the same page in terms of long-term goals.
So whether or not you insist that you and your partner are great communicators, try answering the questions below (each separately, of course). They're inspired by the Fidelity survey, but we added a few more in there.
What's your partner's employment status?
What is your partner's title at work?
What are their primary responsibilities at work and what does their day to day look like?
What is your partner's salary? What is your combined income?
How much are you saving each month in different buckets (retirement, emergency fund, travel, etc.) and how much are you allocating to monthly needs and wants?
At what age do you and your partner plan to retire?
How much should you have saved by then? Are you on track?
How'd you do? If the answer is less than stellar, you're probably not alone. But regardless of the results, what this should tell (or remind) you is that it's important to have periodic conversations with your partner about your careers and money.
"Everybody has to understand the couple that they're in," Kapusta says. "What I've found that worked is starting a conversation about what's important to you, not about what you don't know," she explains, so that you can start setting goals and sketching out a game plan.
She and her husband, for example, have dreamed for years of having a second home on the beach, and they check in twice a year about that and other goals to make sure they're on the same page. One of her colleagues has a monthly date night with her husband to talk about where they are.
"It creates an environment where the conversation is flowing," she says, and "a cadence of getting together" to nurture that environment. You just have to agree on what that ongoing conversation should look like in your particular couple.
And that might be far more uncomfortable for some. The survey also found that a higher proportion of couples who are concerned about debt argue about money and have difficulty discussing budget and spending, managing debt, saving and investments, and money in general. Not surprising.
"If you can't do it on your own, there's a financial support person for everybody," Kapusta says. "Someone who can help you have the conversation," and figure out what information should be shared and why. "Think about it like couples counseling."
Whichever camp you fall into, here's a starter guide from Fidelity, complete with a checklist, to help you figure out what you need to know.