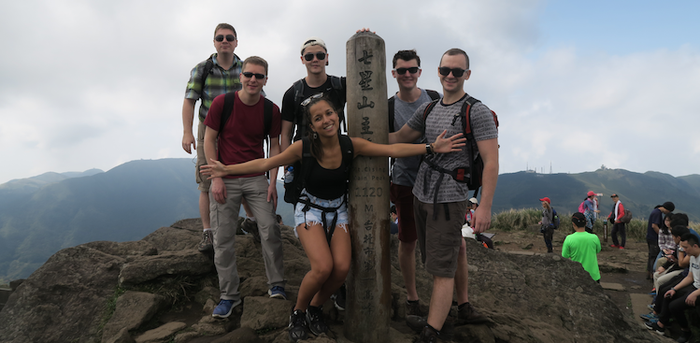 We all know that person who tags their beachy Instagram photos with the caption, "Today's office!" while we're stuck in a cubicle staring at our sad desk lunches. The digital nomad lifestyle might inspire jealousy—we want a beach office too!—and even some what-if daydreaming.
But actually taking the leap can be pretty intimidating. Just the thought of having to deal with the logistics involved in such a big life and career change can be daunting. That's where work travel programs such as Hacker Paradise, Remote Year, and Unsettled come in: They take care of the planning for you so you don't have to go it alone.
These startups—geared toward people who'd like to work remotely while traveling abroad, but without the hassle—provide accommodations, guaranteed WiFi, transportation, co-working spaces, excursions, social events, workshops, and sometimes even a SIM card as soon as you arrive. All you have to do is show up—and bring your work. The concept is simple, and it has become quite popular.
If you're interested in testing out life as a digital nomad with a structured work travel program rather than going solo, here are a few key things to know about these programs, with insights from past participants.
It's an Introduction to Digital Nomad Living
Zoë Björnson spent the first few months after college graduation traveling around the world. Then she got a job working in marketing, but she wanted to continue hopping from city to city at the same time. "I wasn't really the type of person who wanted to backpack around Southeast Asia or go teach somewhere," she says. "Remote Year was the perfect mix in that it let me keep my job based in the States but just travel around," without having to take care of all the logistical details.
With the stress of planning travel—booking flights and searching for co-working spaces—in someone else's hands, you can focus on your work. And it can be a convenient, lower-effort way to try out the digital nomad life.
In the early stages of his career after college, Sib Mahapatra had already started feeling restless. He joined Hacker Paradise in 2016 and traveled with the program to Portugal, South Korea, and South Africa, while working as a consultant for startups and writing a novel. "Relative to just doing three months in South Africa on your own, the risk is way lower from a safety and community perspective," Mahapatra says. "You just know that [the travel program] is gonna be there for you."
Relative to just doing three months in South Africa on your own, the risk is way lower from a safety and community perspective.
Sib Mahapatra
The experience, much like any new venture, also allows you to learn more about yourself—including, potentially, that digital nomad living might not be for you in the long term. Mahapatra, for example, enjoyed his program at first, but "at some point, you begin to miss having deeper roots in a place."
It's Going to Cost You
While this kind of wanderlust may be a common feeling, not everyone has the means to pursue it. And work travel programs aren't cheap. Remote Year, for example, usually requires an initial fee of $3,000 or $3,500 plus $2,000 monthly payments for a four-month experience. Hacker Paradise prices range from $475 to $775 per week depending on how long you travel with them, and Unsettled retreats cost $2,000 to $4,000 per month depending on the destination. Though these startups love to market their convenience and how much comes with the package, daily meals, excursions, activities, and personal expenses might not be included.
Björnson lived at home with her parents for a while to save up a little nest egg before she joined Remote Year. During the program, "each month I was spending $1,000 of my savings and $1,000 from my salary to cover the monthly expenses," says Björnson. "It wasn't too much of a stress for me at all," she continues, since the cost of the program was equivalent to what she'd have been paying to live in a city like New York.
But not everyone has guaranteed work going in as Björnson did. Victor Kung, a product manager originally from Chicago, was attempting to start his own marketing agency when he signed up for The Remote Trip to travel to Chiang Mai, Taipei, and Bali. "If you're somebody like me and running your own business or freelancing, you don't really have a guaranteed source of stable income, which is challenging," he says.
Digital nomads often seek out destinations with lower costs of living so that they don't need to earn as much money to get by. These programs are different. Because they often have hefty price tags, they're not a realistic option for everyone. Unless you have a decent and consistent stream of income during the program, you may not break even and could even end up in the hole if you don't plan ahead and save up before taking off.
You'll Become More Skilled and Mindful at Work
Working abroad with others may also help you become a better employee in the long run. Being a remote worker of any kind can strengthen your ability to focus on individual tasks and be more proactive, and working and traveling in these programs together with people in other industries can foster innovative thinking.
"I really like that it forced me to be even more autonomous in my work by finding creative and new ways to be more productive, develop more processes for my team, and to think a little bit differently," says Björnson, who even ended up hiring one of the people in her program.
Another benefit: Getting advice from people in different fields with different roles, and at various life and career stages. Some of the programs even offer workshops for job training and personal growth led by an experience leader or fellow participant. On an Unsettled retreat, for example, you might find sessions on meditation, web design, or better organizational skills.
It's About the Friends, Community, and Professional Network
While participants may miss out on face time with folks in their home offices, there is also value in the communities that form among program cohorts, since members generally travel with the same people for an extended time period. Alums of these programs say that the biggest benefit was the network of people, and many participants considered their fellow travelers to be more like lifelong friends than just colleagues. Ultimately, the most lasting effect on each of their careers came from these professional connections, the thoughtful advice they got, and the new skills they learned from one another (through facilitated skill-sharing workshops or more informally).
It's not worth it when you can't invest in those social relationships.
Kaisu Koskela
To get the most out of the experience, be prepared to put time into the social aspects. Kaisu Koskela, an academic from Helsinki who spends most of her time doing research and writing, traveled with both Unsettled and Hacker Paradise. For her, the people were the biggest gain, so much so that it sometimes became difficult to balance work priorities with the social life the programs offered. "It's not worth it when you can't invest in those social relationships," she says. The relationships she formed during her own trips mean that now, "pretty much anywhere I go in the world, I can reach out to someone," Koskela says.
Moving around from city to city can bring about a sense of instability, but these programs can provide not only logistical, but also social structure to the digital nomad lifestyle. That social and professional support system can last long after the program is done.