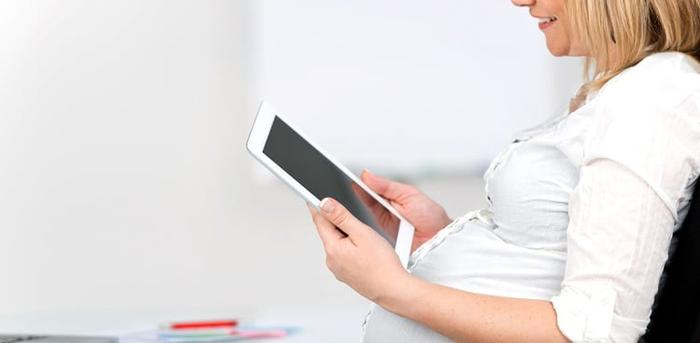 In January 2012, after weeks of resume updating, cover letter writing, and interviewing, I received two job offers: one from a big name technology company where the work wouldn't be that interesting but the pay and benefits would be steady, and one from a scrappy startup where the work would be cutting-edge but the compensation less than guaranteed. I chose to go with the startup.
The choice wasn't an easy one. My husband and I had just started talking about beginning our family, and startups are known for long hours and intense work. I even voiced my concern to the CEO, who said, after a long pause, "It would suck if you just, like, up and left for nine months." Not an encouraging start. But I chose the company anyway, because I thought the work would be more fun and worthwhile.
When I first started, I was one of about 15 employees. We had no HR staff or personnel policies whatsoever. There was no definition of sick leave. (We were largely just asked not to bring any infectious diseases to the office.) The ambiguous company hierarchy and policies didn't worry me—until two months in, when I found out I was pregnant. I definitely hadn't planned on getting pregnant that soon, but that's the funny thing about pregnancy: It very rarely happens when you plan it.
Initially, the idea of being the first (and only) pregnant lady at a startup company was terrifying. Not only do startups have a lack of policies and guidelines, the culture typically encourages working long hours at odd times of the day. I remember worrying about my perception in the company as I took time to attend doctor's appointments and dealt with the inevitable exhaustion (and sometimes nausea) pregnancy brings.
After my son was born, and I went back to work four months later, I realized some of my fears were unfounded. There were even some unexpected benefits to being pregnant at a startup that I don't think you would find at traditional companies.
Of course, there were the downsides, too—as I learned two months later when I experienced one of the most disheartening realities of working at a startup and was laid off.
But, I survived. My son is now one year old, and during that time I've conquered maternity leave, breast feeding, post-partum-ness, being laid off, and job searching. After some reflection, I compiled the following tidbits of advice for any other moms and moms-to-be in similar situations.
Announcing Your Pregnancy
After I found out I was pregnant, I immediately started to worry about when and how I should announce it to my co-workers. Like all things related to pregnancy, there are a host of different opinions on the matter. Several sources recommended that I wait until four or five months (or whenever I was becoming noticeably pregnant), their rationale being that I'd have the chance to "prove" that my pregnancy wouldn't negatively affect my productivity.
However, one caveat to this plan is if you have seriously troubling morning sickness. Obviously, if you can barely pull yourself out of bed in the morning and can't stray farther than a certain distance from the bathroom, then you are not going to be able to put in a full day's work. In this scenario, you will have to announce your pregnancy to your manager so you can take the time you need. (In some cases, you can use some of your short-term disability leave to cover the time you take off.)
I told my manager I was pregnant when I was roughly three and a half months along. She then informed the "higher-ups" at the company shortly after that. I waited a few more weeks before I made a general (but informal) announcement to the rest of the company. I found that telling my manager first before I told anyone else worked very well. It meant that she wasn't surprised by my company-wide announcement, and it gave us both a chance to strategize how we were going to make this whole pregnant-and-working-hard thing work.
Getting What You Need
When you are pregnant, you are going to need a few accommodations. You are going to need to have time to attend doctor's appointments, you might need to schedule some "work-from-home" days to help battle the worst of morning sickness and exhaustion woes, and when you return to work you will likely need time and space to breast pump a few times during the day. And as the first pregnant woman at a company, you have to be the one who thinks of all of the details and finds solutions.
The best way to handle getting what you need is by being assertive and proactive. For example, make it clear that you are not going to sit in a bathroom stall to breast pump, but also make it clear that you are willing to scope out places to use as a lactation room and be flexible with finding the right solution. By taking this approach, you are making sure you get what you need while also communicating to your manager and co-workers that you are committed to making your new working-mom status work out in the long run. I found that my team was extremely understanding and accommodating. They made it clear that they wanted me to have a good maternity leave experience—I just had to tell them what I needed (since they had no clue).
One unexpected benefit to being the first pregnant lady ever at a company was that I became instrumental in establishing the company-wide parental policies. I was asked to think about and present what my ideal maternity plan would be. It was very gratifying to know that I was contributing to the overall company culture in this way. As a bonus, it gave me more face time with our COO.
Benefits and Insurance
Even if your startup is so small that it doesn't have private short-term disability insurance, you may still be able to access and benefit from it through state programs. I live and work in California, which has a state short-term disability insurance program that all tax-paying Californians can take advantage of. Below are a few pieces of advice for figuring out what benefits you have access to:
Each state has different laws and regulations regarding family and medical leave (FML). More often than not, details on FML programs can be found on state website.

Some small companies (like startups) are not necessarily regulated by FML laws until they reach a certain size (like 50 employees).

If you have an HR representative at your company, he or she will know the state laws as well as any company policies. If not, you can actually get really good information from your doctors. They are used to filling out all the necessary forms and can point you in the right direction.

Talk to your health insurance provider and make sure you are clear on what is covered and what time-sensitive issues there are. Also make sure you understand when and how to enroll your baby on the health insurance plan once he or she is born. And talk to your health insurance about what services and supplies you can get for free through them. Do they pay for birthing classes or lactation consultants? Will they give you a breast pump for free? Ask them for everything.
Preparing for Your Return
Who will need to take on some of your workload while you are gone on maternity leave? Find this person (or people) and do everything you can to come up with a workable solution. Especially when you're working with a small team in close quarters, you don't want to make people feel unduly burdened.
In startups, more often than not, you'll find that multiple team members will be taking on your responsibilities, and it helps if you can establish a clear list of tasks and responsibilities for each of them. In my case, my team found it helpful that I also drew out a timeline of obligations, deadlines, and milestones they would need to meet while I was on leave. I also had them "shadow" or work with me the two weeks before my maternity leave started.
Be positive, and make it clear that you are committed to coming back to work. Talking about how you are going to need to arrange your schedule, day care, and lactation room needs makes it clear to your manager and co-workers that you have every intention of coming back and making it work.
But go ahead and tell them that you want to come back part-time at first. Just tell them this. Make it a fact—even if you're not sure you'll want or need to. Because you won't know what you will want or need until after your baby is born. When I came back to work full-time after months of being a mom full-time, I felt depressed and guilty. I wasn't useful to anyone. I told my manager, and we arranged for me to work part-time for a month. It would have been way easier if I had set that expectation in the beginning and not taken no for answer.
Handling Stress
Dealing with a newborn is the most stressful experience ever. Period. And any additional amount of bad news can make it feel like your world is simply coming apart at the seams and completely out of your control.
But unfortunately, startup life is full of stress. In my case, a few months after coming back to work, I was laid off. We didn't get that next round of funding, and the bills were piling up. The only way to survive was to let people go. I understood, but it was still deeply upsetting.
What I found important during that time, and the advice I'd give anyone dealing with any kind of workplace stress, is to remind yourself that you are still you. You are still the talented and resourceful person who managed to deal with angry clients, or manage workplace politics, or find a job as you were in the past. You are just busier and more sleep deprived now, so you may need help. Find that help. Take all offers of help. Ask any and all friends and family to help out. Do whatever it takes to get what you and your new baby needs, including, if you're in my boat, time and peace to brush off your resume and go to a few interviews.
Parting Words
After a short period of time, I did find a new job—a great job that's been nothing but positive and accommodating when it comes to me actively trying to maintain my work-life balance. And looking back over the whole experience, I've realized that, no matter what situation you're in, becoming a mom takes bravery. You have to have courage to ask for and take what you need for yourself and your family. You will discover endurance in deep physical and mental places within you. I think I am now stronger, more understanding, and more sympathetic after becoming a mom. I am a new and better person, and a better professional, too.