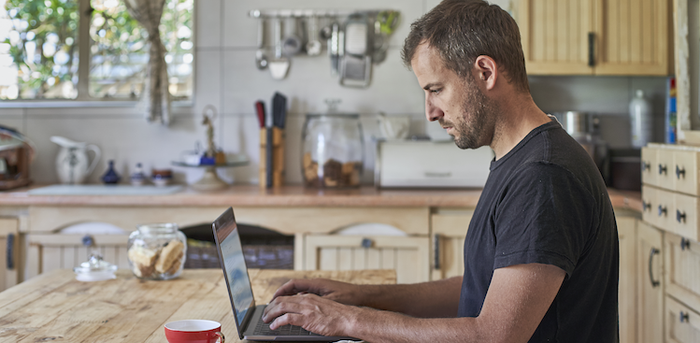 With most of the United States under orders to stay home to prevent the spread of COVID-19, many employers have pressed pause on workers' jobs through layoffs or furloughs, a form of temporary layoff. (More than 26 million Americans filed unemployment claims in a span of just five weeks in March and April.)
But what exactly is a furlough, and what does it mean for you if it happens?
What Is a Furlough?
A furlough is a form of mandatory, temporary, and unpaid leave. Furloughed folks are not fired or permanently laid off from their jobs—instead, their employer hits pause on their roles, having them skip paychecks while abstaining from work for a period of time while still considering them employees. For example, the U.S. government has furloughed its workers when lawmakers failed to pass federal budgets on time, temporarily sending workers home until their wages were baked into a new budget.
During the COVID-19 pandemic, many companies are using furloughs as a means to cut costs and survive while Americans are under shelter-in-place orders. Some 14% of U.S. companies furloughed employees in the first few weeks of the pandemic, and 37% indicated they planned to by the end of the second quarter of 2020, according to data released by Challenger, Gray & Christmas, Inc. on March 31.
Rules on sheltering at home and social distancing mean entire business categories—brick-and-mortar retailers, airlines and cruise lines, restaurants, gyms and spas, art museums, hotels, conference and event centers, and more—can't make money the way they normally do. But because these businesses expect conditions to return to normal at some point, they may choose to furlough employees rather than lay them off. The advantage to businesses is that when they're able to reopen, their workers will be ready to return—without the ramp-up costs or time needed to hire, train, or otherwise onboard a new workforce.
"The message to employees from employers who furlough is this: 'We're going to bring you back,'" says Jenn McCabe, a partner at accounting and business consulting firm Armanino LLP, which helps clients with human resources issues including furloughs. McCabe explains that under normal circumstances, furloughs are typically seasonal and often follow a 90-day timeframe. Fruit pickers, for instance, are commonly furloughed after a growing season winds down. "This is really different, though," McCabe says of the pandemic's impact on businesses. "We have no end date. It varies from business to business."
Furlough vs. Layoff: What's the Difference?
Furloughs are different from layoffs in that they're a short-term move designed to preserve an employee's job in the long run. Both furloughs and layoffs can happen due to outside forces—for instance, a drop in demand for products and services. However, a layoff is permanent, while a furlough is temporary.
Here are some other key traits of furloughs and how they differ from layoffs:
Furloughed employees will be invited to return to work either on a particular date stated in advance or when business conditions improve (such as when social distancing rules permit restaurants, retailers, theaters, and gathering places to reopen). A laid-off employee, on the other hand, is formally severed from their job, and would need to go through a rehiring process and renegotiation of pay and benefits if they ever returned to the same job or company.
Like laid-off employees, furloughed employees go home, don't perform work, and don't collect a paycheck. But unlike laid-off employees, they do retain their employer benefits, such as health insurance, which they can use throughout their furlough. Some companies offer additional support during a furlough: Outdoor retailer REI, for instance, announced that it would place workers on a 90-day furlough starting in mid-April and would not only continue to pay the employer portion of their health and welfare benefits, but also cover the employees' premiums.
Government employees cannot be replaced or dismissed during a furlough. They can return to their position as long as it exists and they want to come back.
For non-government employees, furloughs can eventually become permanent layoffs. However, the employee would retain their employer benefits up until their furlough becomes a layoff.
Furloughed employees are "sharing the risk" of their industry with their employer. When an external force drives down the employer's revenue or ability to earn money, but that condition is expected to change later, a furloughed employee absorbs some of the financial impact. (It's not uncommon in this situation for a company's CEO to forgo their salary and for C-level leaders to take pay hefty cuts as a gesture of solidarity with furloughed employees.) This isn't pleasant for either employer (who might see the employee take another job in a more secure industry or company) or employee (who isn't getting a paycheck). But it's better than an outright layoff because the hope is that it's a temporary blow and the situation will improve enough to allow workers to return to their roles.
What Does a Furlough Mean for Employees?
Being furloughed, in essence, means you won't get paid during this period, but you remain an employee and can generally use your employee benefits while awaiting a call to return to work. But who can be furloughed? And if you've been furloughed, what exactly can you do while you wait to return to your job?
Can You Furlough a Salaried Employee?
Salaried employees—often also known as "exempt" employees because they receive a fixed annual income rather than being paid hourly and are thus exempt from overtime hours or "time-and-a-half" pay rates—can be furloughed. State and federal laws may influence what options employers have when dealing with salaried employees.
But usually, if you're a salaried employee, you can't work at all during furlough; even duties such as checking email, attending virtual meetings, or making calls trigger requirements for an employer to pay you, according to the human resources organization MRA.
Can Furloughed Employees Get Unemployment Benefits?
If you've been furloughed, you can typically seek unemployment benefits, which are administered at the state level (which means the rules on dollar amounts and other details vary by state). The CARES Act, developed to support businesses and individuals during the COVID-19 pandemic, also offers enhanced unemployment options.
Can Furloughed Employees Take a Temporary Job?
Yes, you can seek a temporary job during a furlough. However,
government workers who are furloughed are still technically employed by the government, so you may be bound by conflict of interest policies regarding the type of work you can pursue. In some cases, you may be able to transfer to another government agency or group.
Can Furloughed Employees Look for Another Job?
Furloughed employees can by all means look for another full-time job, but often if your particular industry is suffering, other employers in your field may not be hiring. You may need to think about how your skills and experience could translate to other roles and industries and expand your search accordingly. Finding new work—even if it's temporary or a one-off freelance gig—can also reduce the dollar amount of unemployment benefits you can receive.
However, a furlough often reveals the writing on the wall and can become a permanent layoff, so you might decide that it makes sense for you to seek the next secure, full-time employment you can find.
Make no mistake, furloughs are difficult. It's never easy to be out of work—and a paycheck—even if you feel grateful to have a job theoretically waiting for you rather than no job at all. While furloughs are designed to preserve jobs in the grand scheme of things, they can damage morale and even induce panic in the short term.
The severity of the coronavirus pandemic means that dozens of industries can't produce goods or deliver services the way they have in the past. And the uncertainty around how the situation will continue to unfold and how long social distancing measures will remain in place makes it hard to see if or when you'll be able to return to your job.
But if you understand your rights and are aware of the options you have while you're furloughed and waiting—to seek unemployment benefits or otherwise earn money—you'll be well-equipped to navigate your way through this difficult time.