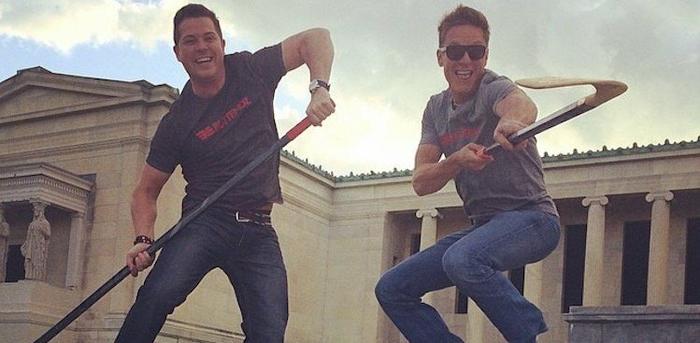 Have you ever dreamed of quitting your desk job and starting a business with your best friend? While you might not think about it every day, you've undoubtedly thought about the fact that it'd be way more fun to bring your awesome idea to life rather than stare at spreadsheets all day.
Well, Rob LaLonde and Kevin Lonergan, best friends since the fourth grade, did just that. They're founders and co-owners of a company called Buttendz: "the market leader in hockey & lacrosse grips." They launched the business with an unforgettable name in 2014 after years working the sales beat.
Each credits their prior career experience with teaching them tools of the trade and preparing them to make this major move. But at the end of the day, this story's about three things: a vision, drive, and market awareness. (It doesn't hurt that they also had a strong desire to be their own bosses.)
You might say that vision began when LaLonde, who played professional hockey, noticed the "annoying problem of using tape for the top hand of the hockey stick." No one seemed to care though—except for Lonergan, who listened to LaLonde's brainstorming, and later came forward with the business chops to actually launch it.
LaLonde had identified an issue in the arena, "unused marketing space," he told me, and he "wanted a piece of it." From there, the drive manifested itself almost naturally, particularly as the nine-to-five grind grated on both of them. Ultimately, their commitment is what made their journey possible.


So, Take Me Back to the Beginning. How Did You Guys End Up Here—With a Company of Your Own?
R: I suffered a career-ending head injury in 2010 while playing in the minor leagues. I thought about Buttendz (not yet in existence) every day, but I had no idea what it meant to start a business. I just knew that there was an opportunity.
I started to pitch my idea to anyone who would listen, and I got excited when some local business guys took an interest in the concept. I was such a business rookie though, I really had no clue what Buttendz was or what it would look like.
After I stopped playing hockey I knew that I needed some real world business experience (whatever that meant) so I took an opportunity selling copy machines in Manhattan. Known as a tough racket, this business was introduced to me at a time when I knew very little about what it meant to sell something. This was the major leagues.
K: For me, it was a slow, evolving decision toward needing to work for myself. My career began in 2004, working for a small mortgage broker in Cleveland. I was awarded sales manager of the year when I was 24! I had a couple of good jobs after the housing market collapsed in 2009, but I wasn't happy. By 2013, I didn't see it as a long-term career path. It was around this time that we decided to start Buttendz.
I'd soaked in enough work and life experience to start something new and was ready to do this thing with Rob. Looking back, I don't believe I would've had the confidence and discipline necessary to do this in my twenties.
What Was Your Experience Quitting Your Job(s) and Starting Your Own Business Full-Time?
R: I was with the copy firm for almost two years. Most of the people around me forgot that I had the idea for Buttendz; to them I was just a retired hockey players selling copiers. The only person who'd always taken an interest in the idea was Kevin.
He and I would talk about Buttendz every once in a while. Then one day, he called me up and said that he wanted to start the company with me.
Kevin is a savage (smartest guy I know) and I knew that if we joined forces, we could make some serious noise. I didn't quit my job, but it all changed after that. We started working on projects right away, and I was elated. Eventually, my copier sales funnel dried up and it was obvious that I no longer had my head in the game. I was let go by my firm.
It felt so good. I left NYC with two years of sales experience in a notoriously difficult environment. I went in a business rookie and came out an aggressive NYC salesman.
K: Quitting was a "gradual" process. For the first nine months, before we had any product or inventory to sell, I was able to do all the initial product development tasks and phone calls with Rob (during lunch breaks) when I was working full-time. Rob was living in NYC at the time, so I'd send him to graphic designers to start on CAD files, product drawings, and logos.
I was ready to give notice after we met with an overseas manufacturer (this was in spring 2014), but I was let go instead. Apparently, my lack of enthusiasm for my position was obvious to my employer. I immediately scaled down my bills and we started pounding the pavement at hockey tournaments every weekend to earn cash.
We were all in!
What Was the Most Stressful Part of Starting the Business?
K: The most stressful part was not knowing where money will come from and when it will come. For someone who had a steady paycheck every two weeks for 10 years, it's quite a shock. My student loan deferments were all used up from my financially irresponsible early twenties. And hockey season doesn't really start until October, so summer 2014 was slow.
We did get a nice write up in The Hockey News in August 2014 that helped our name get out there. But, sales in 2014 were not enough for us to live off of, so savings were depleted and personal credit cards were maxed. Needless to say, there was no shortage of motivation to sell and grow as quickly as possible.
R: I guess the most stressful part for me was having other hockey players using the product that you built for their craft. I wanted each player to love the product and have success with it and when it didn't go well or there were problems I would feel stress about that because I know how important this stuff is to each player.


Do You Have Any Advice for People Who Want to Be Their Own Boss?
R: Get sales experience. Also, it sounds cliché, but make sure you go into a field that you love. I work all day, but I don't really work because everything I do is based around what I love.
K: I suggest doing your due diligence in regards to your market and target audience. Map out the steps it'll take to get started and start knocking them out one by one. If you find yourself struggling to accomplish these items, or not knowing the next step, you need to find a business partner to help.
Anyone who knows Rob and me will tell you that we're compete opposites when it comes to our approach to most things—including business. Having a partner you trust and who excels in areas that you don't is a real advantage.
What's the Best Part of Your Job Now?
R: Getting the opportunity to meet so many people. I love waking up in the morning and "working."
I love every minute of life and business and am so grateful that I get to share my passion with strangers from all over the globe. I love when young players reach out to me looking for advice about hockey or business and I get to help them navigate their careers. I feel very lucky.
K: Two answers here: 1) Monday mornings. Like most people, Sunday nights were always a depressing look ahead to the week of work. Having the freedom to control my schedule and prioritize my daily responsibilities according to my idea of what's most important is something I am eternally grateful for.
This isn't to say we still don't grind. It's a hustle at times, and we're on the road a lot, but, on that note: 2) Travel. The world travel I've experienced is solely due to this new career. I'd never been anywhere outside of North America. Since 2014, I've traveled to Beijing, Hong Kong, Munich, Zurich, Costa Rica, Mexico City, Nashville, San Antonio, Minneapolis, and Charlotte—to name just a few places.


If you finish reading this and feel invigorated to go out on your own, I'd encourage you to first read this article on the four ways you know it's time to quit your job and launch your business. Oh, and you'll probably want to soak up as much wisdom from people who've been there as possible. These 10 startup founders share the best advice they ever received and it's a great starting point.
At the end of the day, though, not everyone needs to be their own boss to feel fulfilled. Professional happiness comes in a number of shapes and sizes. And ultimately it's up to you to figure out what would make you look forward to Monday mornings.
If you take one lesson from Rob and Kevin, make it this: Doing what you're passionate about isn't always easy, but it's worth it because you'll wake up (almost) every day excited to do your work.
Talk to them about this by reaching out to Rob and Kevin, or by checking out Buttendz on Instagram.