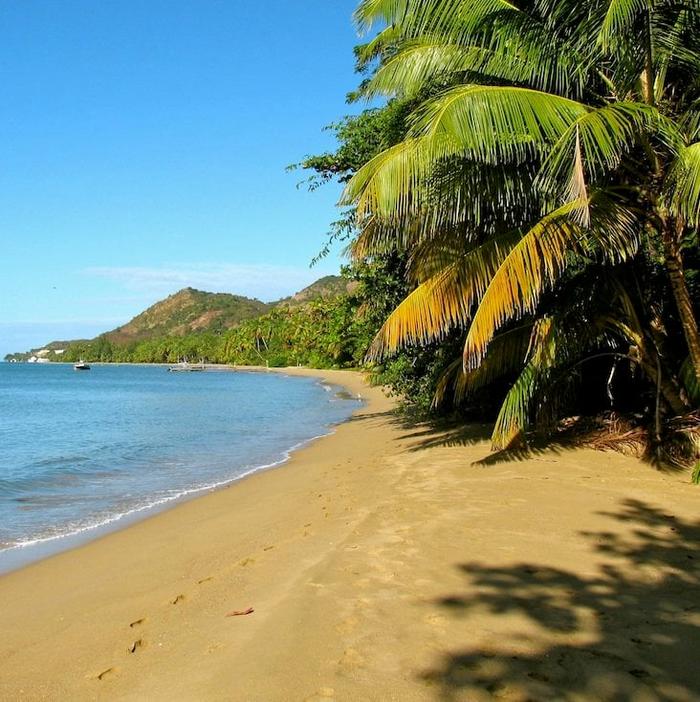 It was the thunderous sound that startled me awake. I jolted upright in my sleeping bag, my head banging against the pole above my head. As I reached for my glasses tucked into the tent pocket, his hand gently grabbed my wrist and the red glow of his night-vision headlamp beamed across our enclosed cocoon.
"We're OK, Sandy," my boyfriend John said. "It's just the waves."
I grinned foolishly, relaxing as I breathed in the salty sea air that billowed through our tent flaps. It had been my idea to buy spur-of-the-moment tickets to San Juan, Puerto Rico, which, thanks to JetBlue, came in at under $300 a person from NYC.
And so now we found ourselves on a beach in the off-the-radar town of Añasco, Puerto Rico. Our challenge? Spend as little as possible. Our strategy? Spend nothing on accommodations. Our rule? Only one: Safety first.
With that set out, we rented the cheapest car we could find on the island, a Kia from U-Save Car Rental, which came in at $380 for eight days. With John behind the wheel and me acting as the human GPS, we zipped out of San Juan and headed towards the paradise of big-swell surfing in Rincon. But instead of stopping, I directed us south of the heady bohemia and towards the town of Añasco, which boasts only two mini-grocery stores, three bars, and one abandoned camping ground that could have dubbed as a set for Lost's Dharma Initiative: La Playa de Tres Hermanos.
Upon entering the park, we were greeted by a man named Javier (an alleged park employee), who told me that the area was "muy seguro" (very safe) and "no te preocupes" (don't worry). And yet, unsettingly, the sign that welcomed us said otherwise:
(Loosely translated, this sign reads: "Warning to the public: After 6 PM, the Agency is not responsible for property and security.)
Deciding to ignore the aged sign and trust Javier, I popped up the tent while John patrolled up and down the beach. Deeming it safe, we crawled in, and began calling Playa Tres Hermanos our home. Over the next few days, I swam with a racehorse who is exercised on the beach daily, met a 90-year-old woman who was born on the very sand we stood on, showered at a surf shop, and skinny-dipped every morning. Best of all? We were the only campers.
It was the ultimate beach camping vacation—and I'd recommend it to anyone looking for an adventurous (and cheap) getaway. Ready to start planning? Here are my five tips for success:
1. Plan Before You Go
You can play almost everything about your beach vacation by ear, except a car—rental prices are seriously jacked up once you're on the island. We searched around 10 different websites before finding U-Save to be the cheapest. I also recommend booking as far in advance as possible, as we saw prices hike up just over one week of searching. Also, if you go during peak season (over the holidays), be prepared to pay more for a vehicle.
Although all guidebooks and the National Park website in Puerto Rico suggest making reservations, you don't have to at Tres Hermanos. There is no "check-in" or site management, and calling ahead to ask about reservations confirmed that none were needed. (If you're calling for another campsite, good luck if you don't speak Spanish. Try "acampar" and "reservacion.")
2. Safety First
Harking back to our one and only rule, we were vigilant about our surroundings at night. I would speak to the locals who came down during the day to form relationships, learn from them, and ask if the area was safe. We also had a lot of muscle (John), a loud voice (me), and a switchblade (don't tell JetBlue) with us just in case. I'm pretty adventurous, ladies, but I don't suggest camping alone.
3. What to Bring—For Camping
A great tent and a sleeping bag are a must for this site. Unlike the maintained camping sites on the island, like Flamenco Beach in Culebra, you've got to bring your own stuff. For its small size, fast set-up for the camping neophyte, and feather-light weight, I recommend any of REI's two-person, three-season, two-door tents.
And I've said it before and I'll say it again, headlamps are absolutely clutch for camping. They're your guide to the bathroom (a.k.a. the woods), your reading lamp, and a strobe light all in one.
4. What to Bring—For You
If you don't think you need personal care essentials for a camping trip—think again. Baby wipes, bug spray, deodorant, sun block, and hair gel are key. The bugs on a beach at night are intense, not showering can lead to foul-smelling situations, and no one wants a sunburn on vacation. Usually the mix of bug spray, sunblock, and ocean water will cover up your sweat smell, but just in case, deodorant and scrunching up your wet hair into sweet curls can help you hold on to a touch of classiness (try Matrix Curl Boucles). Other than that, well, learn to embrace your inner dash of hippie.
5. Where to Eat
Puerto Rico is famous for its roadside stalls that sell everything from rotisserie chicken with a side of yucca and seafood empanadas to fresh mango juice. These "kioscos" were integral to our cheap-eating strategy—each meal (which were all delicious) averaged about $2 per person. When it comes to water, buy giant jugs (more than you think you'll need) from the NYC-esque bodegas.
I've always thought of Puerto Rico as part of the USA, but after spending time in little-known Añasco, I'm happy to report that I couldn't have felt farther away from home.