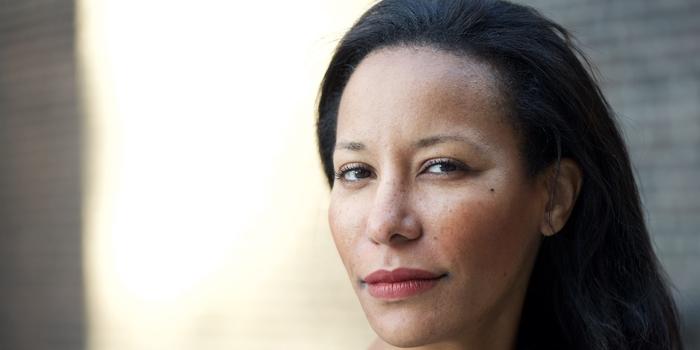 As a child growing up in a small New England town, Carrie Bloxson says she was very aware of the social inequities and lack of opportunities available to certain groups. "I found strength and optimism in books," she says. "I went to the library across the street from my school every day and weekends. Being able to expand my own world view through the stories I read was a formative time in my childhood."
Bloxson's love of books followed her to adulthood, when she began working in marketing at a publishing company. But it was her work later on, at a social impact agency that would change the course of her career. "Most of the work I was doing focused on relationship building, nurturing the staff, creating open dialogue and safe spaces to talk about lived experiences, and providing our corporate partners with opportunities to advocate for and take action on how to improve DEI," she says. "I loved it, and I only wanted to do more on a larger scale and with a bigger platform."
Bloxson recently got her chance to do just that—and return to the world of publishing—as the new VP of Diversity & Inclusion at Hachette Book Group, what she calls a "dream opportunity."
Here, Bloxson shares her DEI goals for Hachette Book Group, the keys to her career success, and why networking is so important.
What attracted you to work at Hachette Book Group?
The last 10 years of my career have revolved around elevating underrepresented voices and helping people expand their worldview. I was excited about the opportunity to return to work in publishing and I'm just so passionate about all things diversity, equity, and inclusion. A better, more inclusive experience for people of color and underserved identities is deeply important to me. I believe this is a rare opportunity where my core values and shared beliefs are aligned with Hachette's business objectives—which is to be a respected publisher that values diversity, nurtures talent, and believes that books are essential to a thriving cultural landscape and such a great equalizer in society.
What are you responsible for in your role?
My role sits on the executive team, which means I work in close partnership with HR, legal, the Chief Marketing Officer, the head of corporate communications, and many of the publishers, among others. This gives me access to the most senior voices to best advocate for policy change at the corporate level. Overall, I oversee the standards of DEI and its operations. I am also an advocate for employees. I aim to create a safe space and provide a listening ear, and use feedback to shape policies and practices that lead to a culture of inclusivity.
What are your short- and long-term goals in your new role?
My short-term goal is to listen. I want to make sure I have a clear understanding of the gaps and pressing needs in the DEI space, so I know where I need to prioritize efforts in order to make the most impact. I've spent the last three months assessing where employees are, how they feel about being a part of the company, and their pain points, opportunities, and needs.
That feedback will be distilled and will inform HBG's strategic DEI with target goals and outcomes. Some of the work will be quick, and some of the work requires behavior and culture change like reviewing and rethinking systems and policies, which falls more into the medium to longer-term bucket.
I'm also looking at furthering DEI efforts externally, particularly ways to equitably support BIPOC and underrepresented authors, as well as BIPOC-owned bookstores, vendors, suppliers, consultants, community partners who are invested in literacy, and, most importantly, our readers.
Tell us about some programs or initiatives at Hachette Book Group that aim to foster a more inclusive environment.
I've started office hours where employees can (virtually) drop in to have a conversation in a safe space, ask me questions, or provide feedback on something they are concerned about. HBG created eight employee resource groups (ERGs) to allow employees to share experiences and make recommendations for improvements. The ERGs include Employees of Color; Black; Latinx; Women in Publishing; Asian/Pacific American; LGBTQIA+ & Trans & Gender Non-Conforming; Employees with Disabilities; and Non-Majority Religions.
We provide diversity and inclusion training to all office employees and are continuing this year with more custom trainings for our entire staff on topics such as microaggressions and unconscious bias.
We also have several programs for employees, like "Read Our World," where Hachette staff talk about books they love and the diversity of perspectives in our authors' work. Community Service Day is a program to give back to those in need while engaging in relationship and team-building with other Hachette employees, and we have an excellent mentoring program that matches an employee at any level with a supportive advisor. We also partner with many outside organizations to promote literacy opportunities within our communities.
I recently started an internal communication program called Allyship in Action, which is a series of posts on HBG's intranet about events in the news and how employees can support each other. The goal is to show empathy and compassion to our colleagues who may be struggling and to assist in being better allies to one another.
There's much more to do though, and I'm looking forward to additional programs that I'm planning to roll out later this year.
How does Hachette Book Group hire with diversity in mind?
An intentional and measurable commitment to diversity and increasing representation of people of color at all levels is one of Hachette Book Group's highest priorities.
To that end, Hachette started a volunteer-based diversity recruitment subcommittee to develop additional recruitment strategies and programs to engage with BIPOC hires at all levels (entry, mid-level, and senior). We have a separate initiative aimed at expanding our network of BIPOC freelancers and contractors. Our HR team held 45 virtual recruiting events in 2020. More than 1,000 candidates attended, and 150 HBG employees participated. In 2020, we saw a 7% increase in the number of BIPOC-identifying employees, so we're seeing improvement, but there's still much more we can do.
We have also committed to tracking and reporting on our hiring statistics to create more transparency by publicly sharing our progress on our diversity goals
What have been the keys to your success throughout your career?
I've often been the only person of color in the room, on a team, and once in the entire company. That has led to a great deal of mental and emotional gymnastics to side-step the microaggressions and gaslighting. Success for me means always, without question, believing in my value. Be two steps ahead in everything I do and own my mistakes, but never feel beholden to other people's opinions (that's a Toni Morrison quote that's stayed with me for years). I've also learned to find role models in the people I work with and emulate the qualities I see in them that I want to strive for in myself.
What advice do you have for someone who wants to pursue a career in DEI?
If you don't have a degree in DE&I, you'll want to demonstrate adjacent experience. Get involved in DEI initiatives in your current role, whether it's creating an ERG, proposing a DEI council, networking with other ERGs, or advocating for DEI initiatives at your organization. Are there company social impact initiatives that you can propose or oversee? Build a portfolio of experience to show that you're invested in the work and demonstrate measurable results.
What's the best career advice you've ever received?
Network, network, network. I am an extreme introvert, so this is not the easiest thing for me, but it's led to many valuable relationships and career opportunities. I learned this from another colleague: I make a point to set aside 30 to 60 minutes a week for a (virtual) coffee with someone new who inspires me or someone I just want to get to know professionally. It's now the part of my week that I look forward to the most.