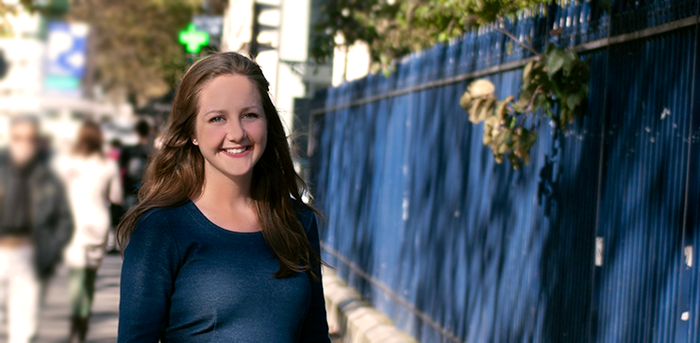 Mary Curtis has always loved being creative. As a kid, she took dance lessons, and when she was a teen, she got her first DSLR camera and dove into photography. She signed up for a 2D art class her junior year of high school and liked it so much that she took it again senior year. She had no idea at the time that it'd end up being the starting point for her career.
The course introduced her to graphic design and tools such as Adobe Illustrator and Photoshop. She not only enjoyed using these applications, but she also quickly became pretty darn good at them. Curtis would look up online tutorials to answer questions that came up as she learned the software. In fact, she even ended up showing her art teacher, whose background was in fine art, how to use some of the Adobe Creative Suite features.
The technology was still a bit foreign to her teacher, who "was always impressed with how I figured out how to use some of the features," Curtis explains. "and she'd ask me to teach not just her, but others in the class, too."




Curtis went on to study graphic design at the Savannah College of Art and Design (SCAD). Throughout her time there, she kept in touch with her high school teacher—who was so inspired by Curtis' journey that she ended up going back to school to take graphic design courses herself and would send Curtis her work to ask for feedback.
"I was really honored that she valued my opinion so much!" Curtis says.
During her senior year of college, Curtis took a course on interaction design, which taught students how to create products based on the behavior of their target users. Curtis and her classmates had to build an app prototype, and she and her team designed one that delivered groceries based on food preferences and dietary needs. She enjoyed this project so much that she began looking into what careers it could point to.
Her research led her to discover UX (user experience) and she started exploring what UX jobs were out there and digging into the portfolios of current designers. In an effort to improve her own portfolio, she brainstormed new apps, such as one for Boston's public transportation system, the MBTA. She thought the process for buying tickets and figuring out schedules was cumbersome, and she wanted to make it easier for the MBTA's thousands of users. She created prototypes and mockups for the app ideas she had and added them to her portfolio.
Curtis also had an internship at a small advertising agency in Boston throughout college, where she created print and digital advertising materials for clients. A few months prior to graduation, she reached out to a contact she had from her internship and explained that she wanted to explore a career in UX. As luck would have it, her contact's boyfriend worked at Bullhorn at the time, and they were looking for UX designers. He referred her, and she nailed her interview and got the job.
Curtis worked as a UX designer there for three years before she was promoted to her current role as Senior Product Designer about six months ago. To learn more about what it's like to be in product and UX design (as well as how to break into this field), keep reading.
What Are Your Main Responsibilities as a Senior Product Designer?
I'm involved in driving the entire user experience process—everything from research and ideation to the launch of the product. This includes working with product managers to run discovery sessions and user tests with our clients, getting feedback and presenting it to executives, using tools like Sketch and InVision to create high-fidelity prototypes, and eventually beta testing the features with our users.
What's One of the Most Exciting Challenges You've Tackled in Your Role So Far?
I owned the complete redesign for the latest version of our core product—an applicant tracking and customer relationship management tool—which included making a lot of changes to the look and feel in order to have a cleaner, more modern interface.
After getting feedback from our customers, we discovered that the changes resulted in a lot more scrolling, which drastically decreased their efficiency and productivity, so I rallied a cross-functional team to help solve this. Ultimately, I had to rethink a few key pieces of the product and iterate on new designs to create the best possible experience.
What Skills Do You Think Are Most Needed for Product or UX Design?
Visual design is crucial, but your portfolio needs to showcase your process, too—showing some sketches, writing about your target user, that sort of stuff. You also need to understand design interactions and information architecture. For instance, "If I click this button, what will happen? What menu appears? How did the user even get to this drop-down?"
And you need to be able to envision how a design will scale. I learned to think about this more at Bullhorn because we service a lot of enterprise customers. It's really important to think, "Hey, this is showing five contacts. What will it look like if that company has 5,000 contacts?"


What Advice Do You Have for Those Wanting to Break Into Product or UX Design?
Most of the people on my team, minus my director, have come from UX design bootcamps. While they're only a glimpse into UX, they seem to be pretty helpful if you don't have the opportunity to go to an art and design school. But don't take that as a be-all and end-all. You also need to do a lot of research on your own and put together a portfolio.