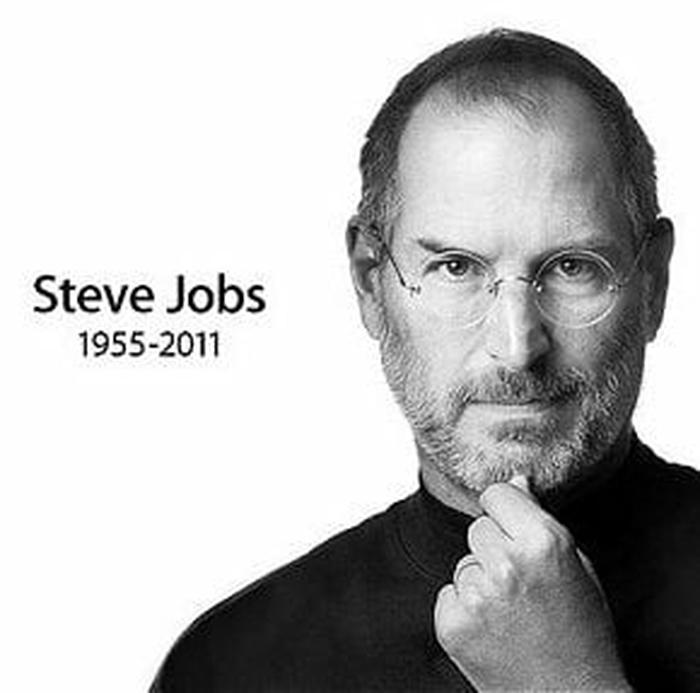 Late Wednesday night, I crawled into bed. As I frequently do before calling it a night, I flipped through my Instagram feed. What's usually a streaming collage of vintage-tinted latte art and super-saturated landscapes had been almost completely overcome with photos and captions paying respect to the late Steve Jobs.
"Thank you, Steve."
"RIP"
"I'll miss you."
It wasn't the prevalence of these heartfelt photo tributes that was noteworthy—Jobs was an iconic figure who affected many lives. What struck me was that nearly every photo was of an Apple product or logo—not Jobs himself.
The ubiquity of the Apple logo wasn't restricted to Instagram. By Wednesday afternoon, my Twitter stream was peppered with Unicode code point U+F8FF (·) (code for the Apple logo). It seemed like everyone, from Dane Cook to Gizmodo to Target was honoring Jobs' memory, some without any words at all.
So often, our symbols of a human life lived are headshots—portraits depicting the departed in healthier, happier, livelier times. We celebrate their humanity and read about their achievements in fine print. Their impact on others is represented through their physical identity.
But Jobs is different. Not long after news of his passing went public, Apple fans and users everywhere started using the Apple logo as a simple, one-character memorial to the man who made it all possible. In the hours and days after Steve's death, the solitary logo became a pervasive Internet meme.
It's not just Jobs' personal association with the brand that's unique, but also the brand's cultural significance. Despite their heavy-hitting marketing prowess, I can't imagine logos for Coca-Cola, McDonald's, or GE being used to commemorate the life contributions of an individual.
Some might say it reflects poorly on our culture that we honor a man's memory this way. I can already hear the backlash from traditionalists, chastising society for its obsession with material goods and infatuation with consumer electronics. How dare you reduce a man's life to a corporate symbol, they'll say.
But I think about it differently. Unlike almost any other logo I know, the Apple icon represents so much more than the corporation behind it. It signifies innovation, creativity, fun, design, and, above all else, an appreciation for the human experience. The bitten fruit, itself a tribute to Sir Isaac Newton, represents what is undoubtedly one of the strongest brands on earth today (#8 according to Interbrand). Consumers connect to it so strongly that the simple "I'm a Mac" ad campaign instantly appealed to a whole generation of consumers perfectly willing to align their entire identities with the brand.
So perhaps it's not surprising that the man behind the revolution should find his identity inextricably tied to the brand itself, his life universally memorialized by its simple logo. For years, Jobs was the man who got on stage and made our dreams come true. He embodied progress, improvement, and humanity's constant drive to make this world a more connected, compelling place. For a man like that, one bite will never be enough.
A symbol allows us to describe a range of emotion and respect far beyond the confines of a 140-character obituary. In that way, the passing of Steve Jobs presents a new paradigm for identity, one that blends seamlessly with social technology and modern communication.
When we share the Apple logo, we can honor Jobs' memory not by glorifying the corporation holding its trademark, but by paying homage to meaning the logo conveys for each of us. As I remember one of the great thinkers, leaders, and dreamers of our times, I am inspired by the hope and optimism Jobs brought to our culture. More than just a glowing emblem on my laptop, the Apple logo represents my hope for the future and the man who brought it within reach.
Thanks, Steve.