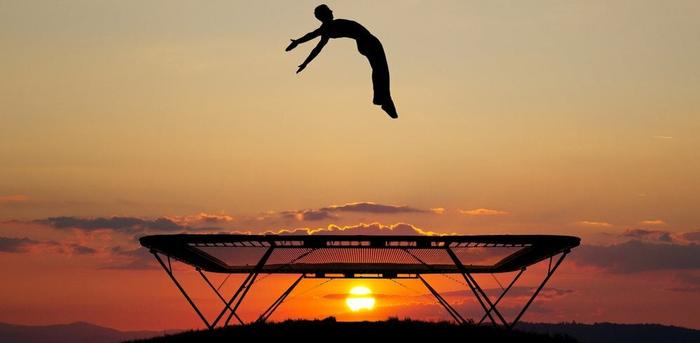 As someone who reads (and writes) a lot of career advice, I often get overwhelmed by the sheer amount of stuff you can do to improve your career.
If I have a spare half hour—should I ask a professional to meet with me? Should I send someone a letter?
More often than not, I end up getting overwhelmed and doing something totally unproductive (such as updating my Facebook photo rather than fine-tuning my LinkedIn profile).
If, like me, you sometimes just want some straightforward, do-this-now instructions, I have good news for you: I've created a one-week guide to boosting your career. Commit just 30 minutes a day to doing the tasks listed below—and I bet you'll see some big benefits in your professional life.
Monday: Ask Someone New to Lunch
How do you spend your lunch break? I usually eat at my desk (I know, major no-no) or grab something quick with the same group of people.
Well, for today at least, I did something different—I invited a co-worker from a different department to eat with me. And guess what? Not only was he a really fun person to talk to, he gave me some great insights into the other portions of the company.
This doesn't have to be someone you work with every day—you can reach out to contacts in your field, potential clients, or anyone else it might be good to know. You've heard it before, but building a strong network both in and out of your current company will only lead to good things for your career.
Tuesday: Set Up Some Customer Interaction
Buffer, a social media company, has an awesome "customer support" program. Every employee, no matter his or her title, spends time interacting with customers, whether that means answering emails, responding to tweets, or helping out in another capacity.
Buffer employees rave about the benefits, which include learning more about customer needs, better understanding the product, and meeting new team members.
I decided to ask my supervisor if I could do something similar, and she was thrilled with the idea! Not only does this highlight your dedication to the company, it also shows you can take initiative and think strategically. Set aside time today to reach out to your boss and ask her if this would be possible at your workplace. (Odds are she's more likely to say yes if you have a plan in place.)
Wednesday: Recognize an Awesome Co-worker
Think about how great it would feel if a random colleague complimented you on, say, your leadership ability, or design prowess, or public speaking skills. Pretty awesome, right?
When you spontaneously recognize your team members' capabilities, not only do you cultivate goodwill among them, you usually feel great, too. And you might just start a trend where people give each other impromptu kudos.
That's why I was extra alert today for opportunities to highlight my peers' skills. I ended up telling the leader of my project team what an awesome job he did steering us away from an unproductive conversation. Sure, it's a small thing, but he did it perfectly. Never mind the career benefits I got from that; it was worth it for his huge smile alone.
Thursday: Pick a Goal (and Write It Down)
I always forget to commit my goals to paper—usually they're just passing thoughts in my head, like "graduate with a job" or "increase Twitter followers." However, writing each one down is super powerful: It makes them more concrete and gives you something to focus on.
So on this day, decide on a goal, then write it somewhere you can regularly refer back to. (May I suggest a sticky note?)
Friday: Clean Up Your Space
Not only does getting rid of all the clutter feel amazing, it also sets you up for a super productive week come Monday.
And when I say "get rid of the clutter," I don't just mean old papers and leaky highlighters. After organizing your physical space, you should turn to your virtual one.
Delete old folders and outdated documents, get rid of the apps and extensions you're not using, and streamline your internet browser.
Saturday: Talk to a Mentor
Having regular check-ins with your mentors is key in maintaining your relationship. They don't have to be 100% career-oriented either. When I Skype with my mentor, we'll usually chat about her family, fun things we've done, good books we've read, and so on, along with more traditional topics such as "How do I ask for more work?" and "Who in New York would you suggest I meet?"
If your mentor is really busy, send an email instead. (Or use my favorite means of communication, the letter!)
What if you don't have a mentor? Well, then I have a different project for you: Start reaching out to people who might be able to play that role in your life. Here are Muse writer Lily Herman's nine tips for finding and keeping a mentor.


Sunday: Browse Open Jobs
Whether you're out of work, happily employed, or somewhere in between, it never hurts to see what's out there.
First, this motivates you to keep your resume, LinkedIn, and interviewing skills current, which will come in handy if and when you decide to join the full-time job search.
Second, you never know when you might just stumble upon your dream job somewhere else. That company with the unlimited vacation and dog-friendly workspace you've always said you'd die to work for? Maybe it's hiring right now.
Third, it's good to know what kind of jobs exist for your skill set, what other companies are offering for similar positions, and what kind of perks and benefits would interest you should you start to look for a new job.
So start browsing (we recommend, ahem, the Muse jobs section), and see what you find.


Congrats—you've made it through seven career-boosting days! How did it go? And would you like to complete another week with me? Let me know on Twitter!