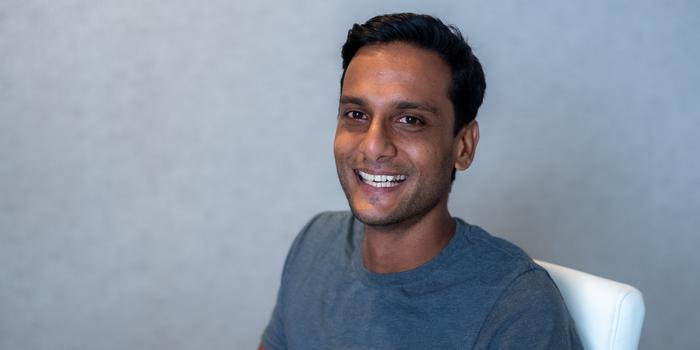 WordPress has had a big presence for most of Mahangu Weerasinghe's life. It not only gave him a voice on the open web when he started his career as a writer and English teacher in Sri Lanka, it also set his career on a new trajectory. He eventually took a leap and applied for a technical support job at Automattic, the company behind WordPress.com, Jetpack, WooCommerce, and Tumblr. "I made my career switch into tech solely because of Automattic," he says. "What WordPress did for me, it can do for others."
Since then, Weerasinghe has worked his way into different roles at the company—most recently as an analytics engineer on the talent analytics team, where he can help the remote company continue to hire people all over the world. "I live on a tiny island in the Indian Ocean, and if Automattic was not a globally distributed company, I could not be a part of it," he says.
Here, Weerasinghe explains why working at Automattic is a dream come true for him, how he's taken control of his own career development, and what he likes most about the company's culture.
Tell us about your career journey. What inspired you to pivot from teaching to work in the tech space?
After graduating from university, I taught English as a second language (ESL) for a couple of years before moving to teaching high school English.
I made my career switch into tech solely because of Automattic. I grew up online alongside the free and open-source software movement and was very interested in the LAMP (Linux, Apache, MySQL, PHP) stack. Because of my interest in PHP, I started experimenting with B2/cafelog, which Matt Mullenweg and Mike Little forked to create WordPress in 2003. So I've been a loyal WordPress user since the very beginning, starting with version 0.70. WordPress came with me into my university studies, where I used it to keep notes, and into my teaching career, where I used it as a learning management system (LMS) in my classrooms (long before any dedicated LMS plugins existed). In 2005, Automattic launched WordPress.com, a popular hosted version of WordPress, and I always dreamed of applying for a job there—though it took me almost a decade to make it happen!

What led you to work at Automattic, and what has kept you there for more than seven years?
Access to the open web changed my life! What led me to Automattic was the fact that it is one of the only large tech companies that's fighting to keep the web open instead of looking to break it up into walled gardens. I also truly believed in our mission to democratize publishing, and I wanted to be a part of it in a professional capacity.
Seven years later, the company's vision and mission still keeps me here, as I believe that an open web is one of the most important things we've created as a species. I'm proud to work for a company and be a part of an open-source community whose mission is to help democratize publishing (with WordPress) and commerce (with WooCommerce).
What are you responsible for in your current role?
At Automattic, we strive to hire and retain the best people worldwide while creating the best candidate experience possible. Data helps on all these fronts. Talent analytics creates and maintains hiring data pipelines, metrics, and reporting for our hiring teams. Our mission is to help them make data-informed decisions.
Tell us about your career progression at Automattic. What are some of the ways that Automattic supported your growth and development?
I joined Automattic in late 2014 as a happiness engineer, and since then I've moved into different roles: I began leading a team of happiness engineers in 2017, then I started working full-time on hiring happiness engineers in 2019. And in 2020, I moved into my current role as lead of the company's talent analytics team.
Every Automattic employee is empowered to make learning a priority. So while I spent my first few years at the company supporting WordPress.com customers as a happiness engineer, I also had the opportunity to complete rotations with other support teams. When I became a team lead in 2017—my first time in a people management role—I learned a lot from my teammates, my peer leads, and the professional coaching that Automattic offers to all employees.
In 2019, I joined a hiring team that was focused on recruiting from South Asia, and my interests in hiring eventually led me to look at how we could use data to help us toward our hiring goals. It started out as a side project while I continued my core responsibilities as a hiring manager, but then my new data role soon required more and more technical expertise. That's when I sought support and mentorship from a colleague, who was an analytics engineer, and I decided to improve my Python and SQL skills by enrolling in Udacity's data engineering nanodegree program. This was sponsored by Automattic as part of its generous continued learning and professional development initiative, which extends to books, one-off courses, and resources to help you succeed in your role.
Around this time, I also took the three-month sabbatical that all Automattic employees receive after their five-year anniversary at the company, and I used a portion of this time off to complete the bulk of the Udacity course. When I returned from my sabbatical, I had the opportunity to move into a new talent analytics team within our talent division, so I could more readily serve our growing data needs. We have since grown the team to three, and we're currently involved in many exciting projects across the company.
Tell us more about your involvement in the WordPress community in the Asia-Pacific region.
The WordPress community is the backbone of the WordPress open source project, and it's always great to meet people who are using the software in new and interesting ways. I've always been passionate about the WordPress community and have spoken at several WordCamps—local WordPress conferences—in the APAC region, including in Mumbai, Pune, and Kochi in India, as well as in Singapore. I was also a co-organizer of WordCamp Colombo 2017, Sri Lanka's first WordPress conference of its kind. These days I try to be as involved as possible in my local WordPress meetup group, the Colombo WordPress Meetup here in Sri Lanka.
What do you like best about Automattic's company culture?
As a company, there is an openness and transparency that makes it easy to work toward things you are passionate about, even if they are not a part of the current core responsibilities of your role. For example, I was able to work toward becoming an analytics engineer while still in my role as a hiring manager. This type of cross-skilling would not have been possible without access to all the resources and extensive documentation we have—not to mention all the support and encouragement I received from other analytics engineers and data engineers, who went out of their way to answer my questions and help me along on my journey.
It is this freedom to choose your own adventure and Automattic's commitment to supporting you on that journey that has kept me here for more than seven years. At the end of the day, I know that my experience here is what I choose to make of it.