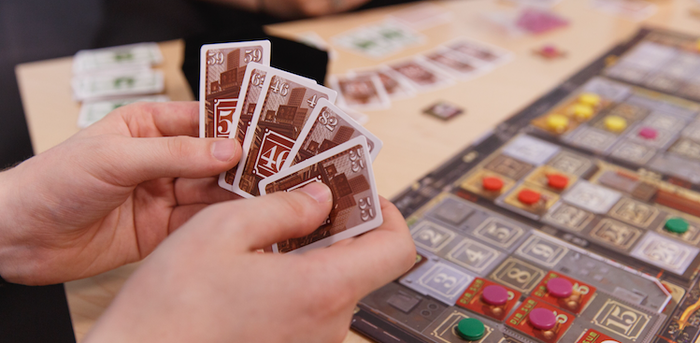 Tabletop games, such as Carcassonne, Settlers of Catan, and Risk are often used as team bonding activities. Because these games focus on a player's ability to form alliances, they're great for building trust and teamwork and offer a non-alcohol-centric way to make friends at work.
But they can also provide an alternative to traditional networking. For folks who would rather play a strategy game than go to a happy hour, tabletop meetups are increasingly becoming a great way to learn about new job opportunities or meet new clients.
"I feel like playing tabletop games is a way to get past the filters or facade people put up," says Shelby Ring, CEO of marketing firm Ruby Riot Creatives in Charleston. Ring regularly attends local tabletop meetups and uses them as a way to meet potential new hires and clients—and get a sense of how they operate before working with them. "If you're playing with a stranger and you see they're acting like a jerk, trying to strong-arm another player, or being a sore loser, you can bet they will be like that when things don't go so well in business," she says. "It shows how they handle stress [and both] winning and losing."
In fact, Ring's love of tabletop games has helped her land several new clients. She even admits that if she'd cold-called these prospects, she doesn't believe they would've hired her because they wouldn't have had the same sense of ease with each other. "It creates a human connection," she says.
If you gravitate toward games already, you could leverage your interest to boost your career in a way that feels more natural than heading to a bar. Here's how.
1. You Could Find a More Comfortable (and Fun) Way to Network
Not everyone is at ease in more traditional networking settings, where it can be difficult to engage in meaningful discussions. Conversations can feel brief, repetitive, and superficial. And for the shy and introverted, unstructured mingling can become stressful fast.
Plus, "at a bar, it can feel like someone is hitting on you, even if they aren't," says Lauren Johnson, a senior paralegal in the Arizona Attorney General's Office who started playing tabletop games in college as a way to make friends. Ring agrees that networking events can feel uncomfortable, especially if they involve drinking. "People subconsciously get in on-the-prowl mode in a bar even if they're there for a networking event," she says.
A weekly or monthly game night creates a shared experience in a more relaxed setting than a networking happy hour in a bar or restaurant. "To me, networking is about getting to know people," Johnson says. "I don't want to network just for the utility of it. I enjoy and appreciate networking because I enjoy getting to know people and building a community. Games are such a great way to bring people together."
Sitting down with a group of people to play a game breaks down barriers and stereotypes, allowing you to have a deeper conversation with someone while showing off your strategy skills, says Shail Mehta, co-founder and CEO of Boulder-based startup The Last Gameboard, which is developing a digital board game. "At a typical networking event, you're standing in the corner and wondering who to talk with," Mehta says. But when you play a game, you naturally end up talking to people about what they do rather than milling about awkwardly, holding a drink and thinking about what to say.
2. You Could Find Clients, Mentors, and More
Derek Hales and his wife have been hosting a twice-a-month game night at their house in Phoenix for the last three years. Over time it's expanded from friends they both knew to include co-workers, spouses, and friends of friends. As a result, it's become a great way to pick up consulting work, get client referrals, and find mentors, advisers, and sounding boards.
"Over the years we've helped each other find jobs, projects, and new clients in our respective industries," Hales says. "It really is one of the best ways to stay connected to a group of driven professionals."
One of their friends who regularly comes to their game night is Johnson, who began going to tabletop meetups early in her career, to build her professional network and meet people outside her industry. "As we get older and further along in our career, we get more specialized and we're not as willing to talk about our work," she says. "But in the midst of a game, it becomes natural to talk about what we do in our everyday lives."
Tabletop games introduced Johnson to a local accountant whom Johnson calls often for advice. "There are things I do at work that overlap with accounting," she says, "and I call him and ask his opinion, and vice versa."
3. You Could Get a New Job
When Mehta first started her company, she went to local tabletop meetups and events sponsored by the International Game Developers Association to look for people to hire. "You never know who you will meet because you both come to this place with a shared fandom," she says.
Because strategy games mirror many of the skills needed for competitive jobs such as engineering, software development, and stock trading, at least one company uses tabletop games as a formal strategy for recruiting employees. Global trading and technology firm Susquehanna International Group, LLP in Bala Cynwyd, Pennsylvania, sponsors game nights at MIT, Brown, Carnegie Mellon, and the University of Pennsylvania to recruit top talent.
These games require players to take incomplete information and draw conclusions, similar to what stock traders do, says Todd Simkin, associate director and co-head of education at Susquehanna. These games allow recruiters to engage potential hires in strategies and analysis that are similar to those company employees use to manage risk and competition, he says.
Once you've got the job, tabletop games can help you connect with your new colleagues. For instance, when a new team member joins Ruby Riot Creatives, Ring invites staff to come play a board game with the new hire. "It's powerful for the new employee to see so much positive energy and it's so much better than going out for a staff lunch," she says, because "the new employee gets to be part of something."