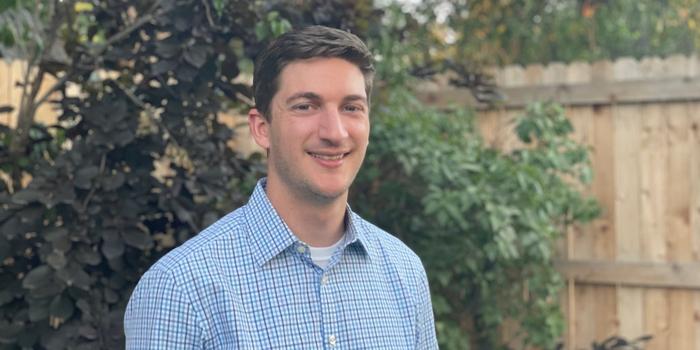 John DiLivio had no idea what he wanted to do for a living even as he approached college graduation with a major in business management. "I did the only thing I could think of at the time: blindly apply to every job opening on the university's job board until someone—anyone—would just give me a chance," he says.
After some soul searching and an eye-opening experience watching his father's financial struggles during retirement, DiLivio realized he wanted to work in wealth management and found an opportunity at Personal Capital. Almost six years (and four promotions) later, DiLivio is a senior vice president at the firm and leads his own team of financial advisors.
"I always wanted to have a job that was financially rewarding but also allowed me to feel like I was making a positive impact, and personal wealth management checked those critical boxes," he says.
Here, DiLivio talks about his career journey and advancement at Personal Capital, why now is a particularly exciting time to join the firm, and his advice on how to earn a promotion at work.
What initially attracted you to work at Personal Capital, and what has kept you there for more than five years?
For one, I wanted to work at a firm that was a fiduciary, which holds wealth managers to a high set of standards in ethics and accountability. Next, I wanted to find a firm that was challenging the status quo—an up-and-comer rather than something established. Lastly, I wanted to find a place that would invest in my growth and provide opportunities to advance in my career. I wasn't looking for a job, I was looking for a career. These things created the initial spark for me, and they are without a doubt the reasons I am still at Personal Capital.
Tell us about your career path at Personal Capital. How is your experience moving up at the company indicative of the way it invests in its employees?
I held three different positions in my first two and a half years, each a step along my career path. I started in a junior level sales role and after only six months, I was coaching and training some of our newest team members. I was pleasantly surprised with how quickly I was given opportunities to do more. A year later, I had the chance to manage my first team and a year after that, another opportunity presented itself to take on more responsibility. This is not an uncommon story at Personal Capital, but it is rare at most other firms in the financial space.
Joining a firm that was growing extremely quickly had its perks. Not only was I gaining responsibilities and experiences, but I was also given the chance to pursue ongoing education through licensing and other designations. Between my first and second year, I passed the Series 65, which allowed me to work as a financial advisor. I had become enamored with the world of personal wealth management and wanted to keep learning. After passing the Series 65, Personal Capital encouraged me and fully paid for me to study for my CFP® (Certified Financial Planner) designation. While studying for the CFP®, I approached my manager at the time about the possibility of becoming an advisor. The support he gave me was overwhelming and the transition happened quickly. Fast forward another year and a half, and I was given the chance to lead a group of advisors in my current role.
What are you working on right now that excites or inspires you?
A fair amount of my time now is allocated to coaching the advisors on my team to provide advice in the best interest of the client and deliver that advice in a manner that inspires the client to be able to meet their personal financial goals. There's a substantial amount of emotion involved in our discussions and simply knowing the right answer isn't enough for us to be successful in our roles. Thinking critically about all these things is very challenging but rewarding.
Our Associate Bridge program is another area that I'm proud to be a part of. This program helps employees at Personal Capital make the jump from their current role to becoming a financial advisor. I was lucky enough to have people help me make that transition and it's a lot of fun to now be involved in that process through teaching and mentoring.
Why is Personal Capital a great place for someone early in their career?
Finding a company that will encourage your growth isn't as easy as it should be, at least in my experience. My story is common at Personal Capital, but everyone's specific paths are unique. For example, many of the people I worked with who started in the same position as me went to our operations department to help clients maneuver their assets. Some are now on our portfolio management team or in project management. A few are on our optimization team, where they help improve business processes. One gentleman obtained a master's degree in data science while working in sales and is now a senior member of our data and reporting team. If you're still figuring it all out that's not a bad thing, but go somewhere that will hold doors open, not close them.
What makes Personal Capital a great place for long-term growth?
What's on the horizon for us is exciting! Personal Capital was acquired in the summer of 2020 by Empower Retirement, the nation's second-largest retirement plan provider. When this purchase took place, Personal Capital's app had about two million users. As the firm continues to expand significantly in the years to come, the opportunities for personal growth and an increased user base will undoubtedly follow suit.
What advice do you have for those looking to earn a promotion within their company?
Every organization is different but there are some things that are close to universal truths when it comes to positioning yourself well for the next opportunity.
The first—which hopefully goes without saying but must be mentioned—is that you should strive to exceed expectations in your current role. It's not enough in most situations to meet expectations. Is there a project that has been deprioritized repeatedly because of a lack of resources that you can take on? How about a team member that could use some help? If you do more than you are asked to do, then you will likely get asked to do more.
Second, learn something new. Is there a certification you can obtain to go above and beyond or a book you can read to broaden your skill set? The more you know, the more appealing you are to take on more responsibilities.
Lastly, make it known. When's the last time you brought up your desire to receive a promotion? Take initiative. Yes, this can be a bit uncomfortable for some of us, but just go for it! The worst thing that can happen in a discussion like this is that you walk away knowing what you need to work on to make a jump up. Be brave, it pays off.
What's the best career advice you've ever received?
"Not everyone is you." I got this advice from an executive vice president at Personal Capital—my boss' boss' boss—who was nice enough to let me pick his brain soon after I was promoted into my first leadership position at the firm. At the time he said this, I didn't know what he meant, but over the years I've developed my interpretation.
People's priorities may very well be different than your own, not everyone will respond the way you would respond to a situation, and not everyone communicates the way you prefer. The ability to empathize with those you work with will make a massive positive impact on everything you do. This is a daily challenge that I still struggle with often. Trying, though, goes a very long way.