Many of us want to find purpose in the job we do and who we're working for. If you're seeking an opportunity to make a difference—or at least work for an employer who wants to make the world a better place—one of these companies might be your ideal fit.
All the employers on this list are trying to make the planet better in their own way. For some of them, solving social or environmental issues is part of their core DNA, whether they're reducing food waste (DIG) or fighting climate change (Esri). Others, like Allstate, have taken on additional social responsibility and sustainability initiatives outside of their own business objectives to leave the world a better place than how they found it.
Read on below to learn more about these amazing companies and see what roles they're trying to fill.
1.
DIG
DIG is a community of chefs, farmers, creatives, activists, and innovators devoted to rebuilding the food system through vegetables. They're creating a new kind of restaurant group that connects people to good food at an affordable price. Since launching in 2011, they've opened 27 restaurants, partnered with 80+ independent farms, and taught thousands of people how to cook (really cook) in DIG kitchens. But their story is just beginning. The next few years will be a period of growth as the company expands their footprint and explores new ways to deliver a better food future for generations to come.
2.
Allstate
More than just an insurance company, Allstate is a consumer-focused, data-driven company that's constantly redefining what it means to be protected. Through its commitment to growth and innovation over the last 90 years, Allstate is establishing itself as a leader of new technology in the industry. The company places a strong emphasis on professional development and career planning. Its culture of embracing opportunities and exploration makes it easy for employees to try new things and find out where they want to take their career. With opportunities around the globe, Allstate is hiring in an array of areas from marketing and product pricing to software engineering and data analytics to corporate relations and beyond.
3.
Spectrum
Spectrum is a leading broadband communications company and the second-largest cable operator in the United States. They provide a full range of advanced broadband services, including Spectrum TV video entertainment programming, Spectrum Internet access, and Spectrum Voice to connect more people in more places. Spectrum employees take pride in their fast-paced, dynamic work culture and encourage each other to reach their full potential.
4.
Banfield Pet Hospital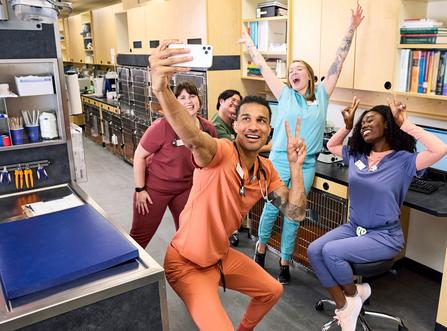 As the leading provider of preventive veterinary care, Banfield is committed to delivering high-quality care to pets and sharing our data, insights, and best practices with the profession to help advance veterinary medicine. We are a practice powered by nearly 20,000 Associates – including 3,600 veterinarians – bonded together by our purpose: A Better World for Pets. Our culture of health & wellbeing and commitment to creating a more equitable, inclusive, and diverse profession drives our decision making as a company, so we can help create a brighter future for our people, pets, and society. Our work extends beyond hospital walls – we strive to do good every day by giving back to pets and the communities in which we live and serve.
5.
Food Bank For New York City
As the largest hunger relief organization in New York City, Food Bank For New York City serves 1.5 million people and roughly 58 million meals each year. Food Bank is made up of charities and other partners, such as soup kitchens, food pantries, and schools. Together, they provide support for communities in need through holistic programming and various other resources. While their main focus is food security, they also offer additional anti-poverty programs to support financial stability. People who are daring, bold, and entrepreneurial in their approach to problem solving are highly valued, as well as people who are passionate and able to interact with a diverse audience.
6.
Esri
Esri is the market leader in geographic information system (GIS) software, location intelligence, and mapping. Its technology combines the science of geography with the power of GIS—think high-tech maps—to make the world work better. By enabling customers to design more efficient cities, deliver clean water and electricity, fight crime, slow climate change, and stamp out disease, Esri is helping create the maps that run the world and shape the future.
7.
Philips
Philips is committed to making life better for millions of people around the world. Its teams pride themselves on the meaningful innovations and solutions they are providing to healthcare challenges around them and recognize that individuals who are part of Philips should be led and supported to develop to their fullest potential. At Philips, people can make an impact where it matters. Check out their careers site.
8.
Howard Hughes Medical Institute
The Howard Hughes Medical Institute—HHMI—is an independent philanthropy that drives science forward by supporting biomedical scientists, educators, students, and schools with the potential to make transformative impact. HHMI believes in the power of people, not projects, to make discoveries that benefit all. HHMI-supported scientists have made major advances in understanding basic biology, disease, and other key scientific areas. So far, 30 current or former HHMI scientists have won the Nobel prize.
Here at The Muse, we partner with a lot of great companies to bring you insider looks at their offices and awesome job listings. These employers pay us to be featured on the site, but these Muse-worthy brands made this list not just because they want to be included, but because their culture, policies, and employee feedback showed us that they deserve to be.
Think your company should be on a list like this? Learn more and get in touch!