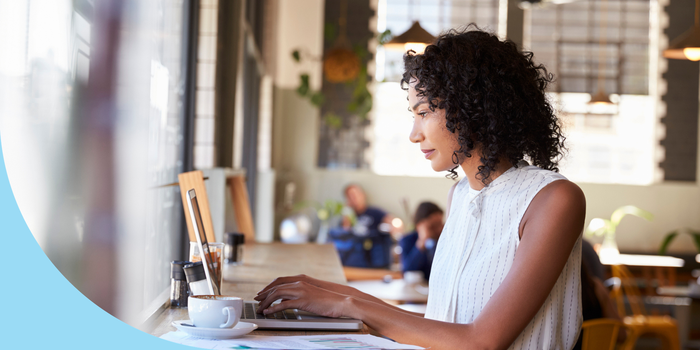 You'd be rich if you got paid for every hour you've put into this resume. It's tailored top to bottom, chock full of action verbs, bursting with powerful bullet points, and you finally feel like it's ready to go. Now you just need to get that document into the right hands—maybe someone who can interview you for a job you're excited about or connect you with their friend who works at the company you've been eyeing. (And if you're looking for more new opportunities to apply for, you can find thousands of job postings right here on The Muse!)
These days, you're not as likely to be printing off your resume and sending it via snail mail, of course. Most of the time you'll either be uploading your resume to an applicant tracking system or sending it in an email. And the last thing you want is for your message (and resume) to languish in someone's inbox, unopened, or worse, be relegated to the spam or trash folders. Which means you need to craft a clear and compelling subject line.
That's what this article is about: that handful of words that can lead someone to read the resume you worked so hard on—or not.
Why is your resume email subject line important?
You might be wondering what the big deal is—isn't the content of your resume ultimately the most important thing here? Well yes, your resume should be in great shape, and that's what will land you a call back. But it doesn't matter how spectacular your resume is if no one opens the email to even read it.
The subject line is what will "determine if the email is opened and read or not," says Muse career coach Steven Davis, founder and CEO of Renaissance Solutions, who has more than 20 years of recruiting experience. "Emails can contain viruses. They can also have information someone doesn't care about. Busy people rarely open every email they get. The decision to either open or delete an email...is made based on the subject line and who the sender is." Your job, Davis says, is to "motivate the person to open the email."
Think about it from the recipient's perspective: When your inbox is flooded with hundreds of emails a day, you need to know something isn't spam or an ad or a generic message sent out by a brand before deciding to open and read it. "Everyone's just really got a ton coming at them," says Muse career coach Nekpen Osuan Wilson, the cofounder and CEO of WomenWerk. "People are busy and have a limited amount of time to do everything," including filtering through the noise in their inboxes. You need a subject line that will cut through that noise.
Wait, when would I email my resume?
There's a long list of scenarios in which you might send your resume via email. Here are a few of the most common:
You're applying for a job and the instructions tell you to email your resume, cover letter, and any other materials to a specific email address.
You're applying to a job with a referral or recommendation.
You're following up with a networking contact you met or had a conversation with (perhaps you mentioned you're job searching and they said they'd keep an eye out for you and asked you to send over your resume).
You're sending your resume to a recruiter to have on hand for any roles that might be a good fit for you.
You're going on an informational interview and trying to give your contact some background info in advance.
You've asked someone to review your resume and give you feedback and they've already agreed to do it, so now you're passing on the document. (Don't just assume they'll do it before making sure they have time and are willing, Wilson says).
What to include in your resume subject line
When you're responding to a specific job posting, check carefully for any instructions for your email subject line. If any directions exist, follow them—your assertion that you have a strong eye for detail will lose some credibility if you didn't even read the role description closely. Otherwise, though, here are some elements you might include in a resume email subject line:
Your name
The job title you're applying for
Any job code or position number listed on the job listing
The name of anyone who referred you to the position: (and the fact that you're being referred)
Brief references to relevant education, credentials, skills, or experience
Anything else you think the reader would find particularly compelling (optional): "Write emails from the perspective of the person reading it," Wilson says. "What's the priority or most important to the person reading this email? What do you want them to take away?" For example, when submitting your application, you might write, "Senior staff accountant job - Jess Lai, CPA" or, "Regarding the English teacher role (#3392)–"Teacher of the Year" winner with 15+ years of experience."
7 subject line tips for emailing your resume
If you're hoping someone will open your email, read your message, and look at the resume you worked so hard on, here are a few guidelines to follow.
1. Don't forget to write a subject line!
Rule number one for writing a subject line is, you got it, writing a subject line. It might seem obvious, but haven't you ever spent so much time agonizing over a message that you completely forgot to fill in this field? "It needs one or I'll think you're spam," says Muse career coach Tara Goodfellow, owner of Athena Consultants. In fact, a message with an empty subject line might get filtered straight to spam and never make it into an inbox. If it doesn't, the recipient might still delete or archive it as a reflex, especially if they don't recognize the sender's name.
2. Keep your subject line (and your email address) professional
"I've seen emails with, 'What's up?' in the subject line. That's a huge mistake," Davis says. When it comes to sending off your resume, make sure you're keeping your subject line professional and don't use overly familiar language with a stranger (or even an acquaintance).
The subject line doesn't work alone. Your email address also contributes to the crucial first impression. "Please review your email address and consider how it will be received [and] perceived," Goodfellow says. It might mean something to you—perhaps it's an inside joke or an old nickname—"but [it will] not come across as professional to someone who doesn't know you," she says. "Create a new one!"
3. Be brief
In an era when people are likely to be checking emails on their phones, you have to take into account the limited number of words they'll see before the subject line gets cut off. The email marketing service Mailchimp, for example, recommends using no more than nine words and 60 characters as a best practice. So keep your subject line short and make sure you "use the first few words to get to the point," Davis says. "Less is more."
4. Follow directions (if there are any)
Yes, we said this already, but it's worth repeating: For some roles, you'll see a note at the bottom of the job description instructing you to submit your resume and other materials to a particular email address in order to apply. "Some of these general jobs inboxes have a specific format," Wilson says. "That's important to note. Make sure to follow that." For instance, it might say: "Submit your resume, cover letter, and portfolio to jobs@xyzagency.co. Subject line: Senior product designer #29881."
In these cases, you'll want to use the exact subject line they give you, because they may be employing filters to sort and direct the messages to the right folder or person. If you want your resume to get where it needs to go and to make a good impression, "Follow. Instructions. Completely. In many cases, this is their first assessment of you," Goodfellow says. Make it a positive one.

5. Make it clear why you're sending your resume
In some cases, your subject line will be dictated by a set of instructions and you shouldn't deviate from them. But otherwise, you have a little more leeway to make it irresistible in whatever way makes sense for the situation. The most important thing is to make it abundantly clear why you're reaching out—and to be specific. That's why if you're applying for a job or sending your email to a recruiter, you should explicitly mention the job title.
"Don't assume the only job I'm working on is the one to which you applied. Please give me some context," Goodfellow says. Recruiters are often hiring for dozens of roles at a time and you want it to be easy for them to mentally catalog your email (or to come up in an inbox search).
"So many people send me emails and the subject is, 'Touching base,' or, 'Following up,' or, 'Checking in,'" Davis says. It's easy to gloss over those vague subject lines when you don't know who the sender is or why they're reaching out. "The more specificity someone has in that subject line the more effective it will be."
If you're reaching out to a networking contact, Wilson says, you might try something like, "Following up to potentially join your team at SalesCo.," "Let's continue the conversation from SXSW," or, "Following up from data science webinar chat - Alexandria Lopez." If you're following up on an intro, maybe it's, "Thank you for making time, this is Jin from Hannah's network." Or if you saw someone post about an opportunity, you might mention it and try to highlight something you have in common, perhaps, "Fellow NYU alum regarding your LinkedIn post about open roles."
6. Don't be aggressive
Yes, it's frustrating to feel like you're sending emails into a void and getting no response. But it won't help you to let that impatience or anger seep into your subject lines. "It can't be too pushy," Davis says. "Something as confrontational as, 'Haven't heard from you,' or, 'I sent my resume a week ago,'" isn't going to encourage your audience to respond. In fact, it'll probably do the opposite.
7. Proofread!
It should go without saying that you'd proofread your resume and cover letter for errors and typos (and then proofread it again and maybe have a trusted friend or family member give it a look with fresh eyes). Proofreading your subject line is equally as important. Again, it might be your very first impression and you don't want it to also be your last.
"I still have to do this. When I'm typing my last name—and it's long, I have two Os and two Ls—the last thing I want is someone thinking I can't even spell my last name," Goodfellow says.
Resume subject line examples
Need a few examples of what all this advice looks like in action? Here are some sample subject lines for different scenarios.
Resume email subject line examples for when you're applying for a job
Operations manager
HR Generalist (REQ-7881) - Polly Kim
Full-stack engineer #1769 - Asha Murray
Financial analyst role application (Derrick James)
Product marketing manager job application - Noah Cohen
Application for research assistant role - Sasha Martin
Application for UX researcher position (Tiffany White)
Regarding the program coordinator position, applied January 28
Regarding the product director role (experienced team leader, expert in agile development)
Resume email subject line examples for when you've been referred
Referred by Sandra Rodriguez
Recommended by Jordan Stein
Following up on June Park's introduction
Customer success manager application (referred by Jessica O'Malley)
Referred by Priya B. for email marketing manager role (R122)
Hi Bob, Farid suggested I contact you
Resume email subject line examples for when you're reaching out to a networking contact
Following up on our chat at the HR Expo (this is Aya Belsky)
Let's continue our conversation on SEO from the marketing meetup yesterday
Fellow UT-Austin alum from yesterday's webinar following up
Thanks for making time, this is Ashley from Marcelo's network
Following up to potentially join your department at XYZ Co.
I forgot to mention at the data panel yesterday…
Sending over my resume as promised (this is Marta from the sales happy hour)
Resume email subject line examples for when you're sending your resume for feedback
Thanks again for offering to review my SDR resume!
Appreciate your time yesterday! Attaching my resume