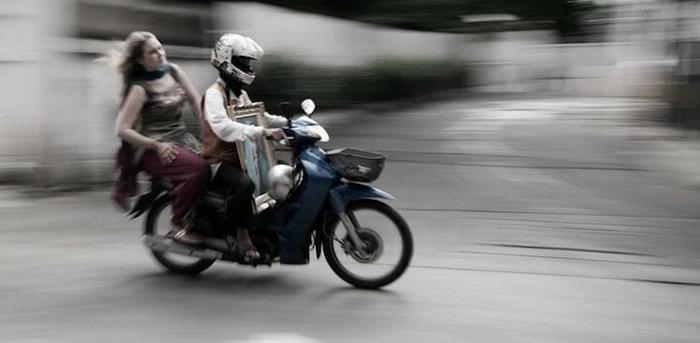 Traveling is about breaking free of our comfort zones, putting ourselves to the test, and becoming immersed in a local culture vastly different than our own. So, if all you're planning to do on your next international jaunt is move in a pack with other foreigners and stick to eating burgers and fries—you're seriously missing out.
Next time your travels take you abroad, step off the beaten path and spend as much time as you can living like a local. Here's how:
Stay Locally
Do yourself a favor and get out of the backpacker ghettos. You know—the places crawling with drunk foreigners who give Westerners a bad name (example: Khao San Road in Bangkok). It's all too easy to stick to the touristy areas—and many tour operators will urge you to stay within a certain radius of those places to "stay safe." But tourist areas are often actually where you're most likely to get scammed or pick-pocketed.
Organize your own independent or local accommodations in the areas where people live day-to-day life, and avoid anything more than a quick visit to the tourist traps. You can meet locals willing to let you in on the city's secrets through sites like Couchsurfing and Travelfish—and even find people willing to host your stay.
Ditch the Lonely Planet
Please put it down. When you bury your nose in a guidebook, it not only screams I don't know what I'm doing!, but it also forces you to go where everyone else is. (Even if the book claims that something is "off the beaten path," I guarantee that 100 other people with Lonely Planet guides will be at the site you're searching for.) Instead, ask locals about their favorite restaurants, parks, and clubs. Try a mix of hi-so (high society, sleek nightlife) and down-home (local and folksy) options to get an understanding of class dynamics.
If you're up for it, you can even make your own guidebook. Moleskine makes a line of city notebooks just the right size to tuck in your bag. Since the traditional black covers don't resemble a guidebook or map, you can sneak peeks at the detailed street maps inside without looking lost. Fill the blank pages with the recommendations you've accumulated, and you're good to go.
Try The Food (Even If It's Scary)
Fish eyeballs? Delicious. And shrimp brains will make you smart, according to local lore. Local dishes may look intimidating, but if you try something and hate it, you'll at least have a story to tell.
Ask locals for their favorite restaurants, market stalls and dishes—then be sure to check them out. Most times, local cuisine will far surpass any Western food on the market—and be a lot cheaper, too. Plus, no matter how much you miss food from your homeland, it won't be the same abroad anyway.
Use Local Transport
Instead of mass-tourist-transit, find out the best local way to travel, be it bike, motorbike, foot, auto-rickshaw, maxi-taxi, or subway. Having your own transport not only allows you to explore local life and stop when you want, but also keeps you from having to deal with hawkers and "guides" trying to scam you.
Getting around on your own can seem intimidating at first—but the fear will dissolve after you, say, ride a motorbike down a mountain and see the children watching you as you pass, smiling and laughing at the funny foreigner on her way.
Wear Traditional Dress with Flair
Hit the local markets to purchase local clothing items so you can blend in and show respect. This doesn't mean you should dress from head to toe in traditional garb (unless it's a holiday or a local has recommended you do so and has properly dressed you), but find a way to combine your own fashion sense with the surrounding culture.
Keep in mind the time and place—just because a country is hot does not mean you can wear a bikini in public (most countries outside the West consider excess displays of skin immodest). Also be aware that if you're in a city and everyone is wearing Western clothes, traditional dress, like a Vietnamese rice paddy hat, could appear to be mocking rural life.
Show Respect
Learn the customs and cultures of the place you're traveling before you go, as religious beliefs and customs differ—widely—across the world. For example, in Thailand, it's rude to show the bottoms of your feet. In most parts of Asia, patting a child on the crown of the head is bad luck. Also keep in mind that economic status varies around the world. Don't stare or ogle if someone's situation seems bad by your standards. People tend to take pride in what they have—and they don't want your pity.
Find Ways to Connect
Start friendships with locals the same way you would at home by showing interest in people and their lives. Ask about the things that matter to them—their family, faith, food, and what they do for fun—and be prepared to answer your own questions in return. What can you share from your home culture? In lieu of material items, share stories and songs—they're cheaper and don't take up any extra space in your suitcase! Plus, you can illustrate with photos on the phone or camera you're traveling with.
Prepped with these tips, you're bound to have an experience worth sharing, new friends to keep in touch with, and maybe even some fresh recipes to practice by the time you return home. Don't be afraid of unfamiliar territory—go local and embrace a new culture with adventurous spirit and passion!
What are your best travel tips and recommendations for adventures abroad?
Photo courtesy of Soofia Asad.