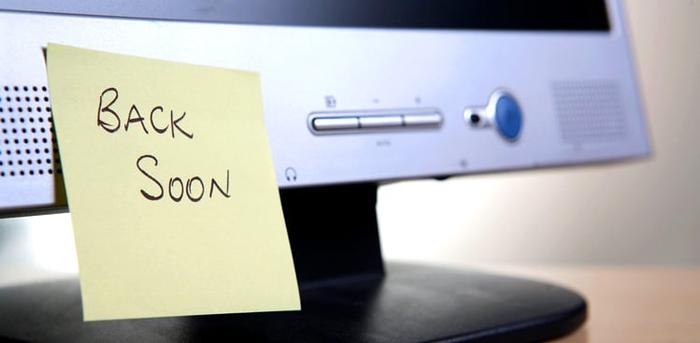 Thanks for writing.
I am out of the office and will respond to your email as soon as possible.
There's nothing wrong with those 20 words. They are clear, direct, and easy to understand.
But they're not exactly memorable. They don't really add anything to your reader's day. They're just forgettable filler.
We can do better.
The next time you're writing an out-of-office" autoresponder, don't be generic. Be interesting and generous.
Instead of using the standard, ho-hum template, why not...
1. Share Exactly What You're Doing (and Why)
If you're away from your desk because you're doing something interesting and inspiring—attending a leadership conference, working on your novel, backpacking through New Zealand—then say so!
Particularly if there's something about what you're doing that will eventually benefit your reader.
Here's an example:
Hello, and thanks for your email!
If you're getting this message, it means I'm taking my annual two-week creative sabbatical—working on personal projects that inspire me, so that I can return to work full of fresh ideas for my clients, like you!
I'll respond to your note once I return to the office on [date].
In the meantime, here's a question: What inspires you? Do that, today.
2. Share a "While You're Waiting" Surprise
Doctors put magazines in their waiting rooms to entertain their patients while they wait. And you can do the exact same thing with your auto-responder!
For example:
Thanks for writing!
You can expect a response to your note in 1-2 business days.
While you're waiting—surprise! Here's something I made for you:
[Include a worksheet, tool, video, blog post, checklist, resource list, or whatever you'd like!]
I hope [name of thing] makes your day a little brighter and easier.
Thanks for your patience, and talk to you soon!
3. Share Answers to Commonly Asked Questions.
If you tend to receive a lot of the same questions, over and over ("How much do you charge?" "Where are you located again?" "Do you have any advice on such-and-such?" "Hey, can I pick your brain?"), why not use your autoresponder as an opportunity to dish out the answers, instantly?
Here's a template you can follow:
If you're getting this note, it means that I've received your email. (Thank you!)
I'll respond to your note as soon as I can.
In the meantime, here's a list of five questions that I get asked often.
I've included brief answers to each one below.
Take a peek. You might find the answer that you're looking for—right away!
[Include brief FAQs here]
I hope those FAQs were helpful. Don't worry, though—even if your question was one of the questions listed above, I will still send a personal response to your note as quickly as I can, just to make sure that your question or problem has been completely resolved.
Talk to you soon!
Try It
Write a brand-new "I'm away from my desk" message using one of these three templates—or something totally different!—even if you're just stepping away for a few hours.
Your autoresponder doesn't have to be long-winded or complicated.
Your goal is to make it (unexpectedly) interesting and generous.
Your Challenge?
See if you can make this the best email that people read all day.
That's the beauty of a thoughtful, well-written out-of-office message.
You can be away—and still show your clients, coworkers, and anyone else you communicate with just how much you care.