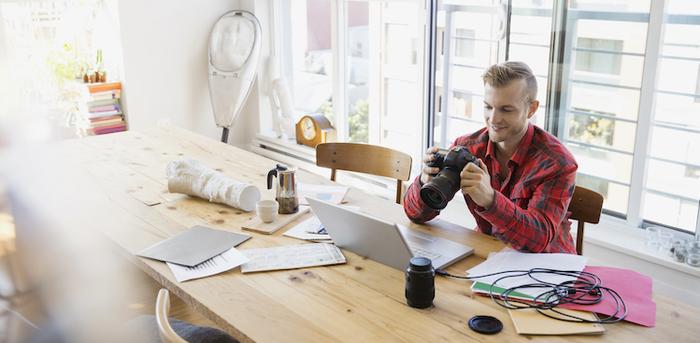 Whether you've been a photographer since you could work a camera or just recently started shooting, a personal website that houses your online portfolio is one of the most important things you can do for your career.
But putting together a portfolio can be daunting, especially if you have years' worth of photos. What do you include? And how do you organize it?
Think of it this way: Your personal website is a public version of yourself, or your business. It should encapsulate you—your style and aesthetic. It should tell people who you are and the type of work you do.
To figure out exactly how to set up an attention-grabbing portfolio, I talked to Bethany Schrock a Minneapolis-based photographer who first started shooting when she was 13 years old. Here are her tips for getting started.


1. Show What You're Really Good At
In deciding what images you want to feature on your site, think about what you really like to do. Maybe it's weddings, maybe it's landscapes, maybe it's product shots. Whatever it is, that's what you should showcase—and nothing else. "Only put work out there you want to get hired for," Bethany recommends.
It can be hard to narrow down your work, and potentially turn away clients, but it's important to curate the images that best describe your favorite type of work. And the same goes for social media, specifically Instagram. Think of it as an extension of your site, Bethany says. She showcases the images that fit with her aesthetic. The result? Sixty percent of her clients come from social media.
"Take a breath and figure out what you're good at," she recommends. "It's OK to not be good at everything."
Bethany took her own advice when expanding her business. She wanted to get into the small business and product world, and once she started showing those types of shots on her portfolio (plus a whole lot of networking) her business took off.


2. Choose a Theme
Once you have images that represent you and your work, choose a template that matches the underlying theme. For example, say you really like shooting in natural light and your photos all have an ethereal quality to them. Choose a theme that is light and airy, that isn't too crowded, and that has a color scheme that matches your featured photos.
Then, it's time to organize them in a way that makes sense to the viewer. There are many ways you can do this, but think less is more. Bethany has a navigation bar at the top with five options, including her work, an about me page, and how to contact her.
And that last one is key. "Make it easy for potential clients to contact you," Bethany said. "If someone has enough energy to go to your site, they're already interested in you."


3. Update Often
When you start shooting for the new clients that found you through your beautiful portfolio, update your portfolio to reflect what you're most proud of. Refreshing frequently will keep your site feeling new, and give visitors a look into what you're working on. Plus, it can help with search engine optimization (SEO).
"I've learned if you're always updating its going to show higher in search," Bethany said.
She updates her blog section about once a week, and she's always adding new client work.


4. Stay Inspired
Now that you have a portfolio and potential new clients, it's important to push your creative limits and keep working towards whatever your end goal is. Maybe it's to shoot for a certain brand, or in a specific part of the world. Whatever it is, continue to work towards that.
Bethany has a dream list of clients she'd like to work for, and for every project she works on she pretends she's shooting for one of them.
"Honestly the best thing you can do is to start shooting for the clients you want," Bethany said.
And for continuous inspiration and creativity, she recommends joining photographer groups on Facebook, like Lookslikefilm or VSCO.
Bethany's final piece of advice? Have confidence in what you put out there. "If you don't believe that you're the best in the business, then no one else will."