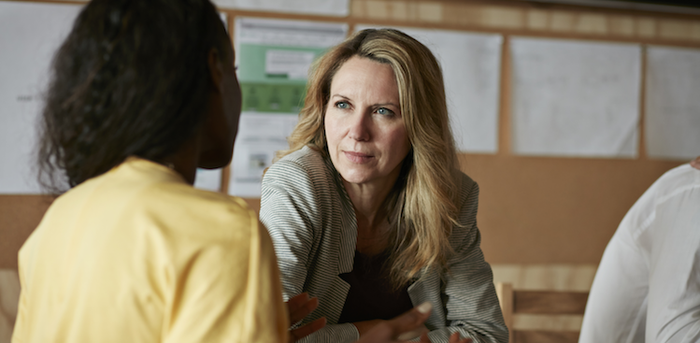 Think you might be interested in a career in human resources? Not sure what HR is? You're not alone. Many people don't understand what HR really is and what someone working in HR actually does, making it a career path that's easy to overlook.
You don't hear about it much in the media and the protagonist of your favorite movie or TV series is rarely a human resources professional. And unless you're digging through course offerings at business school, you're unlikely to have had a chance to learn about it in school.
But HR has a profound impact on a company by shaping its culture and distinguishing it from competitors. The HR team (sometimes called the people team) works closely with a company's leadership to attract, develop, manage, and retain top talent. In other words, being a human resources professional is not an administrative role, and its impact on an organization is major. If you believe an organization's employees are the foundation of its success—and you want everything to do with how it finds those people and keeps them motivated—HR might be a great career path for you.
Ready to look for an HR job? Click here to see open roles.
Need more to convince you? See if you identify with any of the following:
1. You're Fascinated by What Makes People Tick
Maybe you took a bunch of psych classes in college and loved learning about how people behave and why. Or maybe your favorite part of watching a great TV show or movie is picking apart characters' intentions and motivations and imagining what would've caused them to act differently.
But being a student of human nature is only the beginning. Folks who work in HR are often intrigued by human and organizational psychology, sociology, and management principles.
Take a look at your bookshelf or library history. Is your reading list full of titles about human behavior in general and especially in the context of work? Maybe you've got Laszlo Bock's Work Rules! Insights from Inside Google That Will Transform How You Live and Lead or Carol Dweck's Mindset: The New Psychology of Success on there, or even Angela Duckworth's Grit: The Power of Passion and Perseverance.
Maybe some of your favorite Ted Talks include Simon Sinek, Dan Pink, and Brené Brown, or you're drawn to podcasts like WorkLife with Adam Grant and Harvard Business Review's Women at Work. In short, you're absorbing anything you can about leadership, motivation, and people at work.
2. You Can Strategize With the Best of Them
Are you the one who always manages to come up with an itinerary for a trip with family or friends that fits all the important stops in and makes everyone happy? Were you in charge of coming up with a plan of action in student groups you were part of or at that nonprofit you volunteered at?
While it may not be obvious to outsiders, HR is actually a highly strategic function. In HR, you're constantly weighing competing interests and priorities, so you need to be able to think through the effects of a decision and come up with possible options. For example, if the market salary rates for a needed skill set are too high relative to the budget, what would you recommend?
The best HR pros understand all the factors that go into making business decisions and can come up with plans that take into account all of these components—especially the people. They have the foresight to propose and put into place strategies and goals to ensure the business continues on a successful trajectory. Let's say the company is entering a new market; HR would have to be ahead of the curve to develop plans to recruit the right mix of talent and skills in the right locations in a timely way.
3. You're Not Afraid of Sticky Situations
Do friends turn to you when they need help navigating complicated interpersonal tangles? Are you good at defusing uncomfortable situations with tact and delicacy?
Let's face it, people are messy. As an HR professional, your job would be to wade into situations that are often sensitive and personal. You have to be able to communicate with confidence and adhere to confidentiality every day. Ensuring respect for the employee is at the heart of your work, and your effectiveness is built on trust and the relationships you've built.
It's your job to be obsessed with integrity and strive for fairness. HR has to handle difficult situations such as reports of discrimination, harassment, and disciplinary issues while remaining unbiased. For example, if a star performer is also a bully, you may need to coach their manager on ways to address the behavior so that co-workers don't perceive that high performers get away with inappropriate behavior. And if you see that the bully continues their behavior to the detriment of everyone else, you might ultimately have to make a case for letting them go—and make sure no future hires are bullies.
4. You're Approachable
If you're known as someone who's easy to talk to, who listens without judging, who won't go blabbing about what you heard, and who can help people figure out next steps, you've already got some of the most crucial characteristics of an HR professional.
Employees at all levels—from the interns all the way up to the CEO—should feel comfortable approaching and talking with you. They may even seek you out regularly for guidance and advice because you tend to see potential for navigating solutions rather than picking sides.
5. You Know How to Influence People
When friends or relatives share their ideas, their next adventure, or their future plans, are you thinking about the bigger picture? Do you absorb it all and then comment on some things they should think about? Do they tend to listen and even seek you out for this advice? Are you the calm friend at the table during heated political debates who listens and asks questions and quietly manages to make people consider another viewpoint?
Sometimes leaders make business decisions and don't think about the impact on their employees. It would be your job to convince them why they should. For example, they may decide to close and relocate a facility as a way to reduce costs. But you've done your research and you know the new location isn't ideal because the talent pool in the new location lacks the skill and educational levels needed.
Guiding employees and leadership to follow your advice is not a simple, linear task. Leaders might need time, data, and persuasion to get on board. You have to be ready to support your decisions with the right evidence. If you're pitching a budgetary and time investment in leadership training, for example, you might highlight the need for it using retention data or disappointing employee pulse survey results.
It takes time and good listening skills to build trust and see your work take root in an organization. You have to be persuasive and persistent.
6. You're a Master of Tact
If you've always been perceptive of people's feelings and found that you have a knack for delivering all kinds of messages with care and poise, it's a skill you can carry into a role in HR.
Sometimes HR makes decisions that an employee won't like—or leaders do and HR has to relay it back to employees. You may have to tell someone hoping for a higher salary that their pay is adequately positioned in the market and deny their request. Or you have to tell an aspiring leader that they're not quite ready for that promotion.
It takes sensitivity and diplomacy to convey business decisions that impact people personally.
7. You Want to Know What Makes Businesses Succeed—or Fail
Do you find that friends' and relatives' stories about their jobs spark your curiosity about the organizations that employ them? Do you wonder what their business models are and how the companies function? When you hear news about a company getting itself in big trouble, are you fascinated by what went wrong and what might have prevented the crisis?
A business mindset is crucial for success in HR. Why? When you're proposing HR solutions or advocating for employees, you have to understand how what you're suggesting aligns with and affects how the business operates. Otherwise, you won't get very far convincing the folks in charge.
And to be frank, it drives business leaders and operation managers bonkers when their HR contact doesn't get their business, their pressure points, and quite simply, their work. It's critical to understand their worlds to truly be impactful and influential.