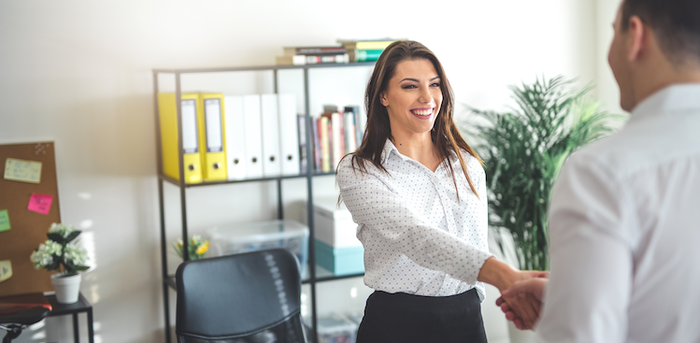 Project managers keep things running at almost any type of organization, whether it's a small nonprofit, a growing startup, or a giant corporation. If you've just landed an interview for a project management role, congratulations! Whatever company you're interviewing with, they obviously need some help, and you're one step closer to proving you're the one for the job.
SEARCH OPEN JOBS ON THE MUSE! See who's hiring here, and you can even filter your search by benefits, company size, remote opportunities, and more. Then, sign up for our newsletter and we'll deliver advice on landing the job right to you.
You might've started by preparing to answer common interview questions, but if you want an extra boost over the competition, there are some specific questions you're likely to get as a project manager candidate that you should be prepared for.
Here's what you can expect in a project management interview.
What Are Interviewers Looking for in Project Managers?
Project managers work across industries and in so many contexts that each role is a little different from the next. Make sure you look closely at the specific requirements and responsibilities in the job description for the role you're interviewing for. At the same time, there are some more universal qualities interviewers are looking for, including:
Strategy and organization: Project managers always "have to keep the larger strategy in mind," says Heather Yurovsky, a Muse career coach and founder of Shatter & Shine. Your ability to see the big picture is crucial, but so is your ability to keep track of the details and make sure nothing falls through the cracks. The best project managers are highly organized without losing sight of the ultimate goal.
Leadership, collaboration, and relationship management: As a project manager, you're charged with managing processes and keeping things moving forward as you work with various stakeholders within your company and sometimes outside of it. But you're not necessarily anyone's boss. So you have to be able to take a leadership role without a formal leadership title and develop and manage relationships to motivate people to get things done even when they don't report to you. "The project managers, the really good ones, were really awesome with people. They connected on a different level. There wasn't weird tension; it was really a collaboration," says Muse career coach Alina Campos, who has also worked as a project manager, directed a team of project managers, and recruited project managers.
Empathy: You'll never build the kind of rapport it takes to get things done without empathy for all the different people you're working with on different teams. That means "understanding how to speak their language, understanding how long it really does take for something to get done," Yurovsky says. It also means understanding people's different perspectives, harnessing their expertise to make the project better, and accommodating their workload and priorities.
Communication: So much of your job as a project manager revolves around receiving and relaying information. You're the one getting updates from every direction and deciding if, what, and how to share those with other stakeholders. You have to be able to talk to technical teams about the nitty gritty but also translate it into lay terms when you communicate with non-technical teams and clients. You also need to be able to clearly convey goals and expectations and calmly resolve any issues that come up.
Technical know-how: Depending on the specific company and role, you might need to have experience with particular project management software, such as Asana, Jira, or Monday. But in some cases, interviewers will also be looking for at least a basic fluency with certain programming concepts or any other technical knowledge you'll need to communicate smoothly. Erica Jensen, a recruiter at the digital product agency Viget who regularly hires project managers, says PMs there don't have to be developers themselves, but must be able to translate for clients what the developers are doing.
Sometimes an interviewer will ask you directly about these skills and qualities, but you should also be prepared to demonstrate them throughout your interview. Here are some common questions you're likely to get in a project management interview—plus advice on how to showcase your strengths in your answers and examples of what that might sound like in practice.
1. What Types of Projects Have You Worked On?
An interview is a chance for a recruiter, hiring manager, or other potential colleagues to get to know you better. Even though they've probably looked at your resume, they might still ask you this question, which sounds basic but is a great chance to sell yourself and your skills for the job at hand.
The interviewer will want to understand the size, scope, and complexity of projects you've handled in the past to get a sense of what you could do for them in the future. What industry were you in? What types of clients were involved? Did you personally interact with external stakeholders? How many people or teams were involved internally? How big was the budget?
How to Answer
Like most other interview questions, you'll want to tailor your answer here to the role you're interviewing for. Look at the job description and do some additional research to try to understand what kinds of projects you'd be working on in this position and make sure you touch on similar work you've done in the past.
"Take your current experience and make it relevant to what you'd be doing there," Campos says. For instance, if you know you'd be working closely with software developers or interfacing with clients in person or over the phone, and you have experience doing the same in previous roles, be sure to highlight that in the examples you give.
Your response might sound like this:
"In my role as a project manager for ABC Architects, I frequently work simultaneously on multiple long-term design projects for commercial buildings with seven- and eight-figure budgets. I'm not only in constant contact with the internal team of architects, but also coordinating ongoing communication with clients and ensuring that everyone is on the same page in terms of timeline and expectations. In my previous project management role for a small design firm, I worked very closely with the creative team. So I'm acutely familiar with the pressures that come with big-budget projects and the nuances of interfacing with both clients and designers—and I'd be excited to put that experience to good use working with Design Your Space's enterprise clients."
2. Can You Walk Me Through a Specific Project You Worked on, What Your Role Was, Who the Stakeholders Were, and What Problem You Were Solving?
While you may have already given an overview of the kinds of projects you've worked on, an interviewer might also call on you to talk through one example in detail.
"By asking this, we're hoping to get a better sense of how a candidate approaches managing a project and how clearly they can communicate an idea," Jensen says.
How to Answer
Considering how important it is for a project manager to be able to communicate clearly and succinctly with various parties, it's crucial that you be able to give a coherent explanation of a project in an interview.
So make sure you articulate the underlying purpose and goal of the project. And think about what context an interviewer might need and what their level of technical or industry knowledge is so that you can adjust your explanation accordingly.
"Be specific. I think a lot of candidates worry they're getting in the weeds, but without context, an interviewer isn't going to understand the full project," Jensen says.
So you might say:
"Last year, I worked on an app rollout for a Harry Potter trivia game—which, side note, I was absolutely thrilled about because those were some of my favorite books growing up. Our goal was to appeal to a broad audience—from adults like me who fell in love with the series when it first came out to kids and teens just discovering it now.
"There was a product manager I worked with very closely who was more focused on keeping track of the technical development. My main responsibility was on the content side, overseeing the creation of the trivia questions as well as bonus content. I met with our two in-house editors to develop a plan for assigning out the question writing to a group of freelancers split up by book, film, and other sources in the Harry Potter world (like theme parks, J.K. Rowling tweets, and more). We set a timeline together for the initial influx of questions and put a process in place to fact check everything. I also spent a lot of time with my counterpart in product talking through how to create a content repository that the app could pull from and that could be continuously updated, and we documented a system for introducing new content.
We also worked together to coordinate testing: First we had our coworkers who weren't involved in the project test it out. Then we addressed some bugs and issues. And finally we set up user interviews and repeated the process. We were able to release the initial version of the game on time and it exceeded our first month download goal by 34%. Beyond that, not only did I have a blast learning even more than I already did about Harry Potter with all this trivia, but my nieces and nephews thought it was the coolest thing and have been telling all their friends about it!"
3. Tell Me About a Time When a Project You Were Working on Went Off the Rails or an Unexpected Challenge Came Up—and How You Got It Back on Track.
"If someone tells me everything is all good and rosy, I probably won't believe them," Jensen says. "Every project is going to be messy in some way."
Because problems are commonplace, interviewers want to know how you spot them as early as possible, how you communicate about them internally and externally (if that's part of your role), how you collaborate with the team to brainstorm possible solutions, and how you decide which route to ultimately take. They also want to be sure you can communicate these decisions clearly and concisely.
"What the employer is looking for is agility, ability to problem solve, conflict management, and stress management," Campos says. "A lot of the questions are screening for that"—including this one.
How to Answer
When you hear the words "Tell me about a time when…" in an interview, that's a pretty sure sign you can and should turn to the STAR method to craft your answer. In other words, briefly explain the Situation; clearly articulate what your Task was; lay out the Action(s) you took; and close with the Result(s) you got in terms of how that project turned out and what you learned from the experience. Pick a scenario that didn't end in total disaster, but otherwise be honest.
The main thing to remember is, "Don't act like you solved the whole thing on your own," Campos says. In your effort to impress, you may want to focus on your role in the scenario, which is fine, but don't go so far as to imply you were working alone. Project management is inherently collaborative and you'll make a far better impression if your answers reflect that.
And definitely don't throw anyone else under the bus. "If something went wrong on a project, it's not important for us to know who is to blame; interviewers are more interested in hearing about how the problem was solved," Jensen says. "It's also not a great look to make your teammates look like they messed up—that suggests to an interviewer that a candidate might not be a team player."
You could say something like:
"When I was working at Go to College, a nonprofit that aims to help kids in underserved schools become the first in their families to get a four-year degree, we had an amazing opportunity to screen a short film about the organization's mission at a series of high-profile events with potential donors. I was the project manager for the film and we were in the final stages of the editing process when one of the schools we'd filmed at came back and said that, for various reasons, we couldn't use the footage shot there.
"I called an emergency meeting with pretty much the entire staff. It was a small organization and everyone was really invested in the opportunity. Plus, this was the kind of situation where the more brains we had the better. We decided on two parallel courses of action. On one side, our program manager for that school would start a conversation there about whether we could remove any obstacles to using the existing footage. At the same time, our marketing team would work on pulling possible alternative footage we had in our archive and brainstorming any other options.
"I created a special Slack channel as a space for real-time updates and decision-making so that no time was wasted during the final stretch. In the end, our social media manager stumbled across an alum of the program who'd been keeping a funny, insightful blog about their college experience and reached out to them about participating in the film. I coordinated logistics to shoot some last-minute footage with them to tie the video together.
"It was definitely a very stressful couple of weeks, but I was so proud of the whole team for coming together to figure it out and I think the video turned out even better than what we'd originally planned. We ended up exceeding our fundraising goal by more than $100,000, and it allowed the nonprofit to expand and serve even more kids the following year."
4. How Would You Describe Your Communication Style?
You should consider your entire interview—in fact, the whole hiring process, from email correspondence with a recruiter to in-person meetings with your prospective boss and colleagues—an assessment of your communication skills. Your interviewers will be paying attention to how you interact with them to get a sense of how you'd talk to teammates and clients in the role.
"Pay attention to how you're communicating to anyone in the recruiting process," Jensen says. "Sending sloppy emails or not responding for a couple of business days might indicate you're not the most organized or a good communicator and that's really important for project managers specifically."
But they may also ask you to explicitly articulate your communication style in order to glean more insight into how you approach this essential element of project management. In part, they want to know you've thought about it and developed methods that work for you. They also want to know if your particular communication style is a good fit for the team and company.
How to Answer
There are some wrong answers here. ("I like to yell at people until they're so scared they do what I'm asking," would be wrong, for example.) But there's no one correct answer.
Before your interview, reflect on how you've communicated in the past: How do you choose to phrase your updates and requests from colleagues and clients? How do you convey goals and expectations? When do you speak to someone in person versus writing them an email? What have people responded well to in the past? Is there a system or strategy you've honed over time that has helped ensure everyone's on the same page?
Your answer might sound something like this:
"I'm an empathetic communicator but also very clear. I like to ask internal and external stakeholders a lot of questions, especially early on in the process, to ensure that I understand everyone's perspective and can take it into account throughout. My goal is to make sure people are aligned at all times and know very clearly what's expected of them and when.
"Once I have a sense of where people are coming from, I can tailor my communication with them to ensure I'm conveying goals, expectations, and updates in a way that jives with their style as well. That might mean sending periodic updates to the full team via email and highlighting action items by employee or team, which I like to do so that people can keep track and refer back to my notes, but also hopping on the phone with a remote employee to go over any odds and ends they may have missed and make sure they feel like an integral part of the team. The common thread, though, is that I always make sure that people understand the ask and remember the ultimate goal. In my experience, everyone can use regular reminders of why we're doing what we're doing and how each step relates to the larger goals. So I always tie small asks to the bigger picture. It keeps people motivated!"
5. How Do You Motivate People to Stay on Track and Meet Their Deadlines?
Project managers are leaders who are responsible for achieving results. But more often than not, they don't have direct authority over the people doing the work to complete the project. In short, they're not always the formal bosses of the people they rely on to get things done and be successful in their own roles.
So it's critical that they have the interpersonal skills to motivate their coworkers—some of whom might be their peers or even senior to them—to deliver on time and in line with the expectations and requirements.
You also want to show your stakeholders—and now your interviewers—that you're willing to roll up your sleeves and put in the work yourself. Because that in itself will motivate everyone around you to do the same. "Really good project managers, they get in there and they get their hands dirty," Campos says. "What I mean by that is they are right there along with their team making sure things are happening."
How to Answer
This is another answer that demonstrates your empathy and communication skills—and one where you can turn to the STAR method if you have a relevant story to share from your past experience.
"Give an example that shows you took the time to understand how that person works and also what else is on their plate," Yurovsky says. Show the interviewer that you took the time to "create the buy-in for them and let them be part of the decision-making process."
So your answer might be:
"My approach is to get to know the people I'm working with so that I can figure out how to get them excited and motivated about the work. I've also found that when people feel like they're involved in figuring out how the process will go and have a say in deadlines and deliverables, they'll be more personally invested in making it happen. Also showing your appreciation and gratitude goes a long way!
"I remember one time when I was working at an e-commerce startup and we were looking to launch a new email recommendation system to send existing customers suggestions for new items based on their previous purchases. It was my job to scope out the project, make a plan, set the timeline, and make it happen. There was already a small team of engineers working on the actual recommendation algorithm, but I realized pretty early on that we'd also need a lot of support from our designer, who was already stretched pretty thin working on a dozen different projects at once.
"So one of the first things I did was sit down with the designer to talk through how they envisioned the email product looking, what this process would require of them, and what kind of timeline would be feasible. I was able to take that early feedback into account when setting the overall timetable. Not only did we roll out the first version of email recs on time, but the designer was really grateful I'd come to her first to understand what she needed to be able to design templates she'd be proud of. I also made sure to share with her how happy I was, and our higher ups were, with the fun, sleek, and effective designs she'd come up with. That set the stage for future projects and she became one of my most enthusiastic and productive collaborators."
6. What Experience Do You Have With Process Development?
You might be walking into a situation where you'll be called upon to create processes and workflows from scratch—or to overhaul and redesign existing ones that aren't cutting it. So an interviewer might want to know if you've done this before.
How to Answer It
The easiest way to answer here is to approach it as a behavioral question and give a specific example of a time when you planned and implemented a new process (yep, that means turning to the STAR method yet again).
You might say:
"Since my last two roles have been at startups transitioning from their early stages to more stable long-term growth, I've often been tasked with creating streamlined, standardized processes where there previously had been scattered ad hoc approaches. For example, in my last role, we were getting a lot of questions from freelancers and contractors about their payments. Plus there was some feedback that they were never sure who to send what info to and when. They'd get frustrated when they received random follow-up requests for more info weeks later that delayed them getting paid. I was involved with the projects these freelancers were working on and was getting wind of their irritation. A couple even stopped taking new projects from us.
"So I reached out to a few freelancers and had short conversations with each of them to make sure I fully understood their pain points. I also set up a meeting with our accounts payable team and some of the folks internally who dealt most frequently with freelancers to understand their needs and limitations and talk through what a streamlined process would look like. With the input from all of those conversations, I was able to suggest a new process where freelancers invoiced once a month on a set date. We came up with a standard invoice template across the company to ensure all the necessary info was available up front and created an automated email that would get sent to the freelancer when their payment went out.
"The accounts payable team ended up being able to cut down the amount of time they spent dealing with freelancer payments almost by half, freelancers were getting paid faster in most cases and always knew what was going on, and we were able to increase our retention and focus on our other goals. In short, it made everyone's lives easier.
7. What's Your Proficiency Level With [Name of Software or Tool]?
There's a whole slew of project management tools and software that companies might rely on nowadays, whether it's Trello or Basecamp or something else. So your interviewer might want to know which tools you're familiar with or, more likely, what your experience or proficiency level is with a particular tool they're already using.
How to Answer It
The best case scenario is that you're a seasoned pro who's used this exact tool before, in which case you can say so and talk a little bit about what kinds of processes you've used it for and how.
If you don't have experience with whatever software the interviewer is asking you about, don't panic! In most cases, that's probably not a disqualifier. What they do want to know, though, is that you have experience with other tools and that you'd be able to pick it up quickly. If you know the purpose of the tool and a bit about its interface, Campos says, you can draw a comparison to your expertise working with another similar tool and credibly predict you'd be able to adjust quickly as a result.
"You can even throw in how you love working with or learning new tools," Campos says.
So you might say:
"I haven't used Asana much in the past but I'm confident I could pick it up quickly. I've used Trello for a lot of project tracking in my current role and so have a lot of experience using and leveraging calendar and Kanban board views, which Asana has too. I'd also be excited to explore the other functionality it offers, especially the features that allow you to prioritize and view your overall progress on a larger project. I'm actually kind of a nerd when it comes to trying out new productivity tools. I've tested probably a dozen to-do list apps—seriously, ask me about the pros and cons! And before I started my current job I'd never used Trello before but I dived right in and found all kinds of shortcuts my colleagues didn't know about. Within a few months, I was leading refresher trainings across the organization to make sure new and veteran employees were on the same page about how we were all using the tool."
No matter which questions you get in your interview, make sure you keep in mind the most important skills, qualities, and points you're trying to convey. Review the info above and reread the job description for the specific role as you prepare. And then tell your interviewer—and show them through how you behave before, during, and after your interview—why you'd be the very best choice.