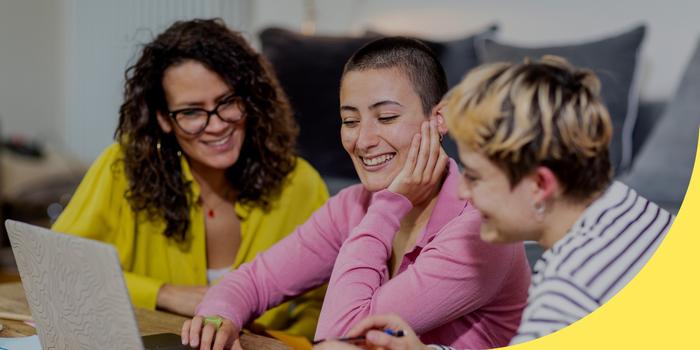 Perception is reality, and brands spend millions upon millions of dollars understanding how they're perceived. Because bridging the gap between how a brand thinks about itself vs. how the public perceives it is the real game.
As individuals, how you show up to those around you is one of the elements that defines your personal brand. If you don't pay close attention to how your brand is consumed, you're likely doing yourself an injustice. You might be coming off exactly how you intend to, which is great! But the more likely scenario is, you aren't. And if you're leaving no impression at all, that's an even bigger problem.
Being self-aware makes it possible for you to recognize your strengths and deficiencies. However, it's imperative to not only do a self-assessment but to also pulse-check the people in your orbit. Our family, friends, and colleagues might have a different perspective on who we are than we do.
To that end, you can use these two exercises to help you figure out what you think your personal brand is, how others perceive your personal brand, and whether the two align.
Exercise No. 1: Your self-awareness
Answer the following questions honestly on how you believe your personal brand currently exists.
What are three adjectives that you believe your colleagues would use to describe your professional persona?
What are three adjectives that you presume your family/friends would use to describe you personally?
What are your top three professional skills?
In one sentence, what would you describe as your one professional superpower? My superpower is the ability to…
In one sentence, describe your personal brand. (Pretend this is a headline about you. What would it say?)
What audience are you trying to influence or reach? (Examples: your boss, potential clients, hiring managers, followers)
How would you introduce yourself at a business dinner? Include your elevator pitch. Hi, my name is… and I am…
What is your ultimate career goal?
If you had to be known for something, what would that niche be?
What parts of yourself do you bring to work?
Where do you set your personal vs. professional boundaries?
What are your professional strengths?
What are your professional weaknesses?
Exercise No. 2: Their perception
What you say and write is only half of the equation. Just because we say that we are x, y, or z doesn't mean that other people know that or believe it. The definition and magic of a strong personal brand is when self-reflection and public perception align.
To understand how your personal brand resonates (or doesn't) right now, you need to ask other people to give you an honest assessment of how they perceive you. To attain real, useful feedback, I recommend that you cast a wide net for respondents (whom you value and trust) from work and life and create a Google Form where they can answer anonymously. You could also create another version for specific recipients from whom you want direct feedback. I've done it both ways, and while it's nice to know who said what, it also limits what people will share.
If you're going the anonymous route, a friendly warning: We live in a culture of "likes" and heart emojis from the people we surround ourselves with. When you're putting yourself out there for critique, you need to brace yourself for the feedback. While it can be uncomfortable to read things about yourself that you don't want to hear, if you go into this exercise with a student mindset, you'll come out of it learning a lot about yourself.
The best part is, if you compare these results to the answers you detailed in the self-awareness exercise, your mind might be blown. If I were you, I'd expect a big disconnect there, because how we see ourselves is often not how others see us.
Create your Google Form.
Gathering this information is easy! First, head over to Google and then hit "+ New" in the upper left corner and choose "Google Forms." In settings, go to "responses" and make sure "collect emails" is toggled to the off position if you want to do it anonymously.
Add the following questions for your recipients to answer (these are some of the same questions you asked yourself earlier):
What are three adjectives that you believe describe my professional persona? (Choose a short answer for the response type.)
What are three adjectives that you believe describe me personally (personality traits)? (Choose a short answer for the response type.)
What am I most professionally skilled at? (Choose paragraph answer for the response type.)
What could I improve upon? (Choose paragraph answer for the response type.)
In one sentence, what is my professional superpower? (Choose a short answer for the response type.)
In one sentence, how would you describe my personal brand? (Choose a short answer for the response type.)
Craft an email to request responses.

I'd recommend you put all recipients on Bcc (blind copy) when you send them a message like this:
Hi everyone!
If you're on this email, we have worked together in some capacity, and/or you know me well personally. I would LOVE for you to take this quick survey about me. I'm doing a self-reflection exercise and would appreciate your feedback. Answers will be collected anonymously, so please feel free to give it to me straight. Your opinions are important to me. This will take just a few short minutes.
Thank you so much!
Send this email to trusted colleagues, friends, and family in your network whose feedback matters to you and who you believe have your best interests at heart. This is an important caveat because you want to ensure the people you listen to want you to succeed. Also, don't share your own previous answers!
Review and reflect.
Once you've had a chance to review the responses submitted, you should first determine if there's any overlap. If you want to get fancy, you could even do one form just for your work colleagues and review your personal friends/family separately on another form. It would be interesting to see if there's a difference. Can you identify any patterns across your audiences? Are there words that jump out to you as being an overarching trend?
Next, add yourself as a respondent, and compare how you answered the same questions to the rest of the sheet. Do you see yourself in the same way others view you? If you look at this chart and realize that it's a bit all over the place, that's OK! It's just showing you that you're not consistent across everyone you encounter.
One of the most important lessons, though, is how self-aware you are. If you think of yourself one way and everyone else believes something totally different, there's a magnificent opportunity for you to strategically work to unify those areas.
When you read feedback that stings a little, just take a deep breath and remember that knowing this information will help you grow. But reading positive and informative feedback will also be a treat.
You'll be touched when you learn what people believe your superpower is. We often need to be reminded of the impact we make on those who know us best. Absorb their words, take their compliments, and bathe in them for a little. Own your light. There are always things we can be better at. Still, if we don't take a moment to feel the admiration and appreciation around us, we're missing an opportunity to reap the rewards of the energy we put into the universe.
Excerpted with permission from On Brand: Shape Your Narrative. Share Your Vision. Shift Their Perception. © Aliza Licht, published by Union Square & Co.